Air Fryer Garlic Butter Steak Bites and Potatoes
Air Fryer Steak Bites and Potatoes
This is an easy and delicious steak and potato dinner that you can make entirely in your air fryer! This is a great one to have in the arsenal for those busy weeknights.
My ideal choice of steak will always be ribeye, but this recipe also works great with more affordable cuts like sirloin, or strip steak. When you combine this with the air-fried potatoes in the recipe below you can really stretch out this meal to make it more affordable.
When I make this meal my family of four can generally eat our fair share using just two 8-10 ounce steaks. One of my toxic traits is going straight to the meat section to search for reduced steaks to throw in the freezer to make meals like this.
I've noticed that the best time in my area to find good deals on reduced meat seems to be on a Monday morning. Whenever I have a Monday off of work I always hit up our local Sam's Club on the hunt for that elusive orange sticker!
When cooking the steak bites in the air fryer it's important to remember that every air fryer cooks a little bit differently. For mine specifically, 6-7 minutes at 400 degrees is the ideal cooking time for medium steak bites!
To ensure that your steak is cooked to your desired doneness you can use a meat thermometer to check the internal temperature after about the five-minute mark. I always pull my steak out once it hits a temperature of 145 degrees, but everyone has their own preference here!
My air fryer has the ability to preheat and I always utilize this feature when I'm making this recipe to give a little extra sear to the steak bites. If your air fryer has the same feature I'd definitely recommend utilizing it!
Don't get me wrong nothing can replace a steak that's cooked directly over the flames on a grill, but this weekday steak and potato meal comes pretty close. This one has crispy potatoes and juicy steak bites coated in a layer of creamy garlic butter all made in the air fryer with minimal time and effort!
Disclosure: Cooking in the Midwest participates in affiliate advertising programs. I may earn a commission when you make qualifying purchases through my website.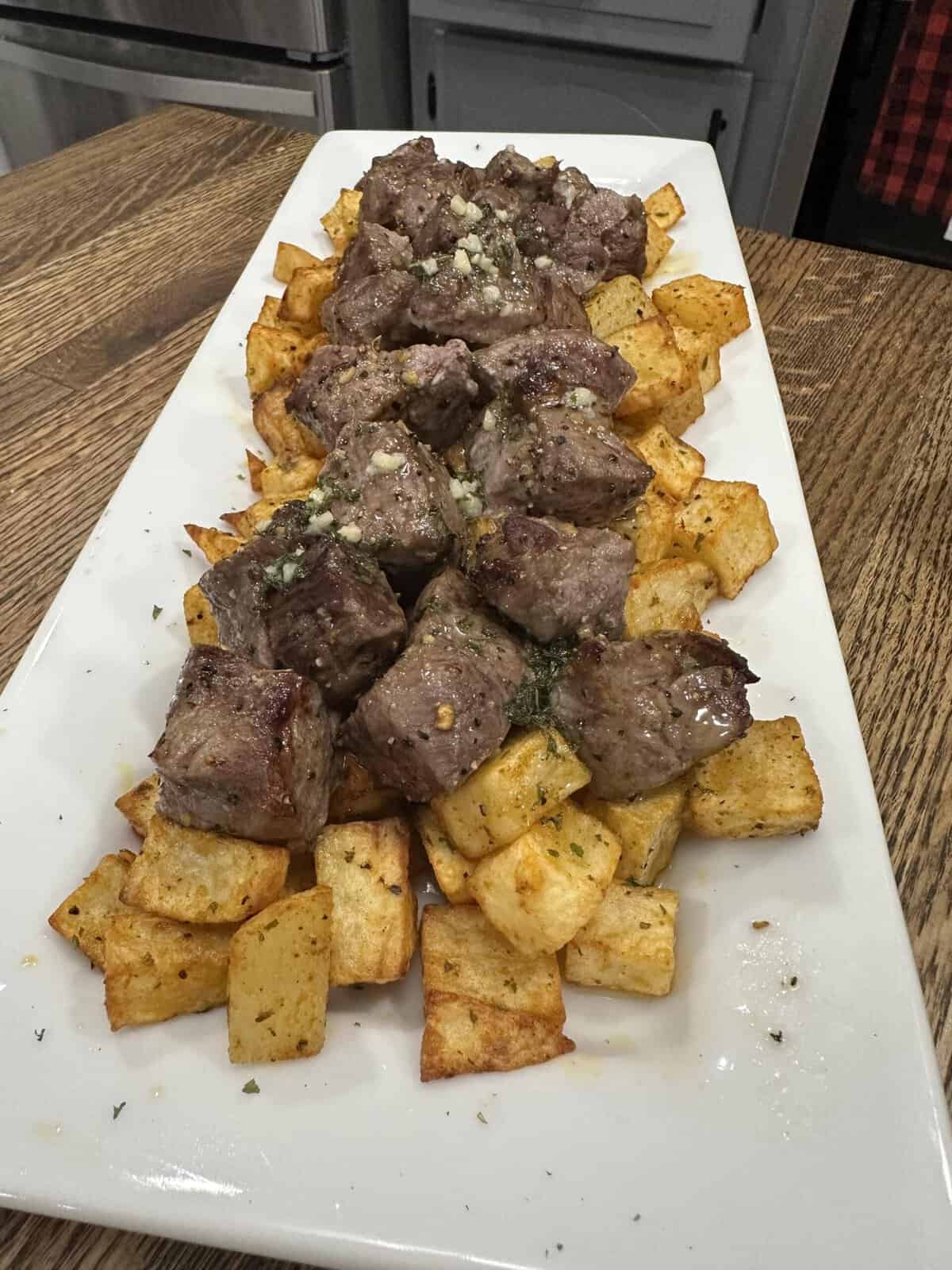 Ingredients
3

large potatoes

olive oil + salt

pepper, garlic powder, paprika, and dried parsley (for potatoes)

2

Steaks - I used 10 ounce strip steaks

Olive Oil

Salt

pepper, & garlic powder

Steak Seasoning

I like using Kinder's Prime Steak Seasoning

4

TBSP

of butter

1

tsp

of minced garlic

1

tsp

of dried parsley
Instructions
Wash your potatoes and cut up into small cubes

Toss them in olive oil, salt, pepper, garlic, paprika, and dried parsley (I don't use exact measurements for this part)

Cook your potatoes in the air fryer at 400 degrees for about 20 minutes shaking them around at least a couple times while they cook

Once the potatoes are cooking, cut your steak into about 1 inch cubes

Coat the steak bites in olive oil and salt, pepper, garlic powder, and steak seasoning

Once the potatoes are cooked set them aside

Cook steak bites in the air fryer at 400 degrees for about 7 minutes (this got mine about medium)

Melt your butter and stir in minced garlic and dried parsley

Pour the garlic butter over steak bites and serve over the crispy potatoes

Enjoy
Did You Make This Recipe?
Please leave a comment below or pin it to your Pinterest account!