Chopped Chicken Caesar Salad Sandwiches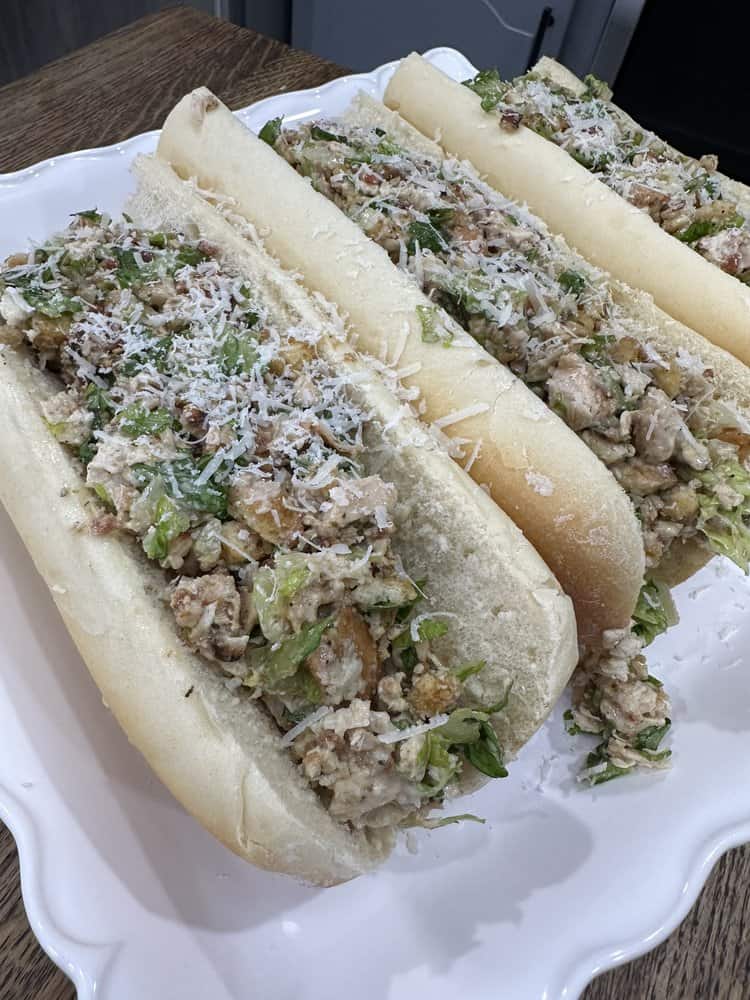 Chopped Chicken Caesar Salad Sandwiches
Chopped chicken caesar salad sandwiches make the perfect lunch, or dinner for a hot day! This is an easy meal idea that would be perfect poolside, or to throw in the cooler to take to the beach. My whole family really enjoyed these and all the mess stays on one cutting board to make cleanup a breeze! This recipe is also so good in a wrap instead of on bread.
INGREDIENTS
1 pound of cooked chicken
1 head of chopped Romaine
4 strips of cooked bacon
Caesar dressing
1/2 cup of freshly shredded Parmesan cheese
Croutons (I used about a cup)
4 Sub rolls (I like to buy the day old bread from Jimmy John's)
How To Make
To make chopped chicken caesar salad sandwiches, start by adding one head of chopped romaine to a cutting board.
Next, add one pound of cooked chicken on top of the lettuce. I grilled chicken for this recipe, but any cooked chicken will work!
Add four slices of cooked bacon to top of the chicken and lettuce. Give everything a good chop!
After chopping everything into smaller pieces, I like topping it with 1/2 cup of freshly shredded parmesan cheese. Add 1 cup of your favorite croutons and drizzle on some of the caesar dressing.
For the dressing, I add a little bit at a time until I reach the desired consistency. I add a little dressing, chop, and repeat the process. I probably ended up using about 3/4 cup of the dressing.
Once everything is chopped it's time to build the sandwiches! I like buying "day old" bread from Jimmy Johns for 50 cents a loaf when they have it available. If they don't have any available I buy the fresh bread or use some sub rolls from Sam's Club. Any of your favorite sub rolls will work.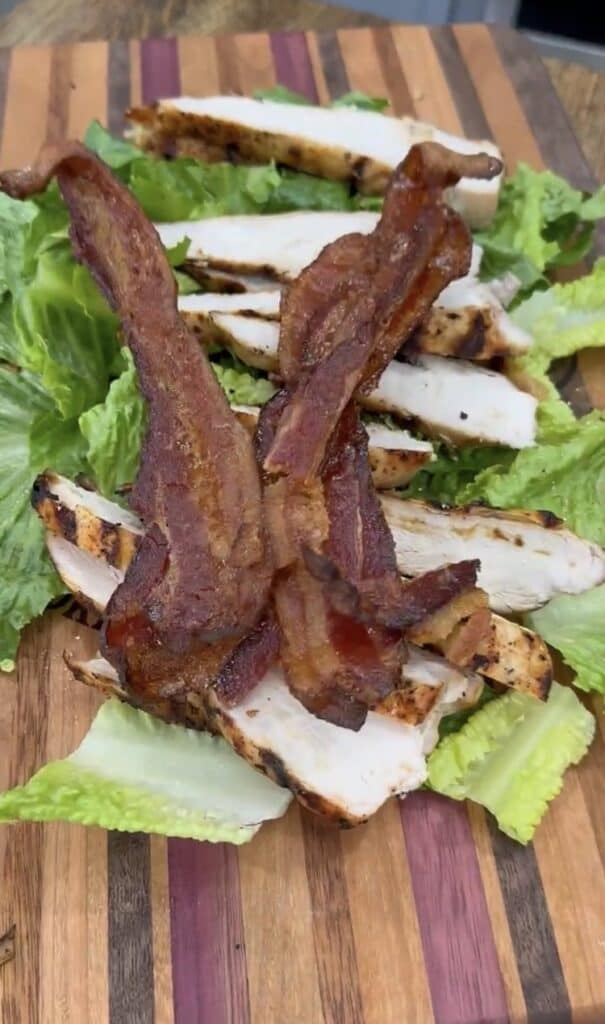 With this recipe I made 4 big sandwiches! These turned out way more filling than expected!
I served these with some air fryer potato wedges and the whole meal was a big hit with the family. My wife and I had the leftovers for lunch the next day and it was still delicious! My wife put hers in a wrap for lunch and really liked it that way too.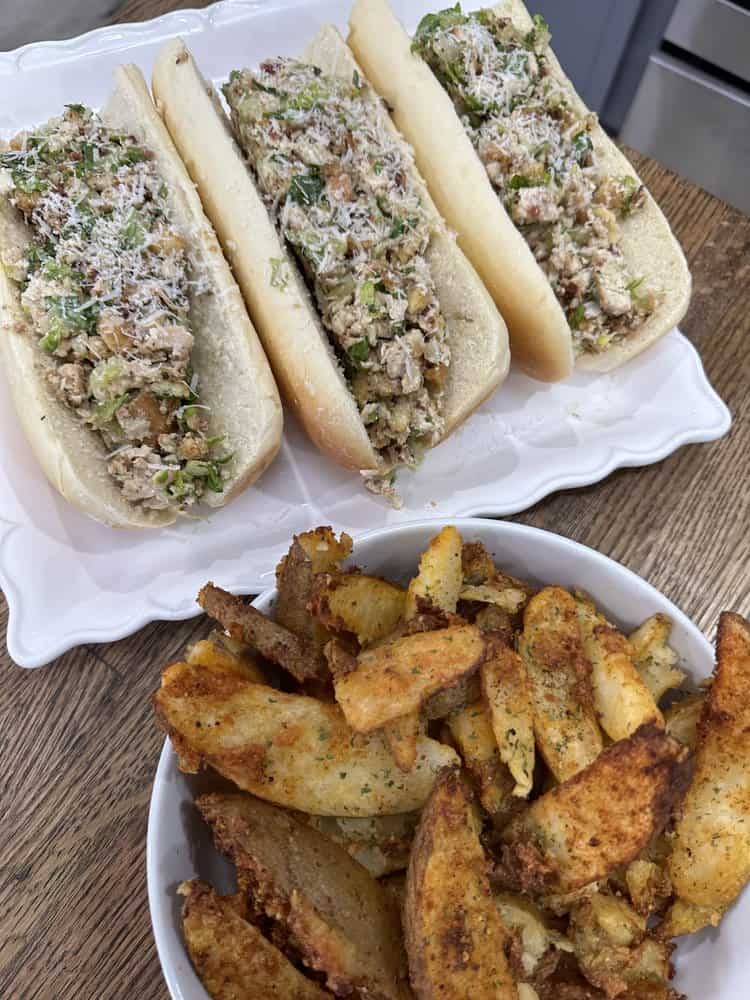 Helpful Tips and Frequently Asked Questions
Always cook chicken until it reaches 165 degrees.
I used freshly shredded parmesan cheese on these sandwiches.
You can use your favorite Caesar Salad dressing for this recipe or make a homemade version.
The croutons add an awesome crunch/flavor to this recipe.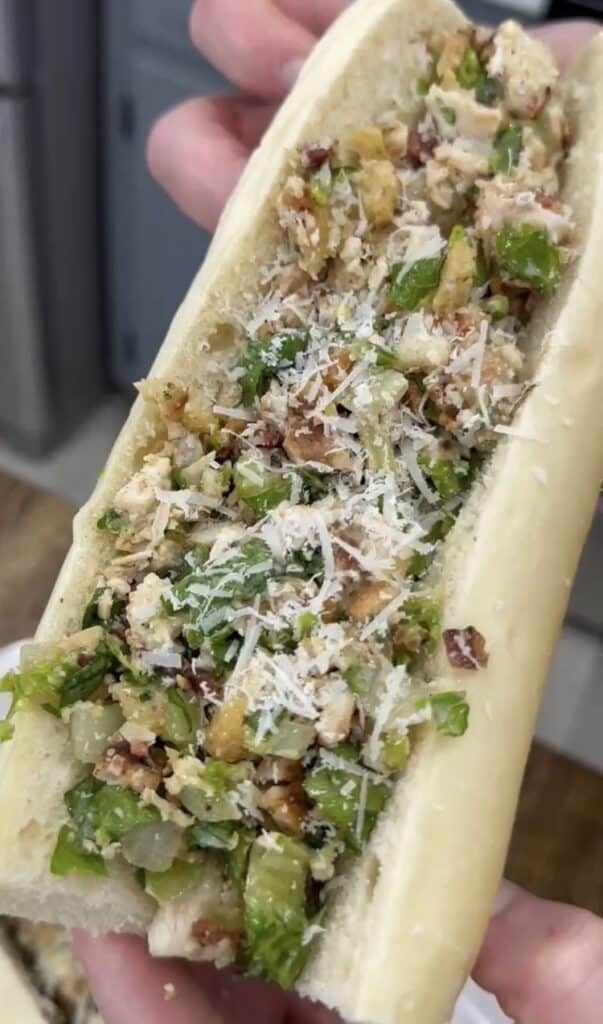 Check out some of my other favorite chicken recipes!
Garlic Parmesan Chicken and Potato Skillet

Disclosure: Cooking in the Midwest participates in affiliate advertising programs. I may earn a commission when you make qualifying purchases through my website.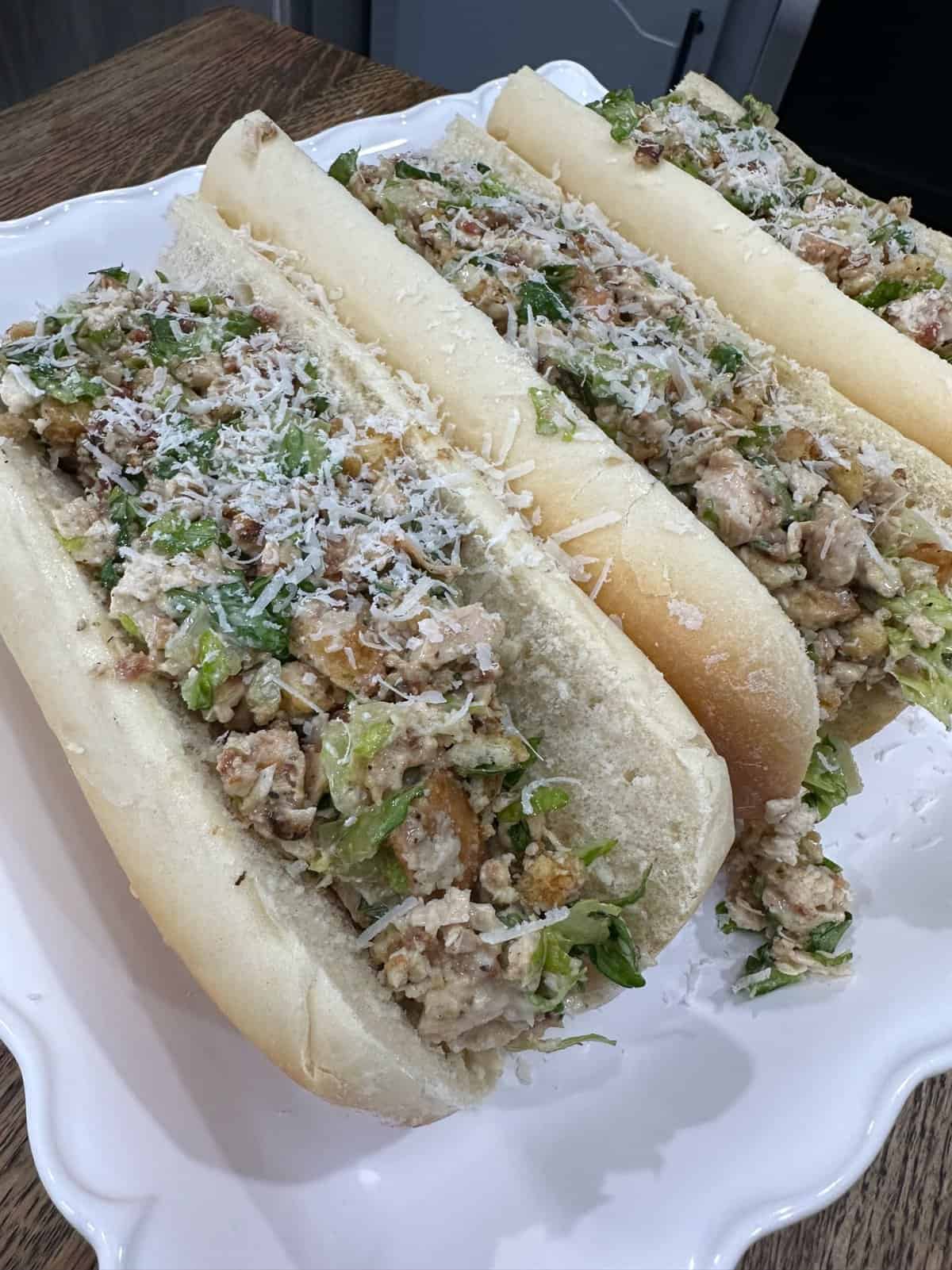 Ingredients
1

pound

of cooked chicken

1

head of chopped Romaine

4

strips of cooked bacon

Caesar dressing

1/2

cup

of freshly shredded Parmesan cheese

Croutons

I used about a cup!

Sub rolls

I like to buy the day old bread from Jimmy John's
Instructions
On a large cutting board pile up the Romaine lettuce, cooked chicken, and bacon.

Begin chopping that up to your desired size and when you're happy with it add in the Parmesan cheese, some croutons for an added crunch, and the Caesar dressing.

Continue chopping and mixing everything together with your knife adding more dressing if needed to hold everything together. I ended up using about 3/4 cup.

Once everything is chopped and mixed together stuff your sub rolls and top each one with a little bit more freshly shredded Parmesan.

Serve and enjoy!
Did You Make This Recipe?
Please leave a comment below or pin it to your Pinterest account!