To prepare this delicious roast, I start by seasoning a chuck roast with salt, pepper and garlic powder on each side and then placing in a skillet on medium-high heat and searing each side until you get that nice color and then throw it into the slow cooker. Next, I add 2 cups of beef broth into the skillet and scrape the bottom to get all of those delicious bits mixed in. Then I added 1 sliced onion, a few chopped carrots and 2 stalks of chopped celery into the skillet. After adding in those veggies, next add 1 packet of brown gravy and 1 packet of ranch seasoning along with 1 teaspoon each of garlic powder and paprika. Stir often until the liquid starts to bubble and starts to thicken up.
Once the liquid has just started to thicken, pour the whole skillet into the slow cooker topping your chuck roast. Cover the Crockpot with the lid and cook on low for about 8 hours or until the meat is tender. Cooking on low works the best for this recipe and produces a tender and juicy roast but if time doesn't allow for it to be cooked on low, you can cook on high for about 4-5 hours, but I strongly reccomend cooking low and slow.
After the chuck roast is nice and tender, remove the meat and veggies from the Crockpot and add a cornstarch slurry into the broth if you want it thicker. To make a cornstarch slurry, just add 1 tablespoon of cornstarch into the liquid and stir until thickened. Once you get your gravy to the consistency that you like, you are ready to serve!
I feel like with a roast you just have to serve a big heaping pile of mashed potatoes on the side! Another side that always works is some fresh rolls out of the oven or even a salad to keep it on the lighter side. No matter what you serve with this recipe, your family is sure to love it! The meat and veggies end up so tender and are absolutely delicious covered in that flavorful gravy! Try this recipe out and add it to your family's new favorite recipes!
Helpful Tips and Frequently Asked Questions
Make sure the chuck roast is completely thawed for best cooking results.

Searing the chuck roast before adding it into the Crockpot produces the best flavor and helps to tenderize the meat, but if necessary, you may skip this step.

Add in as many veggies as you'd like for your family.

I cook my roasts on low for 8 hours, so the meat is nice and tender.

Cooking times may vary depending on size of the chuck roast.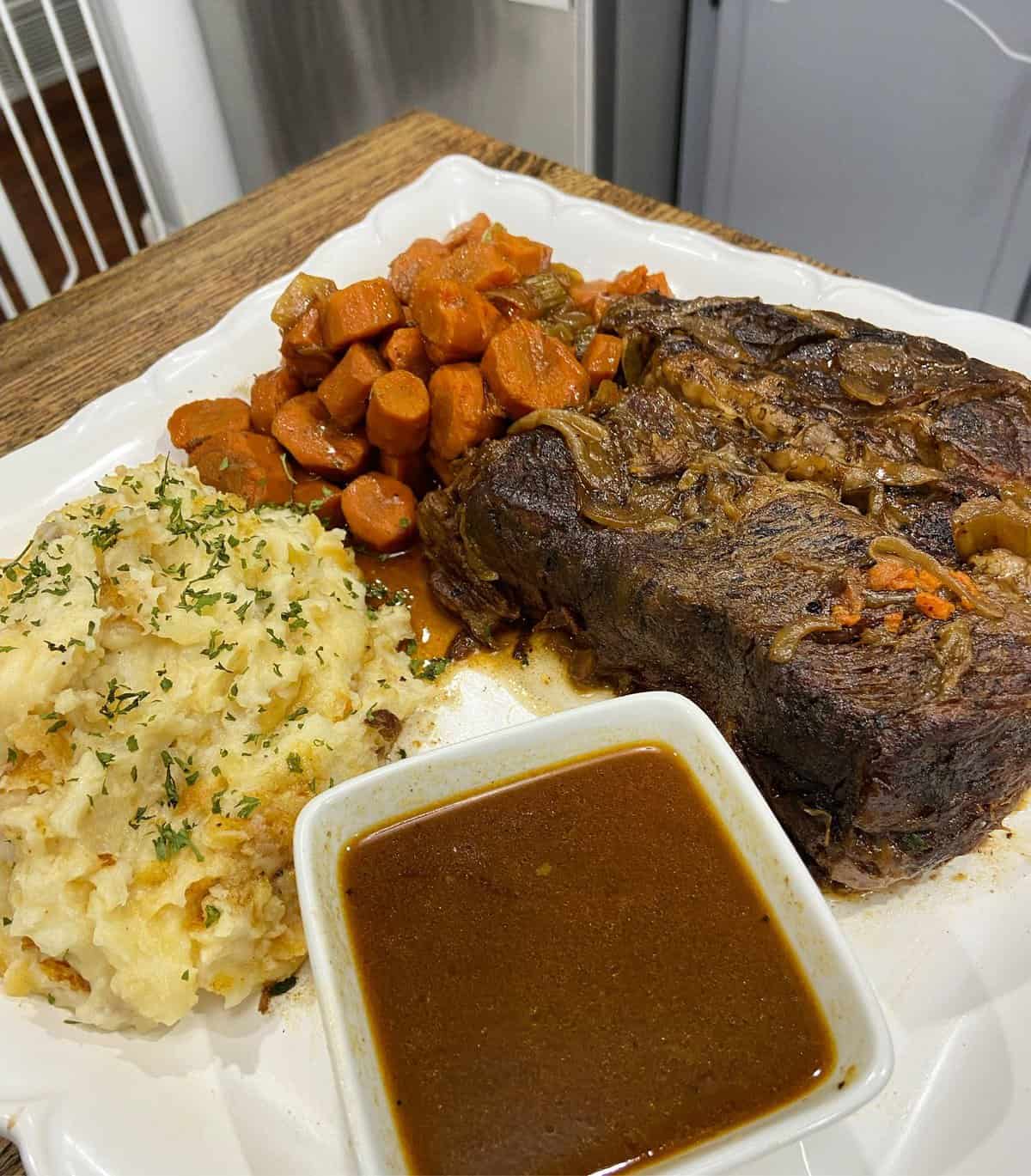 Ingredients
1

chuck roast

(3-4 pounds)

1

brown gravy packet

1

ranch seasoning packet

salt and pepper

1

tsp

each of garlic powder and paprika

1

sliced onion

a few chopped carrots

a couple of pieces of celery chopped

2

cups

of beef broth
Instructions
Sear all sides of the pot roast in a skillet and season each side with salt and pepper.

Add the chuck roast to a slow cooker.

Add 2 cups of beef broth to the hot skillet scraping all the brown bits off the pan.

Add all of the remaining ingredients to the pan and stir often until bubbling and the broth is just starting to thicken.

Pour the broth/veggie mixture over the chuck roast in the slow cooker.

Cook on low for about 8 hours or until meat is tender.

Remove the meat/veggies from the slow cooker and add cornstarch to thicken the gravy if needed. Enjoy!
Did You Make This Recipe?
Please leave a comment below or pin it to your Pinterest account!