BBQ Chicken Sandwiches on the Griddle
BBQ Chicken Sandwiches
I love a good sandwich, and when the sun starts shining and the weather gets warmer, there isn't anything much better than grabbing a cold drink, putting on some good tunes, and firing up the griddle. This recipe is perfect if you are feeling that back-porch vibe. When it is possible, it is nice to cook outside. Not only does cooking outside give me a good and laid-back feeling, it sure cuts down on the kitchen clean-up after dinner.
Another great thing about these BBQ chicken sandwiches is that they don't require many ingredients and still pack a flavorful punch. A couple of chicken breasts. You can buy fresh or if you are like me, I always have a bag of frozen breasts in the freezer, just thaw them out. You will need only a couple of tablespoons of olive oil to help the chicken cook and not stick on the griddle. The seasoning for these sandwiches is very simple, salt, pepper, and garlic powder (I love Kinder's The Blend and always have it on hand, it really makes seasoning simple). One sliced red onion, you can use your favorite type of onion. Red onions are similar to yellow onions, just a little meatier and hold up well on the griddle, keeping some of that crunch. You will need just one-half of a cup of your favorite BBQ sauce; I like sweet BBQ sauces for these sandwiches, but with a higher sugar content you have to make sure the BBQ sauce doesn't burn on the griddle. I love provolone cheese, it has a great flavor and is an easy-melting cheese, it works great for these sandwiches. Finally your favorite sub rolls, buttered and toasted…there isn't much better!
These BBQ chicken sandwiches couldn't be any easier to make. Start with cubbing up the thawed chicken breasts. In a bowl, season them with the 2 tablespoons of olive oil and the salt, pepper, and garlic powder blend. Slice up the red onion to your desired thickness. Take the seasoned chicken pieces and throw them on the griddle set on medium heat. While the chicken is cooling toss on the red onions. When the chicken is thoroughly cooked to an internal temperature of 165 degrees, combine it with the onions and pour the ½ cup of BBQ sauce over the top and thoroughly mix. Separate the chicken and onions into sandwich-sized portions and cover them with provolone cheese. Pay special attention to the BBQ sauce during this time. The sweeter the BBQ sauce, the easier it is for the sugar in the sauce to burn. Butter up some sub sandwich rolls and give them a quick toasting on the griddle.
This recipe is extremely versatile. You can easily add anything to these sandwiches to suit your tastes. Even something as simple as changing the BBQ or swapping out for buffalo sauce gives them a completely different flavor. These sandwiches would go great with coleslaw, potato salad, or any other common BBQ sides, or even something as simple as your favorite chips. If you are looking for a more healthy alternative to sides, it would be very easy to toss some frozen veggies on the already hot griddle and give them a shot of olive oil, salt, and pepper to taste. Pair this with a nice drink and you have a perfect cookout…just invite some friends.
This simple and easy-to-clean recipe is definitely on our spring and summer cooking rotation. Keeping the mess and the heat from cooking outside of the house on hot summer days makes it almost a must for a quick summer meal. It is also very easy to size this recipe up and make some delicious sandwiches for those back-porch get-togethers.
If you are like me, it doesn't take much to convince me to fire up my griddle and make dinner outside. It is even better with some good friends. It is one of the most midwestern things to do. So ice down some drinks, get out the lawn chairs, queue up your favorite playlist, call some friends, eat some BBQ chicken sandwiches, and play a game of bags or cornhole and live up those nice midwestern evenings!
Helpful Tips and Frequently Asked Questions
I like to use a meat thermometer to check the internal temp of the chicken and make sure it reaches at least 165 degrees.

Any sub rolls will work, but I like getting "day old" bread from Jimmy John's for recipes like this!

You can use your favorite BBQ Sauce. I use Sweet Baby Ray's.

This would also be good made with Buffalo Sauce!

The Griddle I use is Member's Mark Brand from Sam's Club.
Disclosure: Cooking in the Midwest participates in affiliate advertising programs. I may earn a commission when you make qualifying purchases through my website.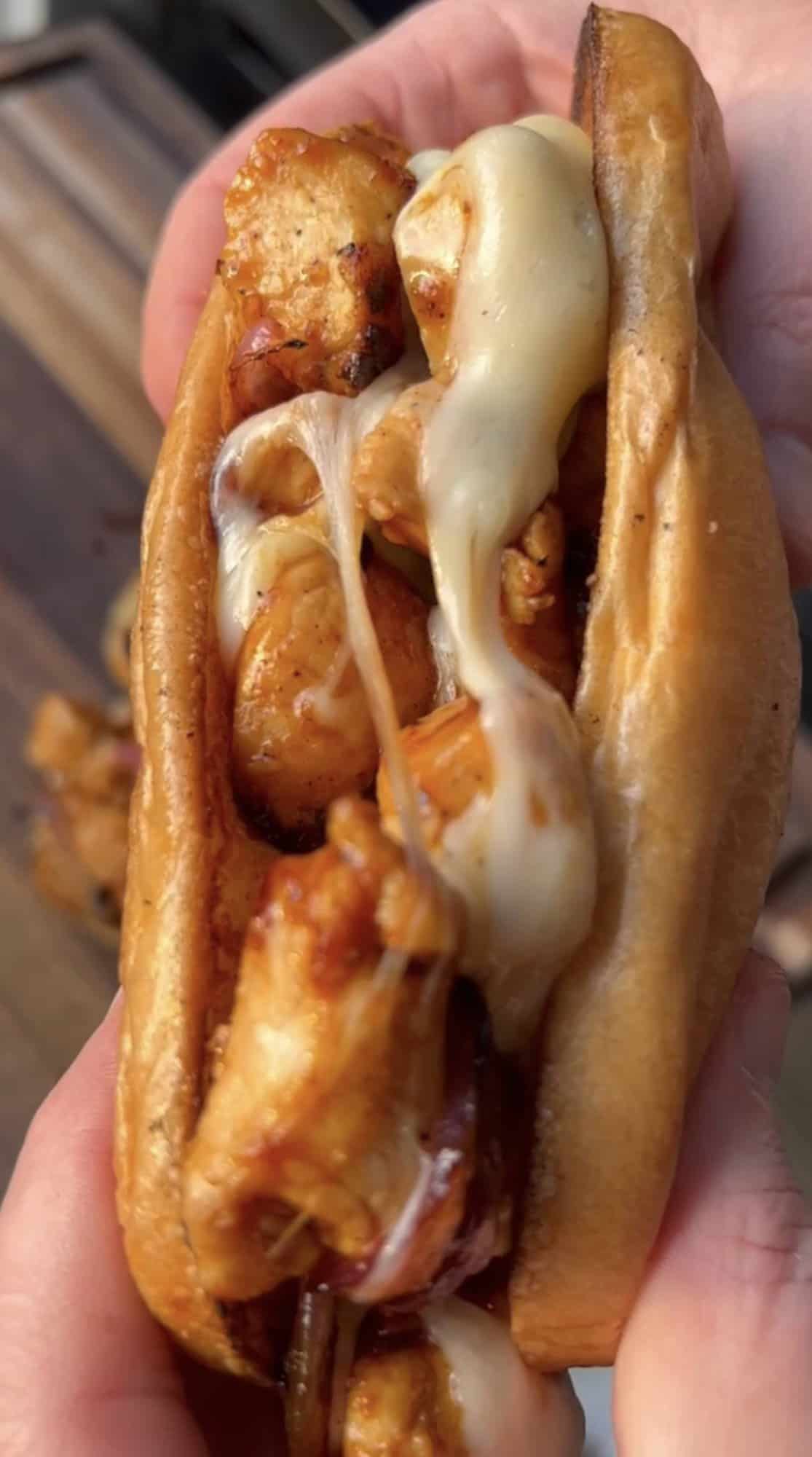 Ingredients
2

chicken breasts

2

TBSP

of olive oil

Salt

pepper, and garlic powder

1

red onion sliced

1/2

cup

of BBQ sauce

Provolone cheese

Sub rolls
Instructions
cut chicken breasts into small chunks, and season with olive oil, salt, pepper, and garlic

cook chicken on the griddle until it reaches an internal temp of 165 degrees

while the chicken is cooking cook red onions

once both are cooked combine with about 1/2 cup of BBQ sauce

cover chicken in provolone cheese and let melt (be careful not to let sit too long or chicken/bbq sauce will start to burn)

spread butter on sub rolls and toast them for just a couple of minutes

build sandwiches
Did You Make This Recipe?
Please leave a comment below or pin it to your Pinterest account!