Mississippi Baked Chicken
Mississippi Chicken
This easy recipe is perfect for a weeknight dinner! Mississippi chicken is a dinner recipe the whole family loves! Everyone needs a few dishes that you can throw together quickly with items that are in your house. It is also nice to have a few dishes that you can have on standby so when dinner sneaks up on you and you don't have time…or don't want to…go to the store for ingredients, you are always ready to cook. This is a new recipe that I have put in our rotation for when those circumstances arise. I am always on the lookout for an easy-to-prepare dish that my family enjoys. This Mississippi Oven Baked Chicken dish delivers on all the marks: cheap, easy to prepare, and delicious.
Chicken is such a versatile protein, and is also meat that almost everyone enjoys. It is easy to fall into a routine of making the same chicken dishes over and over again, but I guarantee you that this chicken dish is anything but boring and has become one of the go-to chicken dishes in my house. Not to mention a good meal that can be prepared with a minimal number of ingredients, but not sacrificing the flavor. This is a dish that would be easy to have all the ingredients on hand so that if dinner sneaks up on you or a surprise guest drops by for dinner…you have a meal that is quick, easy to prepare, and won't disappoint.
When I mentioned only needing a minimal number of ingredients, I was not joking. Most of the items needed in this recipe are staples that I keep stocked at my house. Let's walk through some of these. You will need four thawed and trimmed chicken breasts; you can buy fresh, but I always keep a bag of frozen chicken breasts in my freezer. You will need salt, pepper, and garlic; common staples in almost every house (I love Kinder's The Blend and always have it on hand). I also keep a variety of packaged gravy in my pantry and Au Jus is probably my favorite. No respectable Midwest home would be without a supply of ranch seasoning in their pantry (unless you keep running out of course). A jar of pepperoncini is something that I have recently started keeping stocked at my house; it is an easy way to add that extra jolt of flavor to many dishes. Butter, I buy it when it is on sale and keep it frozen until we need it. Finally, provolone cheese is an easy-melting cheese great for dinners and sandwiches.
Juggling two children, work, family, and social events…we seem to always be pressed for time. This recipe is quick and very easy to prepare which is another big plus at our house. This chicken dish is quick to put together and does not require much attention to cook (this is great since my little boys are always running around).
I start by pre-heating my oven to 425 degrees. While the oven is getting hot, I take thawed and trimmed chicken breasts and season them with salt, pepper, and garlic. Place the seasoned chicken breasts in a greased oven-safe cooking dish. I then season one side of the chicken breasts with one-half of a packet of Au Jus gravy mix and one-half of a packet of ranch seasoning. I flip the chicken breasts and season the other side with the remainder of the Au Jus packet and the ranch packet. I thinly slice some pads of butter and place them on top of the seasoned chicken. Take the pepperoncini (I like to add a lot) and place them evenly on each chicken breast. I then bake the chicken in the oven at 425 degrees for about 25-30 minutes making sure that the internal temperature reaches a minimum of 165 degrees. Bring the chicken out of the oven and place slices of provolone cheese on the chicken and place it back in the oven to melt. Serve and enjoy!
Not only is Mississippi Chicken easy to prepare, but it is also packed with all kinds of flavors. The Au Jus, ranch, and pepperoncini bring a flavorful kick to a simple chicken dish. This has quickly become one of our quick and easy go-to meals. I like to serve this chicken with rice and mixed vegetables (which we also keep as staples in our house).
Helpful Tips and Frequently Asked Questions
I like to use a meat thermometer to check the internal temp of the chicken and make sure it reaches at least 165 degrees.

I don't think this dish turns out too salty, but if you are trying to cut back on the salt you could use half of the ranch and Au Jus Gravy packets.

I used provolone cheese, but you could really use any cheese you like!

Pepperoncini or banana peppers will work for this recipe.

Disclosure: Cooking in the Midwest participates in affiliate advertising programs. I may earn a commission when you make qualifying purchases through my website.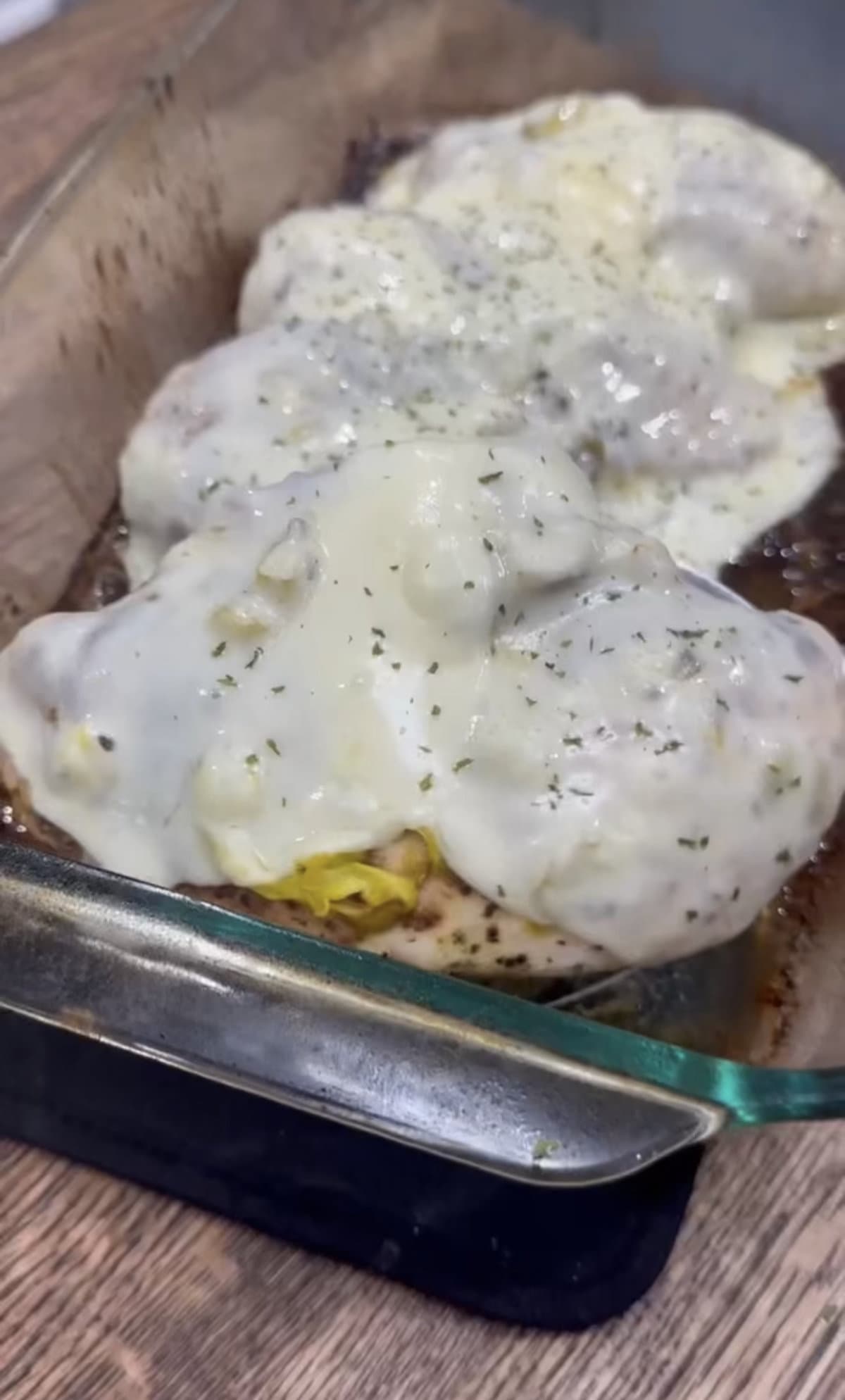 Ingredients
4

chicken breasts

Salt

pepper, garlic powder

Au Jus Gravy Packet

Ranch Seasoning Packet

Pepperoncinis

Butter

thinly sliced

Provolone cheese
Instructions
lightly season chicken breasts with salt, pepper, and garlic powder

add chicken breasts to a greased baking dish

season both sides of the chicken with the Au Jus Gravy packet and Ranch seasoning packet

add some thinly sliced butter to the tops of the chicken

add pepperoncini

bake at 425 degrees for about 25-30 minutes or until chicken reaches an internal temp of 165 degrees

top chicken with provolone cheese and put back in the oven for just a couple of minutes to melt the cheese
Did You Make This Recipe?
Please leave a comment below or pin it to your Pinterest account!