Crockpot Buffalo Chicken Pasta
Buffalo Chicken Pasta
This easy crockpot Buffalo chicken pasta is perfect for a weeknight dinner! I've been making this Buffalo Chicken Pasta in the crockpot for many, many years! Yummy buffalo sauce, chicken and pasta are the perfect trio! Everybody loves this meal every time that I make it. Even my kids love it! One great thing about this dish is that the spice level can be adjusted to your liking. Since our kids eat this meal as well, we use mild buffalo sauce and adjust the amount that we add as needed! This is a simple and affordable recipe to make that will have your whole family coming back for seconds!
How to Make Buffalo Chicken Pasta
Begin with getting out your crockpot and turning it on high. Add 1 lb of chicken breast to the crockpot and add in 1 chopped onion. Next up, you will add all of the dry seasonings; 1 tablespoon of dry ranch seasoning, and ½ teaspoon each of salt, pepper, paprika, garlic powder, and Italian seasoning. Then, you're going to add about ½ cup of buffalo sauce into the slow cooker. Place the lid on the slow cooker and cook on high for 3-4 hours until the temperature of the chicken is at least 165º. Once the chicken is cooked through, take the chicken out of the crockpot and chop up or shred if preferred. Add the chicken back into the crockpot, then boil a 16 oz box of pasta according to the directions on the box. While the pasta is cooking, add 1 jar of alfredo sauce, and 2 tablespoons of bottled ranch dressing to the crockpot. Top with ¼ cup of freshly grated parmesan cheese and freshly shredded mozzarella cheese. Once the pasta is finished cooking, drain and add the cooked pasta into the crockpot and mix everything together well.
When you're ready to serve this delicious pasta dish, top with an extra drizzle of buffalo sauce or even ranch dressing to take it to another level! This serves up perfectly with a leafy green side salad but also is perfect on its own! The creaminess of the alfredo sauce and the twang from the buffalo sauce are a delicious match that I can't get enough of! This recipe will be a great addition to your weekly or monthly meal rotations! Try this recipe out, I hope you enjoy!
Helpful Tips and Frequently Asked Questions
The spice level of this recipe can be controlled by using a mild buffalo sauce and starting off with ¼ cup of sauce and gradually increasing to your desired spice level.

Use your favorite type of pasta for this recipe!

I used Sweet Baby Ray's Mild Buffalo sauce.

Use freshly shredded mozzarella and parmesan cheese for a better flavor and creaminess.

If you don't have a jar of alfredo sauce or prefer to make it yourself, feel free to make homemade alfredo sauce, just add about 16 oz to substitute for the jar of alfredo. I usually prefer to make my own alfredo for most recipes, but I have found it doesn't really affect the flavor in this dish, it's more so for the consistency.
Disclosure: Cooking in the Midwest participates in affiliate advertising programs. I may earn a commission when you make qualifying purchases through my website.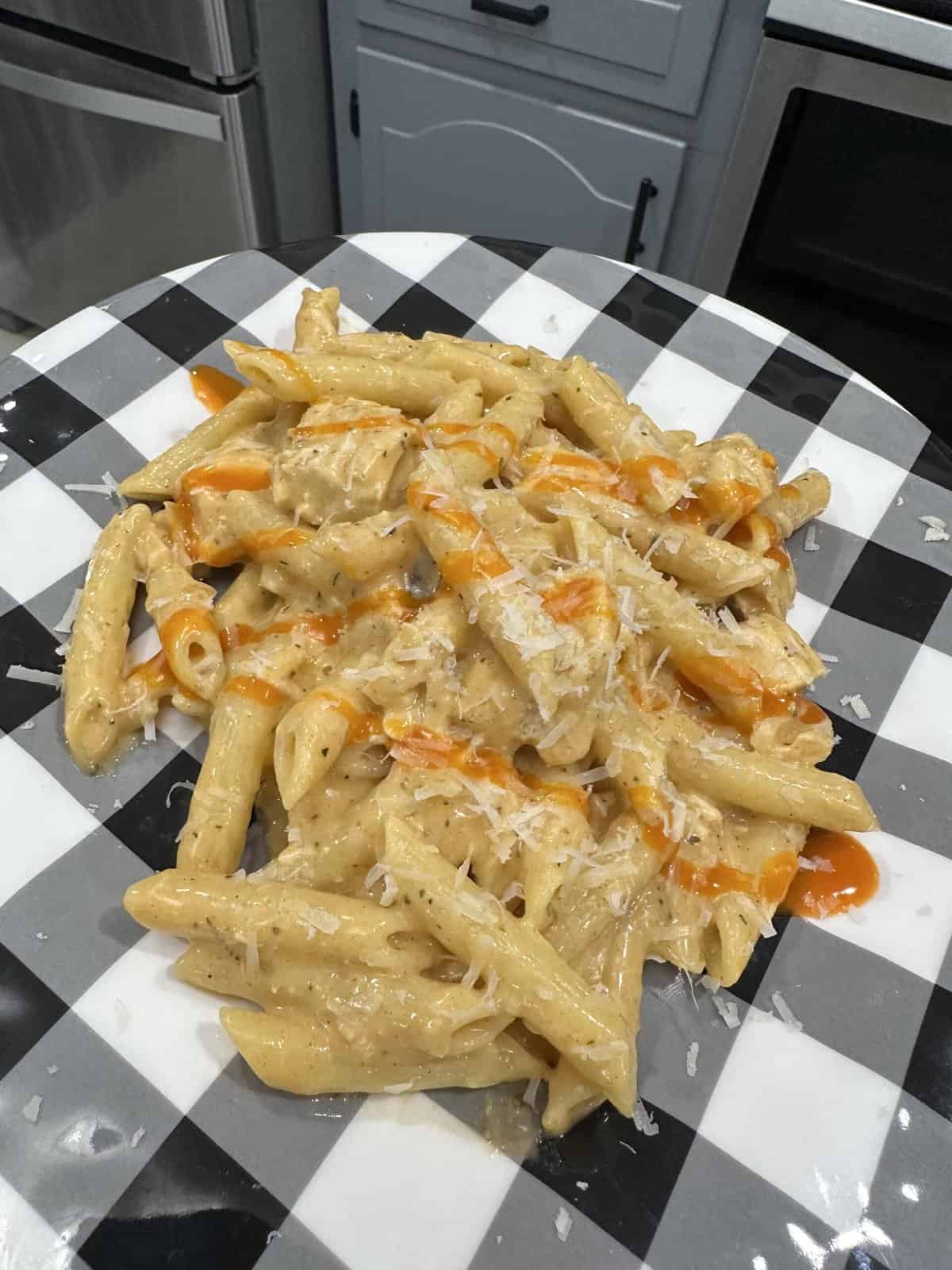 Ingredients
1

lb

chicken breast

1

chopped onion

1

TBSP

of dry ranch seasoning

1/2

tsp

each of salt

pepper, paprika, garlic powder, and Italian seasoning

1

jar of Alfredo sauce

1/4 - 1/2

of a cup of Buffalo sauce

start with 1/4 if you don't like it spicy

1 16

oz

box of pasta

1/4

cup

of Parmesan cheese

1/2

cup

of shredded mozzarella

2

TBS

of bottled ranch dressing
Instructions
Add chicken, onion, dry ranch seasoning, salt, pepper, paprika, garlic powder, Italian seasoning, and the buffalo sauce to a slow cooker.

Cook on high for 3-4 hours

Shred or chop up chicken

Boil pasta

Add Alfredo, more buffalo sauce (only if you want it to have more of a spicy buffalo sauce flavor), Parmesan cheese, Mozzarella cheese, and ranch dressing to chicken in the slow cooker

Add cooked pasta to slow cooker and mix everything together

Serve and enjoy!
Did You Make This Recipe?
Please leave a comment below or pin it to your Pinterest account!