Cheesy taco rice is a family favorite and a great way to switch up taco night! This dinner recipe is easy to make and you only need one skillet.
I'm a big fan of easy weeknight meals that take little to no time to throw together but that also taste amazing! Being a teacher, I only have a few hours in the evenings to spend time with my family while also getting the kids ready for bed so having quick and easy meals is a must! This Cheesy Taco Rice Skillet dinner is absolutely delicious and is a simple recipe that your whole family will love!
I like to make the Pico de Gallo first so that the flavors have time to marry together. To make this delicious topping, I first chop up all of the veggies. Dice up 4 small tomatoes, ½ onion and 1 jalepeño and add to a small bowl and stir together. Next, squeeze 2 limes over the chopped veggies and season with salt and pepper to taste. Add ½ bunch of fresh cilantro and stir to combine. This pico de gallo can be made ahead of time and stored in the fridge!
Now we're ready to make the main part of this recipe! For the cheesy taco rice, start by browning 1 pound of ground beef in a medium sized skillet over medium-high heat with a little bit of olive oil. Add in all of the seasonings: ½ teaspoon each of salt and pepper, ¼ teaspoon of cayenne, 2 teaspoons of chili powder, and 1 teaspoon each of cumin and dried cilantro. Add 1 diced onion to the skillet and continue to cook until the meat is browned and the onion becomes translucent and soft.
Once the meat is cooked through, drain any excess grease from the skillet, then add 1 can of rotel, 1 can of tomato sauce, 1 ½ cups of beef broth, and 1 tablespoon of minced garlic and stir. Add 1 cup of uncooked rice to the skillet and stir well. Cover with a lid and cook on medium-low heat for about 15-20 minutes or until the rice is cooked. Top the skillet with 2 cups of freshly shredded cheddar cheese and let it melt. Placing the lid back on will help to melt the cheese! Once you are ready to serve this yummy meal, sprinkle some of that fresh pico de gallo on top and even serve some up on the side! The pico adds freshness and some acidity to the dish which helps to balance all of the flavors.
I love to serve this recipe with tortilla chips which adds the perfect crunch to each bite. My boys even love this meal. If you are worried about any spice from the cayenne, you can lower the amount added or omit it. You all know I love easy weeknight meals and this is another great one! Try this recipe out, I hope you love it!
Helpful Tips and Frequently Asked Questions
Rinse your rice before adding it to the skillet.

Adjust the spice level of this recipe by lowering or increasing the cayenne if desired.

A freshly shredded block of cheddar cheese works best for this recipe but pre-shredded cheese can be used as well.

Making the pico de gallo ahead of time allows the flavors to blend together nicely and creates a better flavor.
Disclosure: Cooking in the Midwest participates in affiliate advertising programs. I may earn a commission when you make qualifying purchases through my website.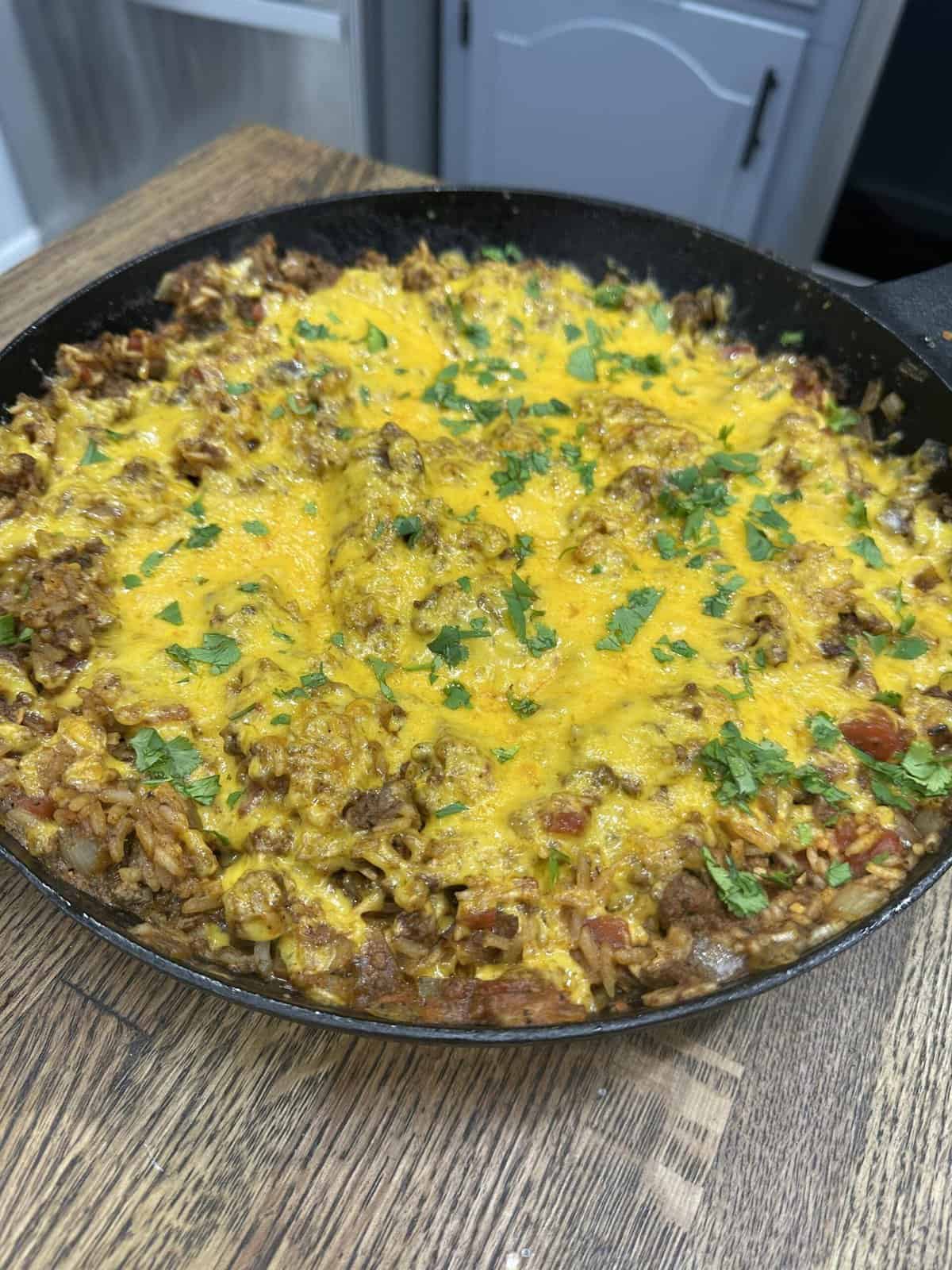 Ingredients
1

lb

of ground beef

1/2

tsp

salt and pepper

1/4

tsp

cayenne

2

tsp

chili powder

1

tsp

each of cumin

dried cilantro

1

diced onion

1

TBSP

of minced garlic

1 10

oz

can of Rotel

1 8

oz

can of tomato sauce

1 1/2

cups

of beef broth

1

cup

of long grain white rice

uncooked

2

cups

of shredded cheddar cheese

4

small tomatoes

diced

1/2

onion

diced

1

jalapeño

diced

1/2

a bunch of cilantro

2

limes

squeezed

Salt and pepper to taste
Instructions
Brown the ground beef in a skillet on medium high heat, add all seasonings, and the onion.

Let that cook until beef is cooked through and onions have softened.

Drain any grease from the skillet.

Add Rotel, tomato sauce, minced garlic, beef broth, and uncooked rice to the skillet.

Stir well, cover with a lid, and cook on medium low heat for about 15-20 minutes or until rice is cooked.

Top with shredded cheddar cheese and let melt or pop in the oven on broil.

Serve and top with fresh pico & tortilla chips. Enjoy!

Chop the tomatoes, onions, and jalapeno.

Add all ingredients to a bowl and stir together. Add in squeezed lime juice, cilantro, and season to taste with salt and pepper.

Put the Pico de Gallo in the refrigerator until the Cheesy Taco Rice is ready. This can also be prepped ahead of time!
Did You Make This Recipe?
Please leave a comment below or pin it to your Pinterest account!