Cheesy Broccoli Chicken and Rice Skillet Dinner
Cheesy Broccoli Chicken and Rice
This easy recipe is perfect for a weeknight dinner! It uses minimal ingredients and only takes about 30 minutes to come together. So here's the truth…before my wife and I had kids I was a VERY picky eater. I definitely didn't eat broccoli, regardless of whether it was covered with cheese! When my oldest started eating solid food, I knew I had to change my dietary ways so that my son did not follow in my footsteps, and this Cheesy Broccoli Chicken and Rice Skillet Dinner seemed like the perfect place to start. I figured I could disguise the broccoli by surrounding it with cheesy rice and tender chicken, and my disguise worked! I promise if you have your own picky eater to contend with, this is the perfect recipe for you.
Start by chopping your broccoli into florets. Don't cut them too small or they will fall apart while cooking, and no one likes mushy broccoli. Next, chop your onions and set them aside. I like to chop all my veggies first so I can use the same cutting board for any meat. If you need a time saving option, you can always buy pre-cut broccoli florets in the produce department of your local grocery store.
Next, dice the chicken into small cubes. Try to make them about the same size so that they cook evenly, but don't worry if they're not perfect cubes. Once your butter is sizzling in the skillet, toss in the chicken and spices. I like to measure all of my spices in advance so that I can just toss them all in at once. Cook the chicken most of the way through then add the onions and garlic. I use pre-minced garlic to save time and dishes. Make sure your onions are soft before moving on to the next step. Crunchy raw onions will definitely turn off your picky eaters!
Once your chicken is cooked and your onions are soft, add the rice, broccoli, and chicken broth. Bring all of this to a boil and then reduce heat to medium. Cover with a lid and let simmer for about 15 minutes. If your stove seems to be on the hot side, you might want to reduce the temp to medium-low, just to avoid the chance of burning the bottom or boiling over. My wife is notorious for putting something on the stove and then getting busy (usually chasing after our two toddlers) and letting the pan boil over and leaving a burned mess on the stove top! If you have a gas stove, this is even worse because you have to move the hot grates or let the surface cool before you can clean it, so avoid letting the pan boil over if possible.
The last step is to add the shredded cheddar cheese. If I'm being honest, I rarely measure out an exact cup. In my opinion, it's hard to have too much cheese in a recipe, so I toss in a couple large handfuls and mix it all together so it melts and binds the broccoli, rice, and chicken together. Now, cheese purists will tell you that you should always shred your own cheese because it melts better. But, I have a full time job and two hungry toddlers at home, so this just isn't always going to happen! I don't always have the time and I want to make as few dishes as possible (one reason my wife and I love skillet meals), so I use pre-shredded cheese and it melts perfectly in this skillet recipe. Once I've mixed the cheese in, I actually sprinkle even more cheese on the top (Can you really go wrong with a little extra cheese?) then put the lid on the skillet until everything has melted.
Once you prepare this meal you will see why I love it! It comes together super quickly, so it's great for a busy weeknight. It includes veggies, protein, and dairy, so it's a well-balanced meal for everyone in the family, and I guarantee even your pickiest eaters will love the combination of tender chicken, perfectly cooked rice, and cheesy broccoli!
Helpful Tips and Frequently Asked Questions
You can find chopped broccoli florets and diced onion in the produce department if you want to save a few minutes of prep time.

Frozen broccoli cooks quicker than raw, so if using frozen wait until about the last 5-7 minutes of the cooking process before adding it to the rice and chicken.

Chicken tenders are an even quicker prep than chicken breasts, but they will cost more at the grocery store.

I've gotten the same results with store brand shredded cheese and name brand shredded cheese, so I take the opportunity to save a bit and use store brand.
Disclosure: Cooking in the Midwest participates in affiliate advertising programs. I may earn a commission when you make qualifying purchases through my website.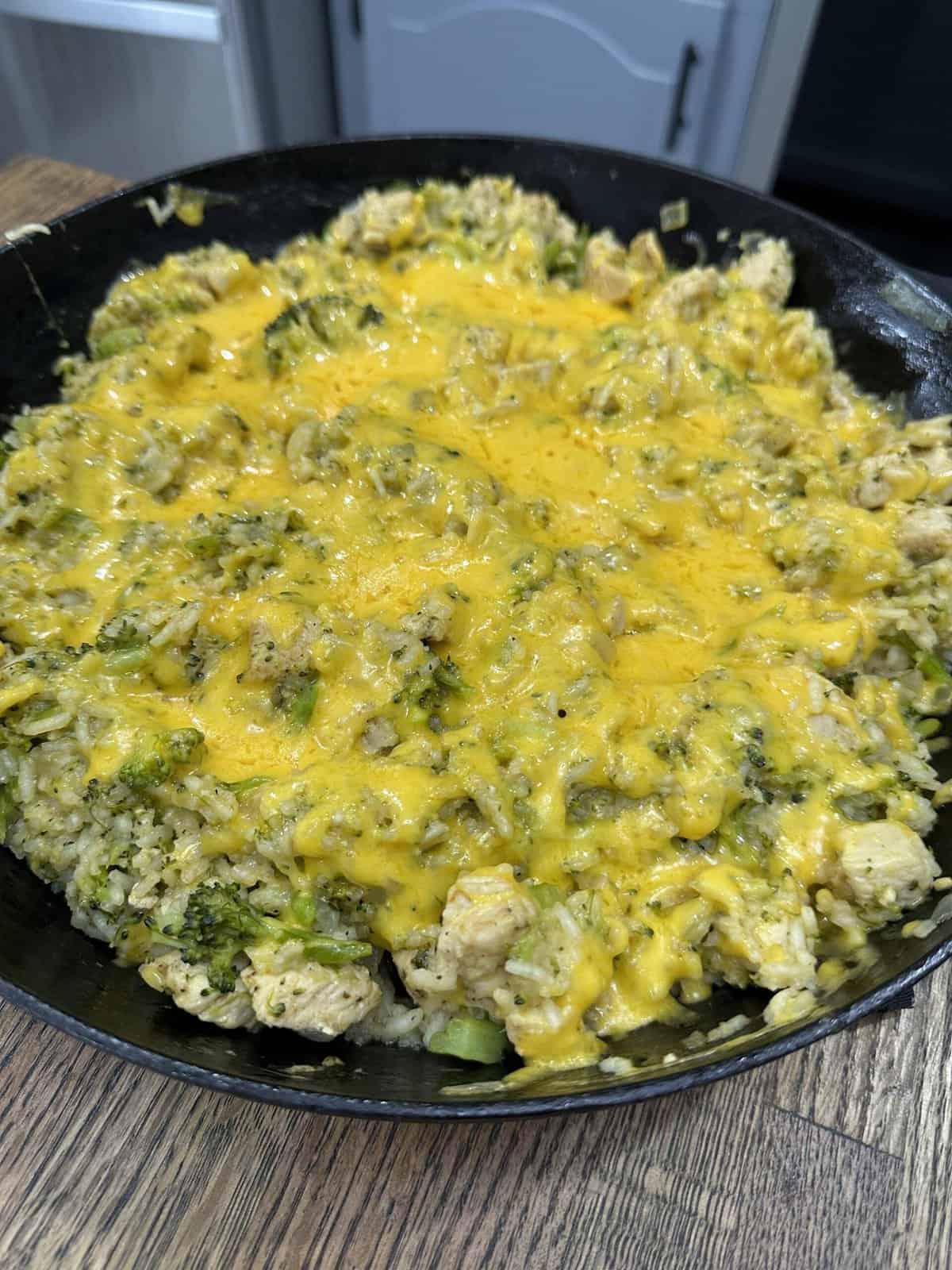 Ingredients
1

lb

chicken breast

2

TBSP

butter

1

chopped onion chopped

1/2

tsp

each of salt

pepper, and paprika

1

TBSP

ranch seasoning

1

TBSP

minced garlic

2

cups

of chicken broth

1

cup

white long grain rice

2

cups

chopped broccoli

1 1/2

cups

shredded cheddar cheese
Instructions
Cut chicken into small pieces

Roughly chop broccoli into smaller pieces (just be careful not to chop too small or it will completely fall apart while cooking)

Add butter to a skillet over medium high heat

Add chicken and spread out evenly in pan

Season with salt, pepper, paprika, and ranch seasoning

Once chicken is almost cooked through add chopped onions and minced garlic

Add rice, broccoli, chicken broth

Bring to a boil, reduce heat to medium low, and cover with a lid

Let cook covered for about 15 minutes or until rice is cooked

Add about half a cup of shredded cheddar cheese and stir

Top with more cheese and cover with the lid to let the cheese melt or pop it in the oven under the broiler for just a few minutes

Enjoy! Let me know if you try it out!
Did You Make This Recipe?
Please leave a comment below or pin it to your Pinterest account!