Mississippi Chicken & Potatoes
Mississippi Chicken & Potatoes
This week has been crazy busy and this is the perfect meal for a quick weeknight dinner! My kids love almost any dish with chicken and potatoes, and this Mississippi Chicken and Potatoes recipe is no exception. The spices I use are mild enough that I don't have to stress on exact measurements, which saves precious weeknight minutes. The pepperoncini peppers give this dish the hit of acid it needs to brighten up the potatoes, and the mozzarella cheese makes it ooey and gooey enough for even the pickiest eater. Full disclosure…I pick the pepperoncinis off before I serve it to my kids. They love the flavor but have no idea it's coming from a pepper!
To make this meal, I start by peeling and dicing my potatoes. If you want to save even more time, skip the peeling or peel and dice the night before and soak potatoes in water until you're ready to use. Toss the potatoes in your spice mix (again, it won't hurt anything if you use a little more paprika and garlic powder then the recipe calls for – sometimes I don't even mess with measuring). Pop the potatoes in your air fryer for about 20 minutes at 400 degrees. I like to shake mine a couple of times during the cooking process just to make sure all the sides crisp up. If you don't have an air fryer, you can roast the potatoes in your oven. It will take a few extra minutes, but your oven will be preheated and ready to broil at the end.
While my potatoes are cooking I dice the chicken into cubes. I try to get the cubes about the same size so they will cook pretty evenly, but I'm never exact. I toss the chicken with a bit of olive oil first, then add my au jus mix and ranch seasoning. I'm more careful with the measurement of the au jus seasoning because some brands can be pretty heavy on salt content, which is why I don't salt and pepper the chicken. I always add about a tablespoon of olive oil to my skillet (again, I don't really measure), just to make sure nothing sticks! Cubed chicken cooks pretty quickly, and to avoid it being overly dry make sure you pull it off as soon as it is white all the way through. If you're nervous about undercooking, remember that it will continue to cook during the last step of the recipe.
Once everything is done simply add the potatoes and the mozzarella to the skillet and mix together. I add a little extra mozzarella to the top and finish with the pepperoncini peppers. Finally, broil in the oven until the cheese is melted and bubbly! If you don't want to mess with the broiling step, you can always place a lid on the dish and let it sit on the stove until the cheese melts.
The best thing about this dish is that you can increase or decrease the spice level based on your family's preferences. Add more or less pepperoncini peppers depending on preference, or use spicy smoked paprika for a bit more of a kick. It's important for me that my kids eat what we eat when we all sit down together, so I tend to keep the spice level on the mild side. We've all experienced a toddler's refusal to eat, and no one wants to face that battle if it can be avoided! My kids love green beans, so I usually serve this with a side of green beans. Another great option is to add frozen peas in with the potatoes to add a bit of green to the overall dish (and sneak in a tasty green vegetable). This is a delicious and hearty meal that you can whip up and have on the table in 30 minutes. With two hungry boys at home, this has become a weeknight staple in our house!
Helpful Tips and Frequently Asked Questions
Always cook chicken to an internal temperature of 165 degrees.

To avoid using multiple pans I cook the chicken in my cast iron skillet so that I can go from stove to oven without switching pans.

Disclosure: Cooking in the Midwest participates in affiliate advertising programs. I may earn a commission when you make qualifying purchases through my website.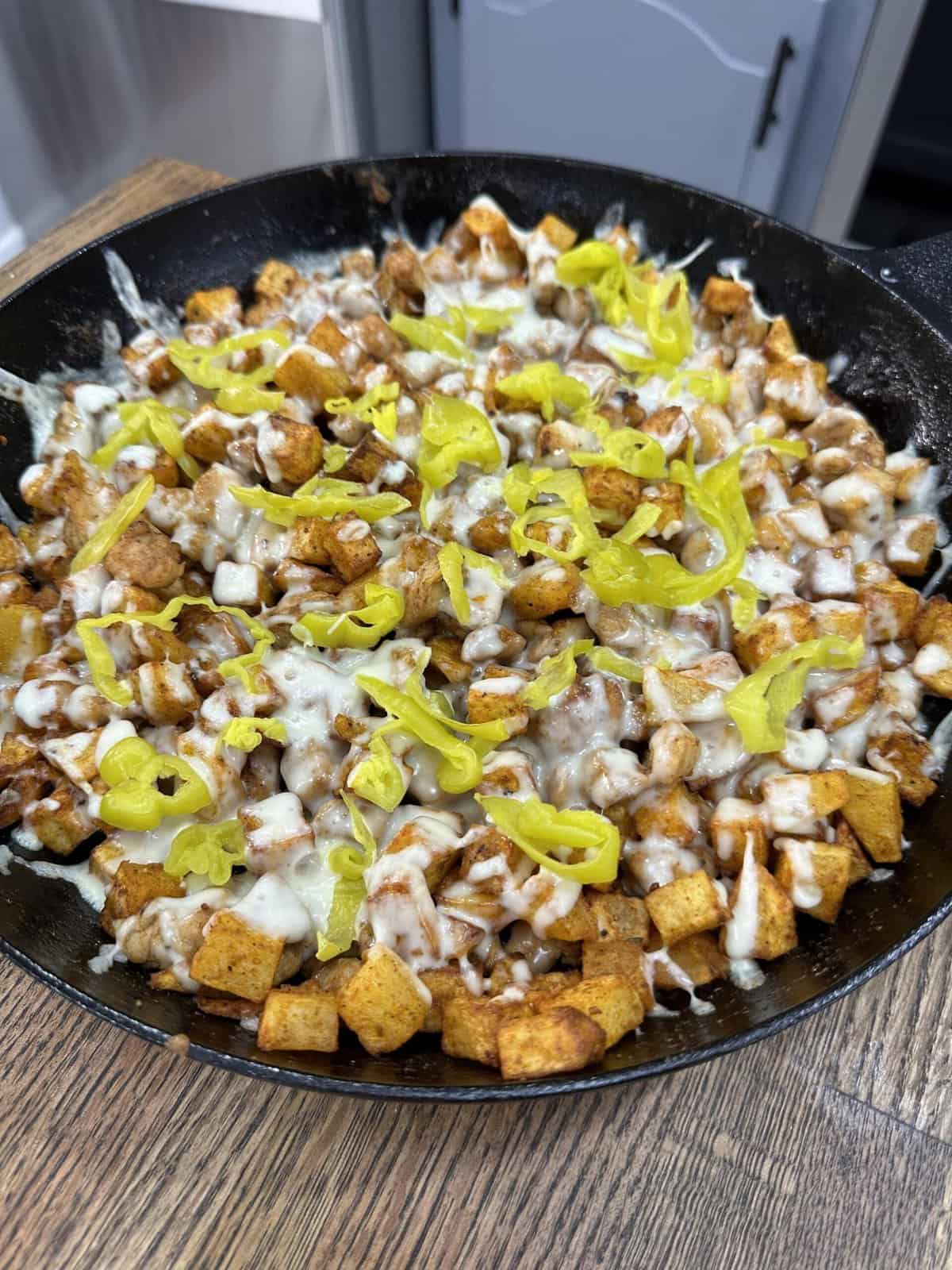 Ingredients
2

chicken breasts

4

medium/large potatoes

olive oil + salt

pepper, garlic powder, paprika (for potatoes)

1

TBSP

each of Aus Ju Gravy Mix and Ranch seasoning

half a packet

2

TBSP

butter

Pepperonchinis or banana peppers

1

cup

of shredded mozzarella cheese
Instructions
Wash potatoes, peel, and cut up into cubes

Toss with olive oil, salt, pepper, garlic powder, and paprika (I don't use exact measurements for this part)

Cook potatoes in the air fryer at 400 degrees for about 20 minutes shaking them around at least a couple times while they cook

Once potatoes are cooking, cut chicken into cubes

Season chicken with olive oil, half a packet of Aus Ju Gravy mix, and Ranch seasoning

Cook chicken in a skillet on medium high heat with a little butter

Once chicken and potatoes are finished cooking add potatoes to the skillet

Stir together well

Top with shredded mozzarella cheese and pepperonchinis

Broil in the oven for just a few minutes to melt the cheese (you could also cover with a lid and let this sit on the stove until cheese melts)

Enjoy!
Did You Make This Recipe?
Please leave a comment below or pin it to your Pinterest account!