Cheesy Ravioli Bake
I love when I can make a meal that will cover two dinners! As I've said before, I'm a busy dad with a full time job. If I can cook once and eat twice, that's all the more time I have available to spend with my boys. This cheesy ravioli bake always lasts for two meals in my house. Now, if your kiddos are teenagers, I make no promises about how long this meal will last. My friends with teenagers tell me their kids eat the food faster than they can even get it on the table! If this is your life right now, I recommend making a double batch and sticking one in the fridge for another night. Regardless of your kids' age, I'm pretty confident they will love this Cheesy Ravioli Bake.
As always, start by browning the ground beef with a little salt and pepper. Don't go too heavy on the salt because the marinara sauce will be plenty flavorful. While your beef is browning, go ahead and preheat the oven to 375. Once your beef is medium to medium-well, drain the grease from the browned beef, then add the remaining spices. All of the spices in this recipe are pretty mild, so I don't measure too carefully. Use a teaspoon or so of everything except salt (that's probably closer to a half teaspoon). Mix your spices in pretty thoroughly with the meat, and then add your jar (or jars) or marinara sauce. Since I try to make this meal last for two nights, I usually use two jars so that it is saucy enough for both nights. As you saw in the video, I tend to use store brand marinara sauce because it is less expensive and my family doesn't seem to notice any difference, especially once beef and spices are added.
While the meat, sauce, and spices are simmering together, grab your 9X13 dish and spray it with cooking spray. The cooking spray keeps the cheese and pasta from sticking to the dish and generally just makes everything easier to clean. Selfishly, I don't want one bit of pasta or cheese to be inedible because it is stuck to the pan! Toss in the frozen ravioli and pour the meat mixture over it. Mix all of this together and top with shredded mozzarella cheese. I generally use about two cups of cheese, but again, I don't measure too carefully. I like to make sure the pasta is completely covered with a good layer of cheese.
The reason I like to make this dish on Sunday is because it does have a longer bake time, so it's not as easy to go from prep to done in 30 minutes or less. Cover the 9X13 with foil, then sit back and relax as it cooks in the oven for about 30 minutes. At this point, remove the foil and bake 10-15 minutes longer, or pop it under the broiler to make the cheese bubbly.
This is a hearty, filling dish to add to your weekly or monthly meal rotation. It can easily be made vegetarian by skipping the ground beef and using frozen cheese ravioli. Add an extra serving of veggies by tossing in some raw spinach as the marinara is heating up. This dish also freezes nicely, so it works if you are taking a meal to another family or prepping freezer meals for those exceptionally busy weeks. I know your family will love this meal as much as mine does!
Helpful Tips and Frequently Asked Questions
You can use either 1 or 2 jars of marinara for this recipe.

The frozen ravioli don't need to be cooked prior to adding them to the baking dish.

You could add spinach to the ground beef and marinara to add a veggie

Serve with garlic bread and a salad or roasted broccoli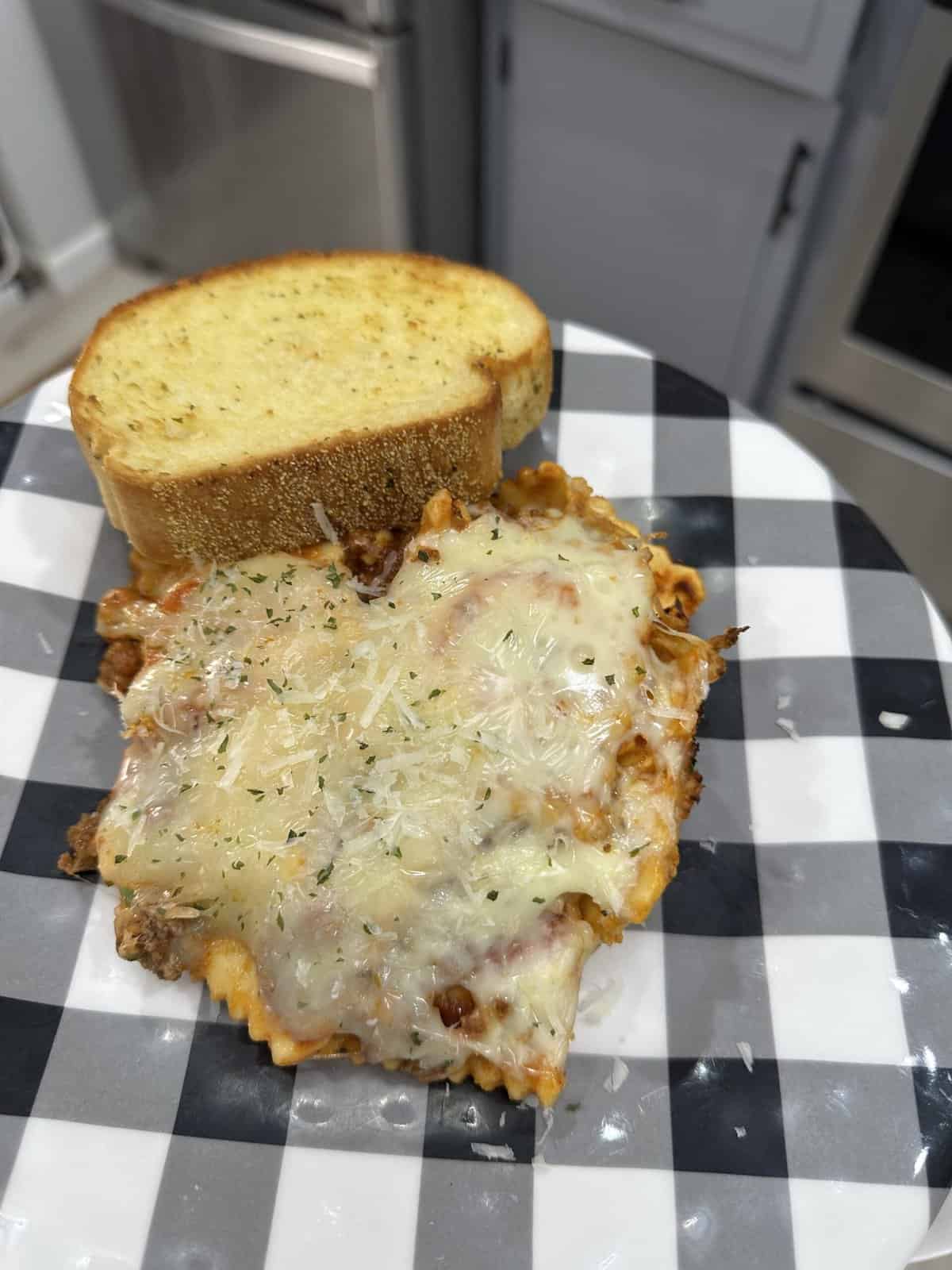 Ingredients
1

lb

ground beef

1/2

tsp

salt and pepper

1

tsp

paprika

Italian seasoning, garlic powder, and onion powder

1-2 24

oz

jars of marinara

use 2 if you want it saucy

2 25

oz

bags of frozen ravioli

Shredded mozzarella cheese
Instructions
Brown ground beef in a skillet over medium high heat

Season with salt, pepper, paprika, Italian seasoning, garlic powder, and onion powder

Drain any grease once beef is cooked and add marinara sauce

Spray a 9x13 baking dish with cooking spray and pour in 2 bags of frozen ravioli

Top with ground beef/marinara mixture

Stir to get sauce incorporated

Cover with aluminum foil and bake at 375 for 30 minutes

Uncover and cook about 10-15 more minutes

Serve and enjoy!
Did You Make This Recipe?
Please leave a comment below or pin it to your Pinterest account!