Alice Springs Chicken and Potato Skillet
Alice Springs Chicken & Potatoes
This easy recipe is perfect for a weeknight dinner! It has all the flavors of the popular chicken dish called Alice Springs Chicken but is a quick and easy meal.
Back when we were newly married, had two incomes and no kids, my wife and I loved to eat out every Friday night! One of our all-time favorite places to patron was Outback Steakhouse, and my wife always ordered Alice Springs Chicken. Now that we are a one income, two kid family, eating out isn't as easy as it used to be, and it has definitely gotten way more expensive, but my wife still loves Alice Springs Chicken. So, I decided to try to recreate her favorite dish so the whole family could enjoy it (for less than the cost of one order, by the way).
I started by peeling and dicing four potatoes. I'm not picky on type of potato, and whatever your preference is will work. As always, peeling is optional. My kids are still little and can be picky about potato peels, so I tend to just grab russets because they're easy to peel. Toss the potatoes with olive oil, salt, pepper, garlic powder, and paprika. I don't measure for this part because garlic powder and paprika are so mild it's tough to be too heavy handed with either of these. If your family is salt sensitive, you will want to measure the amount of salt to your taste & preference, and I would recommend starting with half a teaspoon. You can always add more later if you think it needs it. Side note…I toss the potatoes in the skillet I'm using rather than a separate bowl. The spice blend for the potatoes and the chicken is the same, so there's no need to make extra dishes to wash.
I prefer to cook the potatoes in the air fryer because I think they crisp up better than just roasting them in the oven. I cook mine at 400 degrees for about 20 minutes, and I usually toss them around a couple times during the cooking process. If you are going to cook them in the oven you'll add about 10 minutes to the cook time. Place the potatoes in a single layer on a sheet pan, and try to flip them a couple times during the cooking process so that all sides can brown.
While your potatoes are cooking, toss about 5 pieces of bacon into the skillet and cook them until extra crispy. While the bacon is crisping up, dice the chicken. Place the bacon on paper towels, leaving a tablespoon or so of bacon grease in the skillet to cook your chicken. If you grew up in the midwest, you know that a little bacon grease makes everything better! Add the diced chicken to the skillet and toss in the next set of spices (½ t salt, pepper, paprika & 1t onion & garlic powder).
When the chicken is cooked about halfway through, add in the chopped mushrooms. I'll be honest…I don't love eating mushrooms, but I love the flavor that they give food. Sometimes I just buy the pre-sliced mushrooms so they give good flavor but are still cut big enough to easily pick out. If you're not a mushroom lover, I recommend this rather than just leaving them out.
Once the chicken and mushrooms are fully cooked, top with potatoes and honey mustard and mix this all together in the skillet then top with plenty of freshly grated colby jack. Here's the deal with freshly shredded…it melts much better than the pre-shredded cheese in the bag. If you want really gooey cheese you have to shred it yourself. But in the real world where we don't have time to fresh grate cheese, pre-shredded will work. Top with your bacon pieces and pop in the oven (or cover with a lid) until the cheese is fully melted.
The verdict?
My wife loved my take on Alice Springs Chicken, and I know your family will love it as much as mine!
Disclosure: Cooking in the Midwest participates in affiliate advertising programs. I may earn a commission when you make qualifying purchases through my website.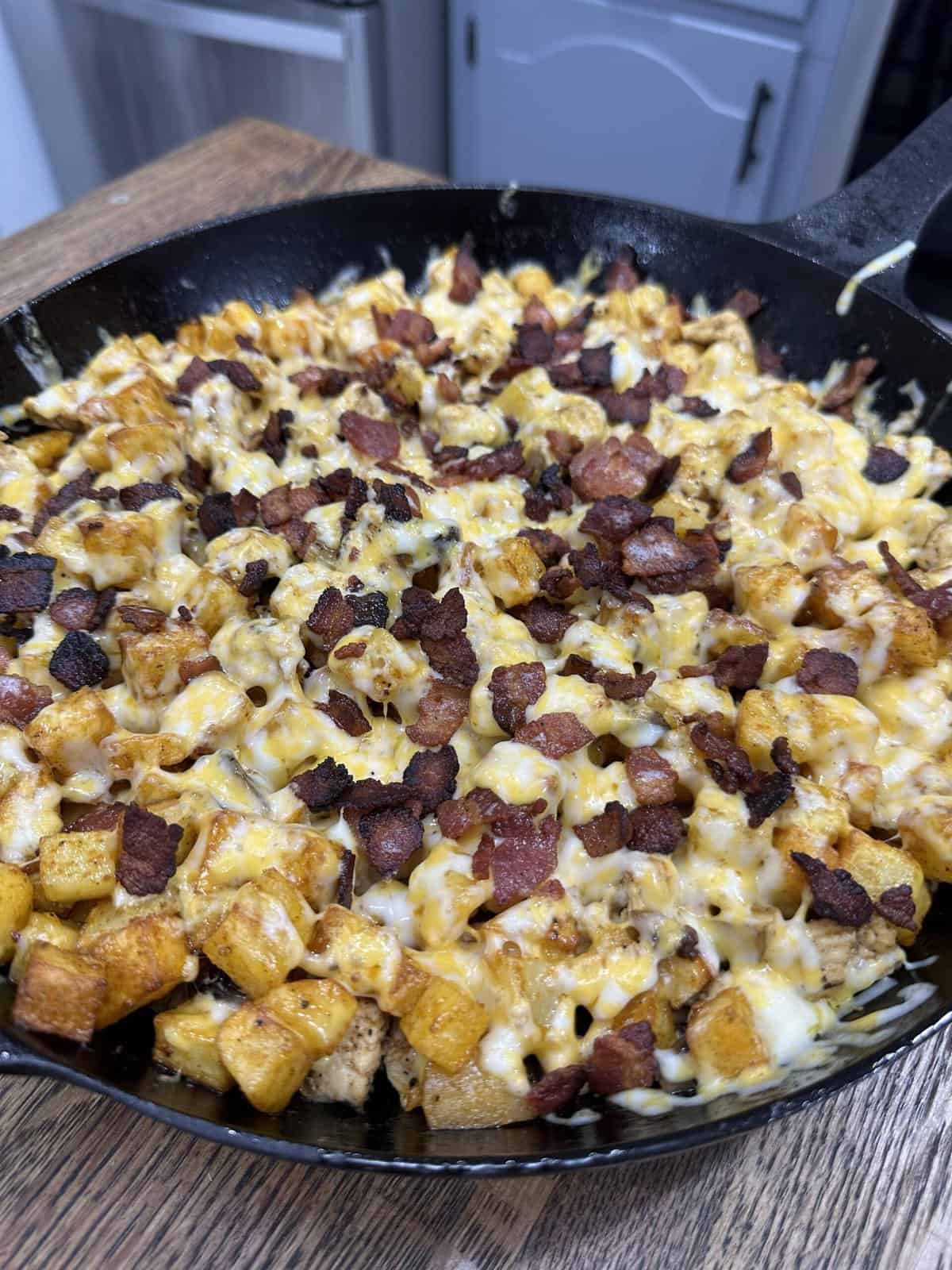 Ingredients
2

chicken breasts

4 - 5

small/medium-sized potatoes

olive oil + salt

pepper, garlic powder, paprika (for potatoes)

1/2

tsp

each of salt

pepper, and paprika

1

tsp

each of onion powder and garlic powder

5

pieces

of bacon

cut into small pieces

4

oz

chopped mushrooms

1

cup

of shredded Colby Jack cheese

honey mustard
Instructions
peel potatoes, wash them, and cut them up into small cubes

toss with olive oil, salt, pepper, garlic powder, and paprika (I don't use exact measurements for this part)

cook potatoes in the air fryer at 400 degrees for about 20 minutes shaking them around at least a couple of times while they cook

once the potatoes are cooking, cut the chicken into cubes and chop the uncooked bacon into small pieces

cook bacon in a skillet and remove from the pan when cooked

remove some of the bacon grease and add the chicken to the skillet

season chicken with 1/2 tsp each of salt, pepper, paprika, and 1 tsp each of onion powder and garlic powder

once the chicken is almost finished cooking add the chopped mushrooms to the skillet

once chicken and mushrooms are cooked add cooked potatoes to the skillet

add honey mustard and stir everything together

top with shredded Colby Jack cheese and bacon bits

broil in the oven for just a few minutes to melt the cheese (you could also cover it with a lid and let this sit on the stove until the cheese melts)

Enjoy!
Did You Make This Recipe?
Please leave a comment below or pin it to your Pinterest account!