Make Cheeseburger Soup
As the leaves begin to change and the temperatures start to drop, there's nothing quite like a warm bowl of soup to help you feel cozy and comforted. Fall is the perfect time to indulge in all the different varieties of soups, and there are plenty of reasons why soup is a great meal for this time of year. One of my favorite soups is Bacon Cheeseburger Soup.
First and foremost, soup is a great way to warm up on a chilly day. As the temperature drops, it's natural to crave warm, comforting foods. A bowl of hot soup can help to take the edge off the cold and warm you up from the inside out.
Soup is also a great way to get in your daily dose of veggies. During the fall, there are plenty of fresh vegetables that are in season, and soup is a great way to use them. By incorporating a variety of vegetables into your soup, you not only make the soup go further, but you can tell yourself that you are being healthy by checking off that section of the food pyramid.
Another reason soup is a great meal for the fall is that it's easy to prepare in large batches. This means that you can make a big pot of soup and have leftovers for days. This makes it a great option as the kids get back to school and we all get used to the new fall and winter routines. Soup also freezes well, which means that you can make a big batch and freeze it for later, but when I make this, me and my family never have enough left to think about freezing it.
To make this delicious and hearty soup you will need 1 pound of ground beef. You will need an onion, 2 carrots, 2 stalks of celery, and 4 large potatoes (I like adding carrots and celery to my soups, it makes them more filling and gives a nice texture to the soup). For seasonings, you will want minced garlic, along with salt, pepper, garlic powder, paprika, parsley, and one ranch package. Two cups of beef broth, ½ cup of heavy cream, 1 can of cream of chicken soup, 1 cup of shredded cheddar cheese (plus some for topping), and crumbled bacon and green onion for topping.
To make this recipe simply start by browning the ground beef with one chopped onion. Season the ground beef with salt, pepper, and garlic powder (I like using Kinder's "The Blend" I always have it on hand and it makes seasoning simple). Cut up the 2 large carrots and 2 celery stalks and add those to your browning meat and cook until the vegetables start to soften. Drain off any extra fat.
Wash, peel, and cube up the four large potatoes. You then add those to your crock pot. Add your ground beef mixture on top of the potatoes. Add one can of cream of chicken soup, 2 cups of beef broth, and 1 cup of water. Add the following seasonings: ½ teaspoon of salt, ½ teaspoon of pepper, 1 teaspoon of paprika, 1 teaspoon of parsley, and one whole ranch packet. Give it all a good stir.
Here is where you let the crockpot work its magic. Turn on low for 6 to 8 hours. Thats all! Around 30 minutes before you are ready to eat, add in ½ cup of heavy cream and one cup of shredded cheddar cheese. Let that melt and incorporate. You can add your bacon here if you want to. I like to add it at the end so that is crunchy while I am eating my soup. I add a little extra shredded cheddar cheese and green onion, and enjoy!
My favorite way to make this soup is to have all the ingredients prepared the night before. I add them to the crockpot in the morning and turn it on low while I go to work. There just isn't much better than knowing all day that when you come home there will be a nice, hot, and delicious meal waiting for you. Not to mention using the leftovers to meal prep. Put the soup in your to-go containers and you have lunch for the next day or two (depending on how much you eat that first night).
Helpful Tips and Frequently Asked Questions
Shred your own block of cheddar cheese for a richer and smoother melted cheese.

Jared minced garlic can be used or you can mince fresh garlic.

I like adding all the ingredients to the crockpot and letting it cook all day on low, but you could also cook this on the stove until the potatoes are cooked through.

This soup is great scooped up with some toasted french bread!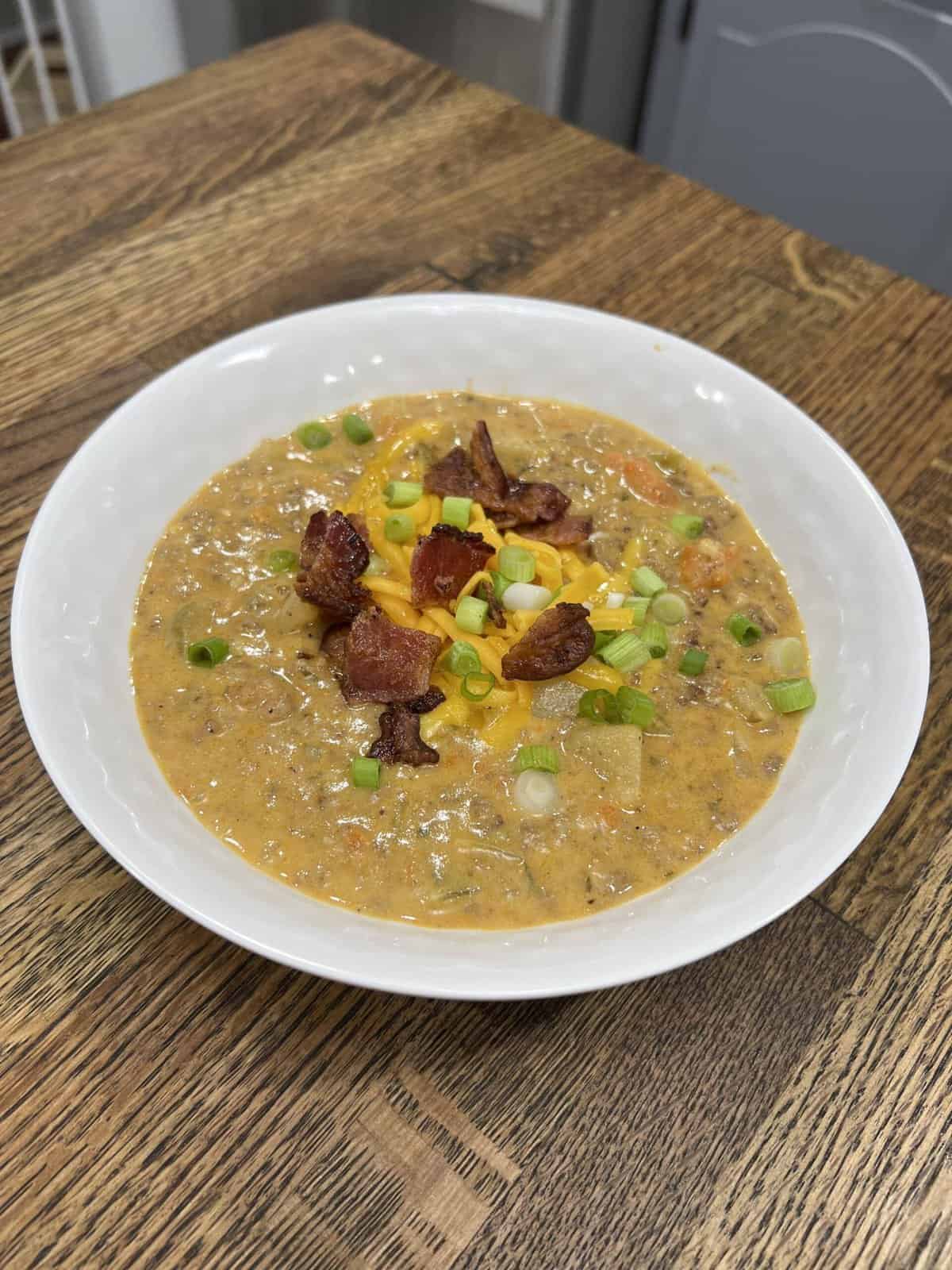 Ingredients
1

lb

ground beef

1

chopped onion

salt

pepper, and garlic powder

2

celery sticks chopped

2

large carrots chopped

4

large potatoes chopped

1

can of cream of chicken soup

2

cups

of beef broth

1

cup

of water

1

TBSP

minced garlic

1/2

tsp

each of salt and pepper

1

tsp

each of paprika and parsley

1

ranch seasoning packet

1/2

cup

of heavy cream

1

cup

of shredded cheddar cheese

crumbled bacon

for topping

sliced green onions

for topping

shredded cheddar cheese

for topping
Instructions
Brown your ground beef with a chopped onion in a skillet over medium heat.

Season with some salt, pepper, and garlic powder.

Add chopped celery and carrots.

Cook until beef is browned and veggies are starting to soften.

Peel, wash, and chop up 4 potatoes.

Add the potatoes and ground beef mixture to a slow cooker.

Add 1 can cream of chicken soup, 2 cups of beef broth, 1 cup of water, minced garlic, salt, pepper, paprika, parsley flakes, and ranch seasoning.

Stir well and cook on low for 6-8 hours.

Add heavy cream and shredded cheddar cheese.

Stir and let it continue to cook for about 30 more minutes.

Serve bowls of soup topped with cheddar cheese, crumbled bacon, and green onions.

Enjoy!
Did You Make This Recipe?
Please leave a comment below or pin it to your Pinterest account!