Crockpot Fiesta Spinach Dip
Whether it is the holiday season, birthday, family reunion, or gameday, every celebration is best had with friends, family, and of course, delicious food. Whether you're attending a party or hosting one yourself, you'll want to have a few go-to recipes that are easy to make and crowd-pleasers. One dish that will surely be a hit is Fiesta Spinach Dip, and what better way to serve it than in a crockpot?
When it comes to party snacks, dip is always a crowd-pleaser. But how you bring your dip to the party can make all the difference. While a bowl of dip may suffice for a small gathering, bringing a dip in a crockpot can elevate your party snack game and make your dip the talk of the party.
First and foremost, bringing a dip in a crockpot means your dip will stay warm and delicious throughout the party. No more worries about your dip getting cold and congealed on the snack table. Simply plug in the crockpot and let the warm setting do its job.
Another benefit of bringing a dip in a crockpot is that it frees up oven and stove space. If you're hosting a party, you likely have a lot of dishes to prepare, and oven space can quickly become limited. By bringing your dip in a crockpot, you can keep it warm and delicious without taking up valuable oven or stove space.
Every reputable midwestern party provides counter space and plugins for the inevitable row of crockpots. Crockpots come in a variety of sizes and styles that can meet every need you have. That includes this Festive Spinach Dip!
Festive spinach dip is a classic appetizer that everyone loves. It's creamy, cheesy, and packed with flavor. The addition of spinach adds a festive touch with its vibrant green color. This dip is easy to make and can be prepared ahead of time, which is always a plus when you're hosting a party. Simply assemble the ingredients and let the crockpot do the work. The dip can be kept warm in the crockpot throughout the party, ensuring that it stays fresh and delicious.
The ingredients for this dip couldn't be easier. First, there is no meat in this. That might shock you a bit, but trust me…not having to prepare the meat makes this the easiest dip to make (and it definitely does not lack on flavor). For the base, you will need 9 oz. of frozen spinach. You can also use fresh if you want, but for me, the convenience of just throwing some frozen spinach in the pot is too great to pass up. One 8 oz. block of cream cheese, if you are from the midwest then you definitely picked one of these up on your last grocery run. You want at least ½ cup and up to ¾ cup of sour cream. You will need three cups of shredded cheddar cheese. I like to shred my own cheese, but that is just a preference of mine, pre-shredded works great as well!
To add a kick of flavor to the dip you will want a 10 oz. can of Rotel. You will also need at least 2 tablespoons of chopped jalapenos…fresh or pickled (plus however much more you want based on your tastes). You need ½ each of salt, pepper, paprika, chili powder, onion powder, and dried cilantro. You will also need 1 tablespoon of minced garlic, ¼ teaspoon of cumin, and green onions to garnish.
As far as directions go…I could say put ingredients in a crockpot and turn on. That would work…it is that easy, but I will go into a little bit more detail than that. I suggest either spraying the slow cooker with cooking spray. This will help a lot with the clean up after. I have also discovered disposable slow cooker liners. Just like the name says, you open the bag and line the inside of the cooker. After you are done, you just throw the liner away and your crockpot is clean (as long as you don't tear the bag stirring with a spoon). Place all the ingredients in the slow cooker with the frozen spinach on the bottom. It doesn't do much good to stir all of this until it is all hot, so just spread the rest of the ingredients out as evenly as you can. Cook on high for 2 hours, stirring on occasion. Garnish, serve, and enjoy!
Serve the spinach cheddar cheese dip with your favorite crackers, chips, or vegetable sticks. You can also serve it with toasted baguette slices or pita chips for a more substantial appetizer. For a festive touch, you can top the dip with diced red peppers or sprinkle it with chopped green onion.
Helpful Tips and Frequently Asked Questions
Fresh or pickled jalapeños may be used for this recipe.

Fresh or frozen spinach can be used for this recipe. When I use frozen, I don't ever drain the spinach (I add it to the slow cooker frozen) and never have any issues.

Freshly shredded cheddar cheese works best and is creamier and melts easier but store bought shredded cheese can be used as well.

The Rotel (diced tomatoes and green chili) are not drained.

I garnish this with diced green onions, but fresh cilantro would also be good!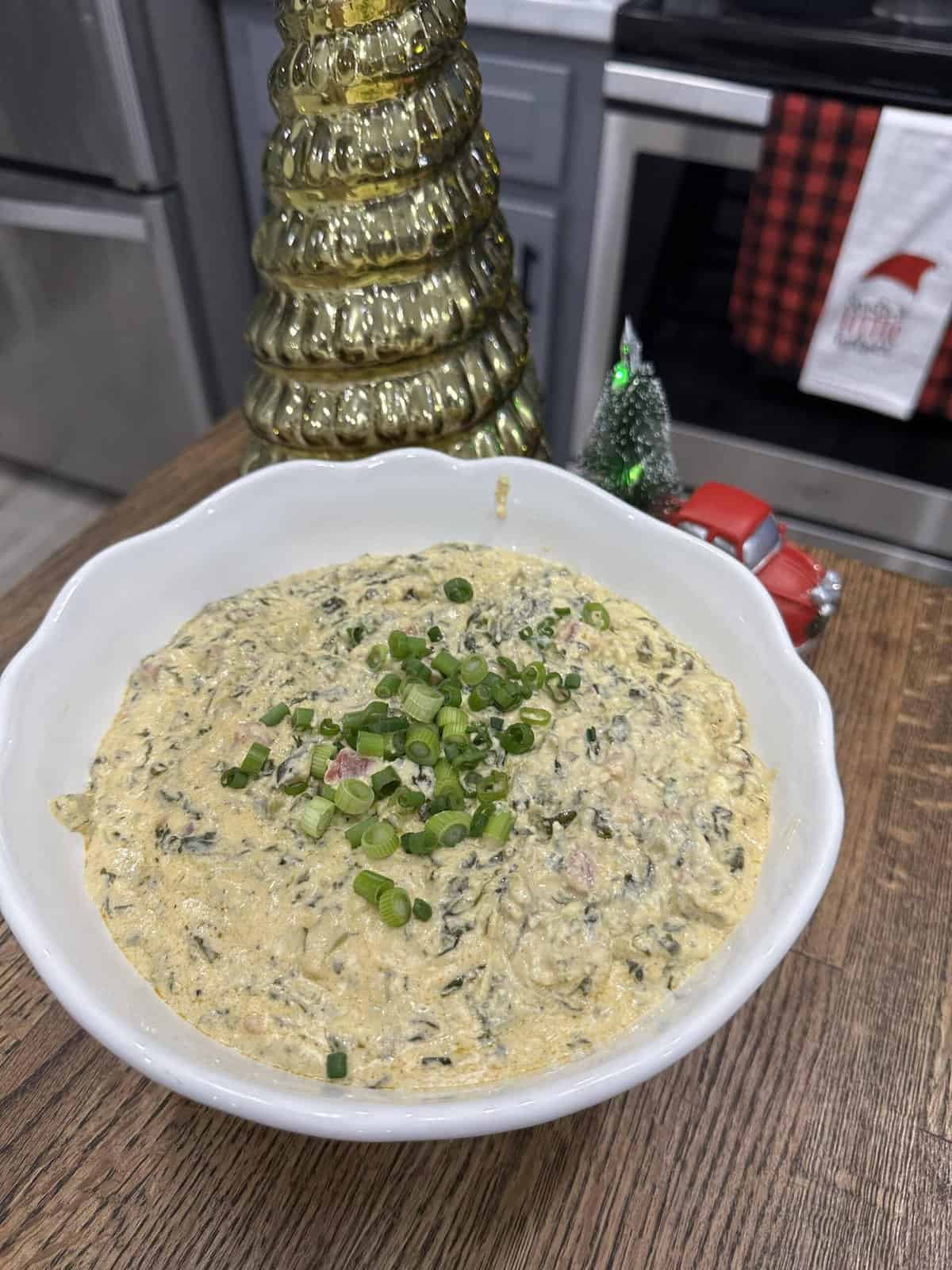 Ingredients
9

oz

frozen spinach

fresh works too

1

block

8 oz of cream cheese

3

cups

of shredded cheddar cheese

1 10

oz

can of Rotel

not drained

1

TBSP

of minced garlic

2

TBSP

chopped jalapeños

1/2

tsp

each of salt

pepper, paprika, chili powder, onion powder, and dried cilantro

1/4

tsp

of cumin

1/2

cup

of sour cream

chopped green onions for garnish
Instructions
Spray a slow cooker with cooking spray.

Add all ingredients (except for the chopped green onions) to the slow cooker.

Cook on high for 2 hours stirring every so often.

Garnish with chopped green onions and serve.

Enjoy! This is great with tortilla chips or crackers.
Did You Make This Recipe?
Please leave a comment below or pin it to your Pinterest account!