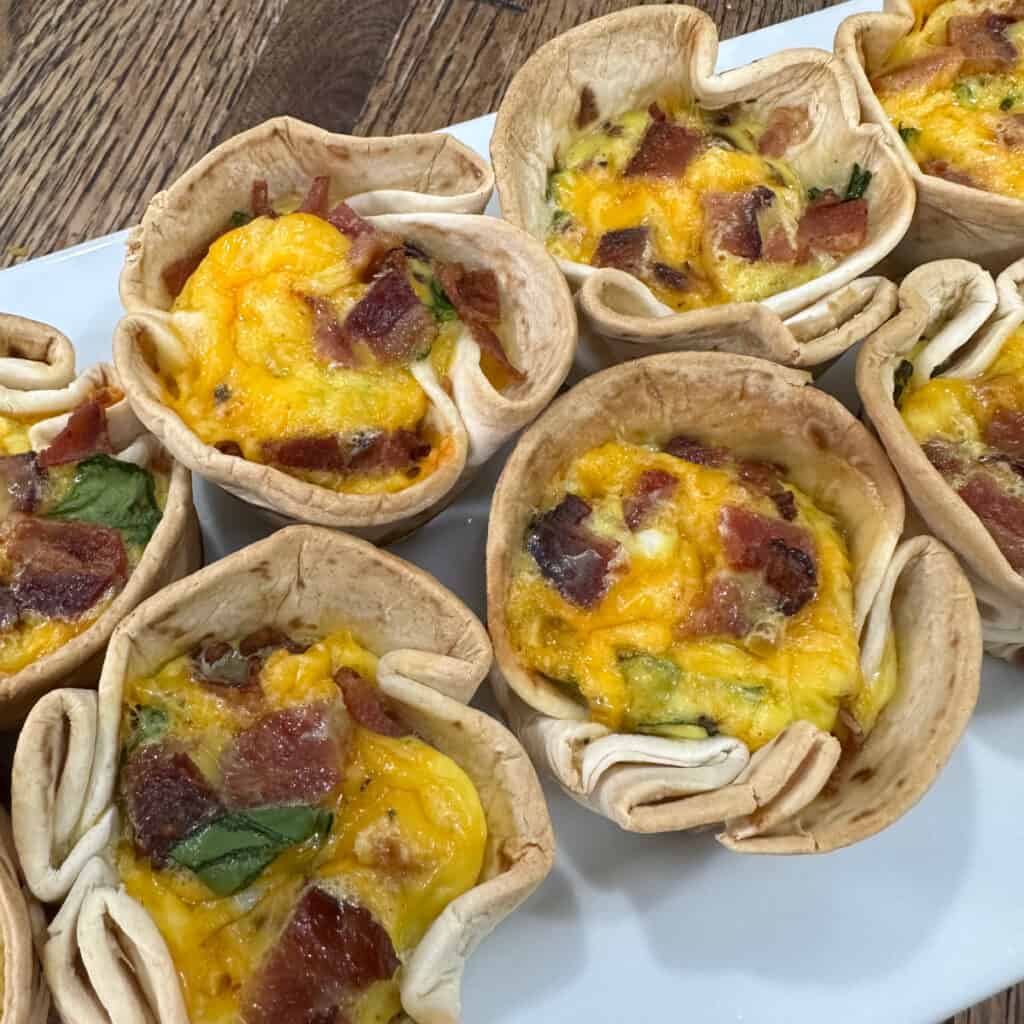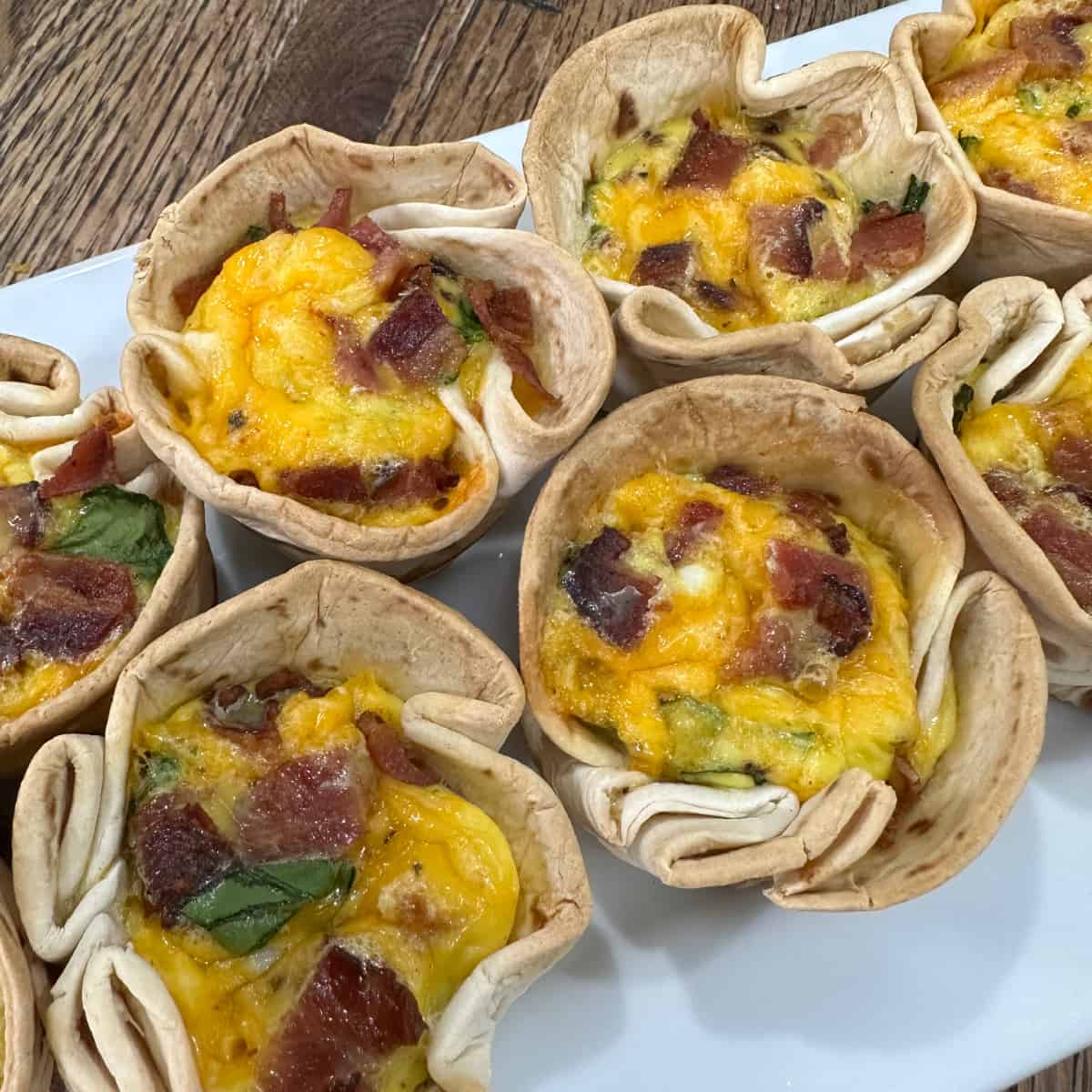 I am always looking for easy breakfast options that reheat well for my family, but especially for my kids! My kids loved these breakfast bite cups and I liked that they were getting some protein and spinach in early in the day. These egg bites can easily be customized with ingredients you like!
Ingredients
12 Street Taco Size Tortillas
1 handful of spinach
1 cup shredded cheddar cheese
6 eggs
Splash of milk
Salt and pepper
4 pieces cooked bacon
Hot sauce
How to Make Egg Bite Cups
To make these easy egg bite cups, start by getting out 12 tortillas that are the street taco size. These fit perfectly inside of the muffin cups. Place the tortillas on a plate and microwave them for about 40 seconds. This will help them not break when putting them in the muffin pan.
Next, carefully place one tortilla inside each muffin cup. Be careful not to tear the tortilla as you gently press it down.
After the tortillas are ready, chop a handful of spinach into small pieces and put some inside each tortilla.
Next, combine six eggs, a splash of milk, some salt, and pepper in a bowl. Whisk this together well and pour the whisked egg mixture inside of the tortillas. I like to fill them about half way full because as the eggs cook they expand.
Top the eggs with cooked and chopped bacon pieces. You could use bacon bits, but I prefer cooking bacon and chopping it into small pieces.
These egg bite cups are going to bake at 375 degrees for 20 minutes.
Serve Egg Bite Cups
Once the eggs are fully cooked, it's time to eat! My kids like eating them as is, but my wife and I prefer topping them with some hot sauce! Store leftover egg bites in a container with a lid.
To reheat, we found that putting them in the air fryer at 400 degrees for 4-5 minutes worked best (just keep an eye on them so they don't burn). If you don't have an air fryer, the oven would also work!
If you like this recipe, check out a couple other breakfast recipes!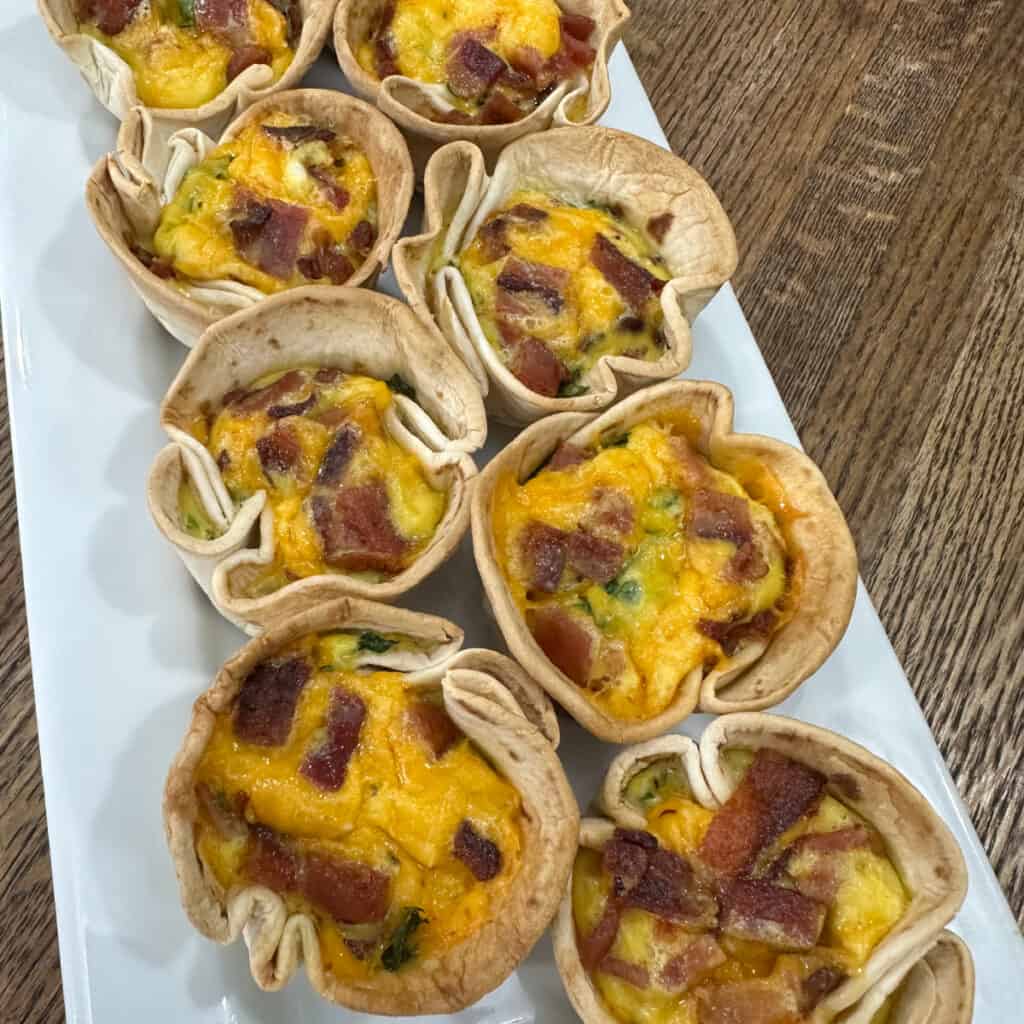 Tips and Frequently Asked Questions
I used chopped bacon in this recipe, but you could use browned sausage instead.
I added spinach as the veggie, but chopped green peppers would also be good!
Everything but the bagel seasoning would also be good in these instead of just salt and pepper.
I used shredded cheddar cheese, but any cheese would work.
Any tortilla should work, but I used Mission Street Taco size tortillas.
Top with hot sauce or salsa!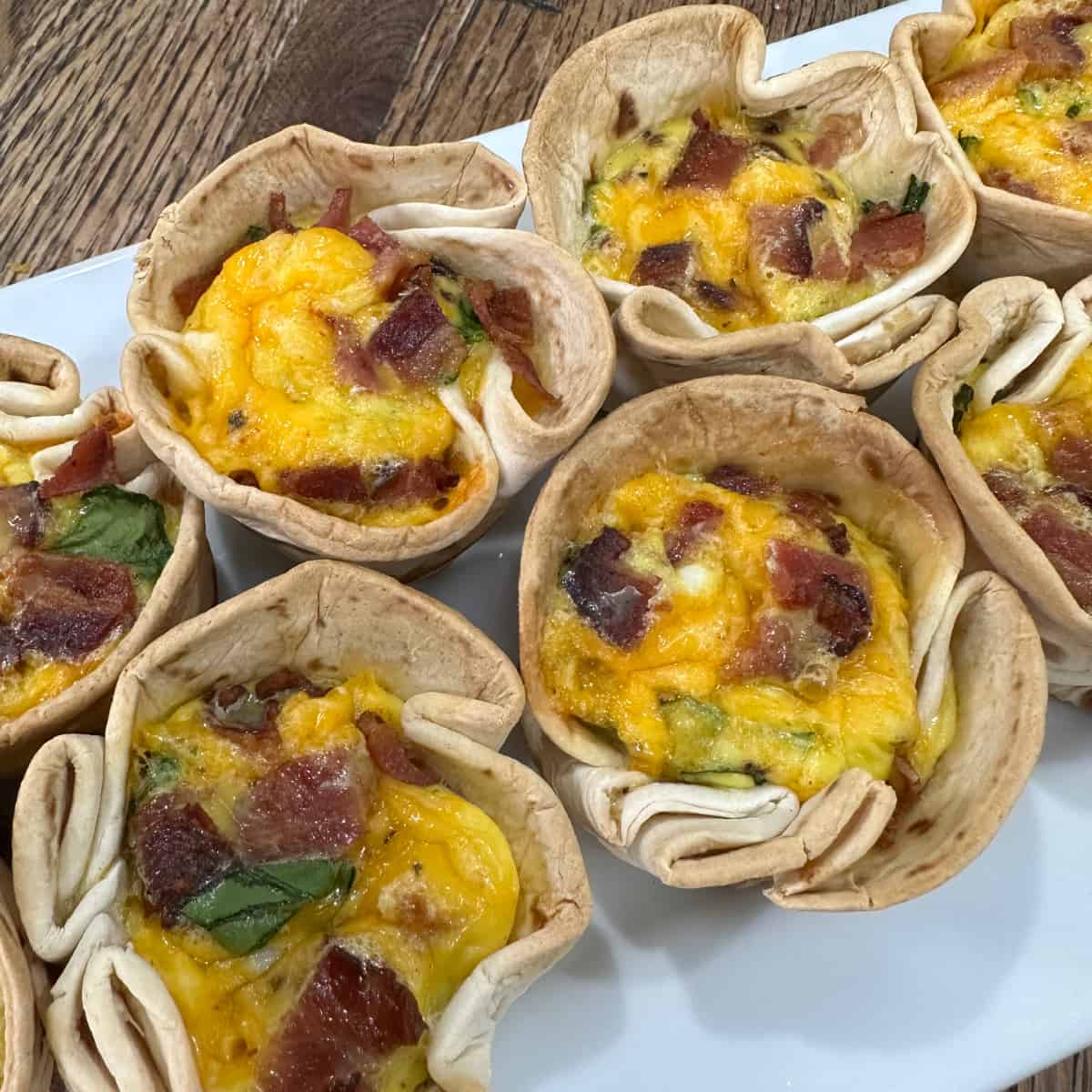 Ingredients
12

Street Taco Size Tortillas

1

handful of spinach

1

cup

shredded cheddar cheese

6

eggs

1

Splash of milk

Salt and pepper

4

pieces

cooked bacon

Hot sauce
Instructions
Warm tortillas in the microwave for 40 seconds.

Carefully put warm tortillas down inside of a muffin pan.

Chop spinach into small pieces and put some inside each tortilla.

Add shredded cheese on top of the spinach.

Whisk together 6 eggs with a splash of milk, salt, and pepper.

Pour whisked eggs into each tortilla filling them about half way full.

Chop the cooked bacon and add some on top of the eggs.

Bake in the oven at 375 for 20 minutes.

Top with hot sauce and enjoy!!
Did You Make This Recipe?
Please leave a comment below or pin it to your Pinterest account!