This salsa recipe never disappoints!
During the quarantine of 2020 my family started making this salsa recipe and it's still a favorite of mine!
The lock down of 2020 left us stuck at home and unable to go out to our favorite Mexican restaurant. This is when I decided to make a batch of this easy salsa and we have been making it ever since! It is very similar to the salsa that is served at these restaurants. The best part about this recipe is that we usually always have the ingredients in our pantry so we never have to go without it. Making this salsa is a great way to elevate your taco nights! My whole family loves this recipe. Besides being delicious, it's a quick and easy recipe that you can throw together in 10 minutes!
To make this crowd pleasing, easy salsa recipe, I start by dicing up half of an onion and add that to a blender. Next, add in one 16 oz can of diced tomatoes, 1 tablespoon of minced garlic and ¼ cup of diced jalapenos to the blender. Then, add in 1 tablespoon of the lime juice, 1 tablespoon of dried or fresh cilantro and ¼ teaspoon each of salt, sugar, and cumin to the blender. After all of the ingredients have been added, pulse in the blender until your desired consistency of salsa is achieved. I have found that 5 pulses is the perfect amount for my family! Pour the salsa into a container and chill in the fridge for a couple of hours for all of those flavors to come together. Now you're ready to serve!
Scoop out a huge portion of this yummy salsa into a bowl and enjoy with your favorite tortilla chips, add it on top of your tacos or even with your breakfast burritos in the morning! It is a versatile recipe that can be tailored to fit the ingredients you have at home.A batch of this salsa doesn't last long in our house!
Helpful Tips and Frequently Asked Questions
Any store brand can of diced tomatoes will work for this recipe. A can of fire roasted diced tomatoes can be substituted as well for more flavor.

We use fresh cilantro when we have it but have used dried cilantro in a pinch many times. A great thing about this recipe is that you typically have a lot of these items in your pantry.

Fresh squeezed lime juice is best, but bottled lime juice works well.

We used pickled diced jalapenos since we had them in our pantry but can be substituted with fresh jalapenos.

If you like your salsa spicy, add hot sauce of choice or cayenne pepper.

Use either freshly minced garlic or jarred minced garlic.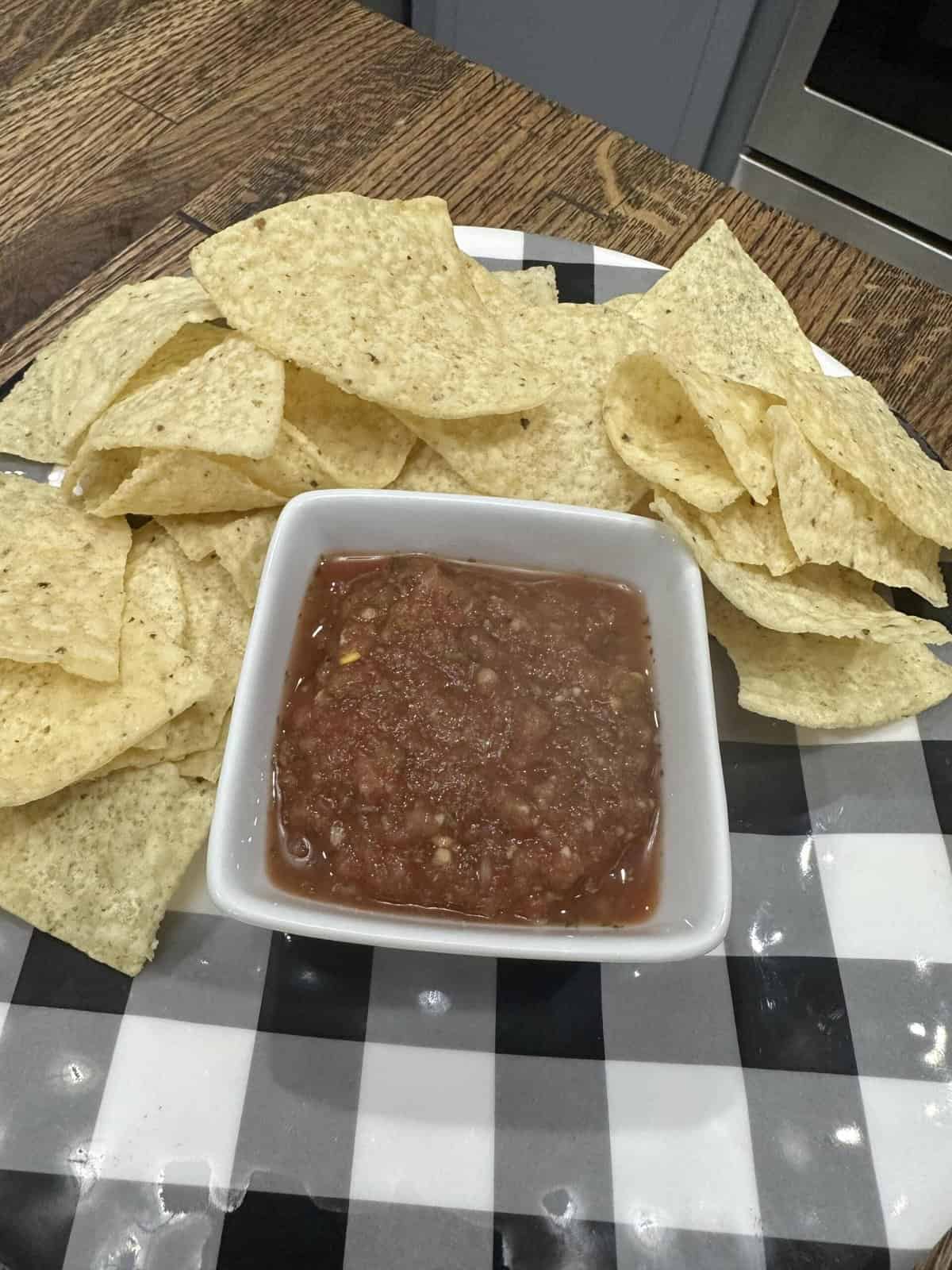 Ingredients
1

can diced tomatoes

Half of an onion diced

1

TBSP

minced garlic

1/4

cup

diced jalapeño

1

TBSP

lime juice

1

TBSP

of dried cilantro

Fresh is better if you have it

1/4

tsp

each of salt

sugar, and cumin
Instructions
Dice up half of an onion and gather the rest of your igredients

Add the ingredients to the blender and pulse to your desired consistency

The salsa is best if you allow it to sit in the fridge for a couple of hours before serving!
Did You Make This Recipe?
Please leave a comment below or pin it to your Pinterest account!