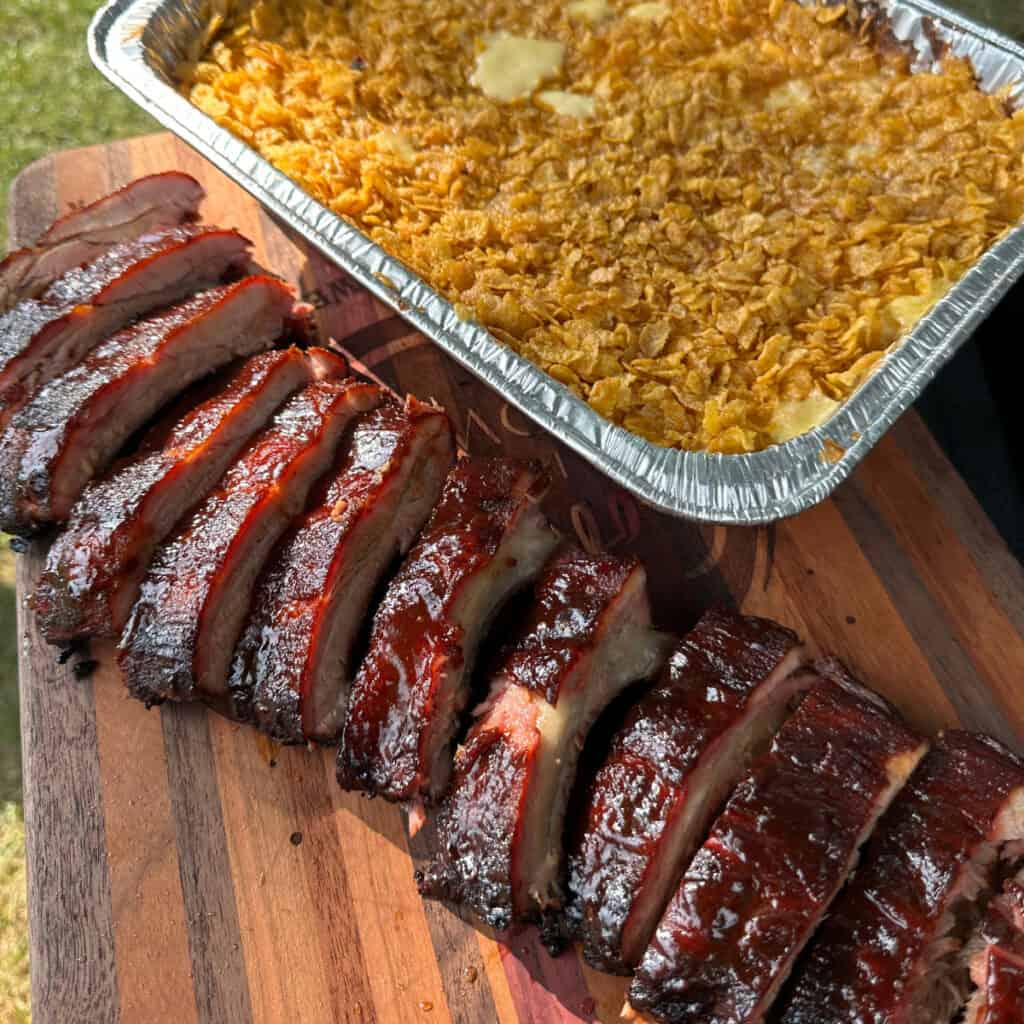 Smoked Baby Back Ribs are one of my favorite things to cook outside. They're perfect for game day, or really any day that ends in "y"! This is one of my wife's all time favorite things that I make for her so they're always her birthday request. This recipe is simple and it'll give you perfect baby back ribs that are juicy, sticky, messy, and delicious! Smoked ribs paired with Cheesy Funeral Potatoes definitely won't disappoint!
Ingredients
Baby Back Ribs (I like to buy the 2 pack from Sam's Club)
Mustard
BBQ Rub (I like to use Strawberry's BBQ Rub)
12 oz can of Cherry Coke
Butter
Brown sugar
Honey
BBQ Sauce (My favorite is Sweet Baby Ray's Original)
Prepping the Smoked Baby Back Ribs
To start things off remove the ribs from the packaging and place them on a sheet pan or cutting board meat side down. Remove the membrane covering the bone side from your ribs. You can slide a spoon underneath or use a paper towel to make it easier.
Spread some mustard onto the bone side of the ribs to use as a binder for your rub. Generously cover the ribs with your favorite BBQ Rub and pat them down. Next, you'll just flip the ribs over and repeat these same steps to the other side.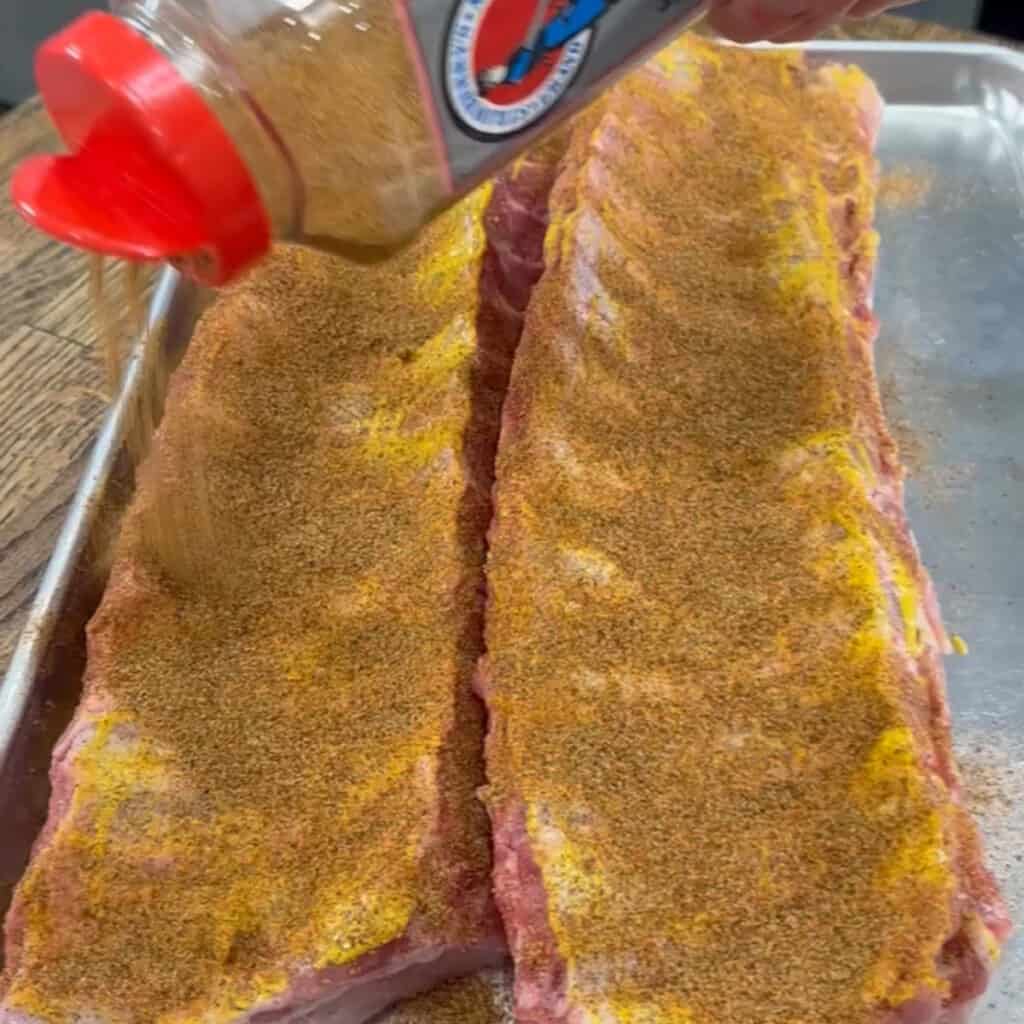 I like to use Strawberry's BBQ Rub for this recipe, but you can use your favorite BBQ Rub. If you want to check out the Strawberry's BBQ Rub it is on amazon. This is my amazon affiliate/commission able link. Strawberry's BBQ Rub is a popular BBQ Rub locally!
Disclosure: Cooking in the Midwest participates in affiliate advertising programs. I may earn a commission when you make qualifying purchases through my website.
Smoking the Baby Back Ribs
For the sake of time, I like to smoke my ribs on a pellet smoker, but any smoker will do. Just get your smoker preheated to 250 degrees and place the ribs on the top rack. Close the lid and allow them to cook for about an hour and a half without touching them.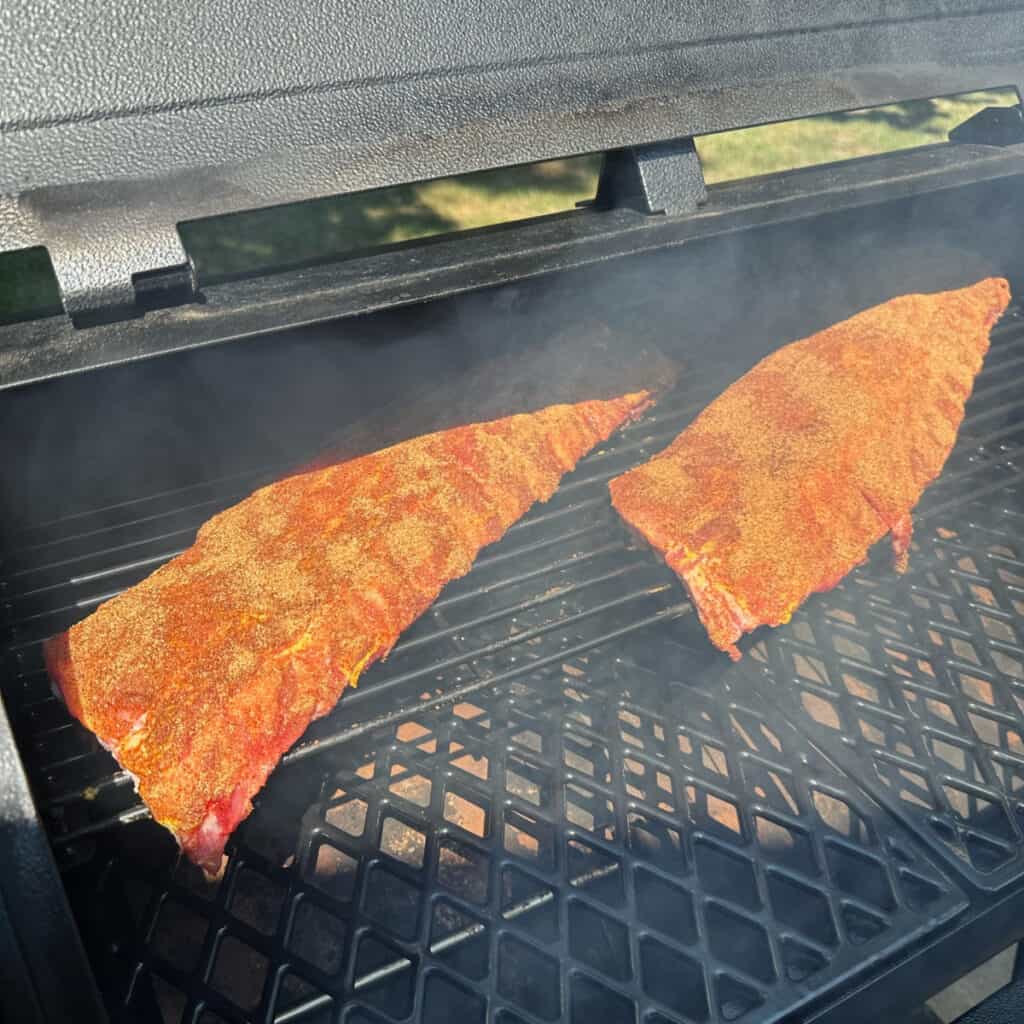 After the first hour and a half a bark should start to form on the outside of the ribs and this is when I start to spritz them. Just pour a can of Cherry Coke into a spray bottle and spray the outside of your ribs about every 30 minutes.
Once the ribs have been cooking for about 3 hours we are going to pull them off and wrap them in foil. For this part just grab a sheet pan and lay down two layers of foil.
In the center of the foil place down 3-4 small pats of butter and sprinkle some brown sugar right over the top of your butter. Next, I like to drizzle some honey on top of that brown sugar and add on a sprinkle of BBQ rub.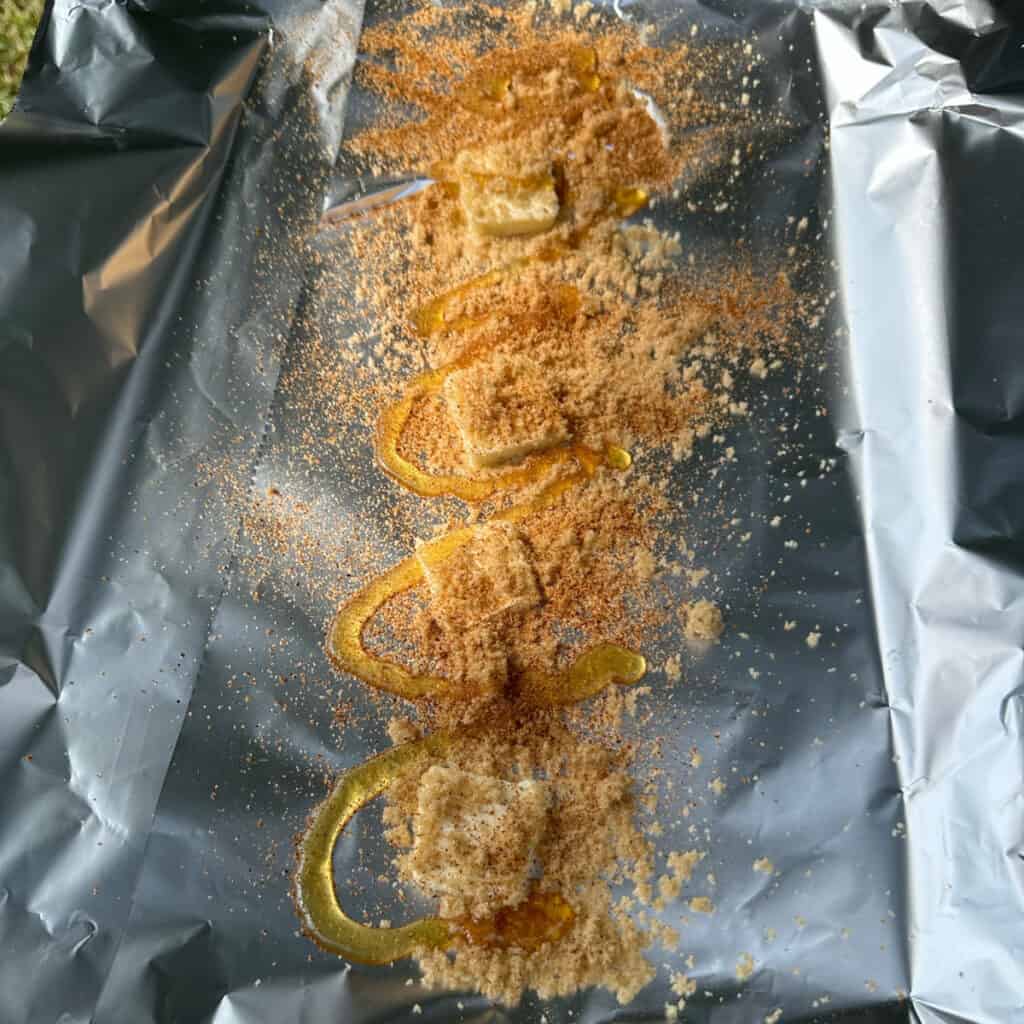 Once you've finished making that cozy bed for your ribs just place them meat side down right over the top of the butter and sugar.
To finish up, just wrap the ribs up tight in both layers of foil and place them back onto the smoker meat side down. We're going to leave the temperature of the smoker at 250 degrees and let them cook wrapped for an hour.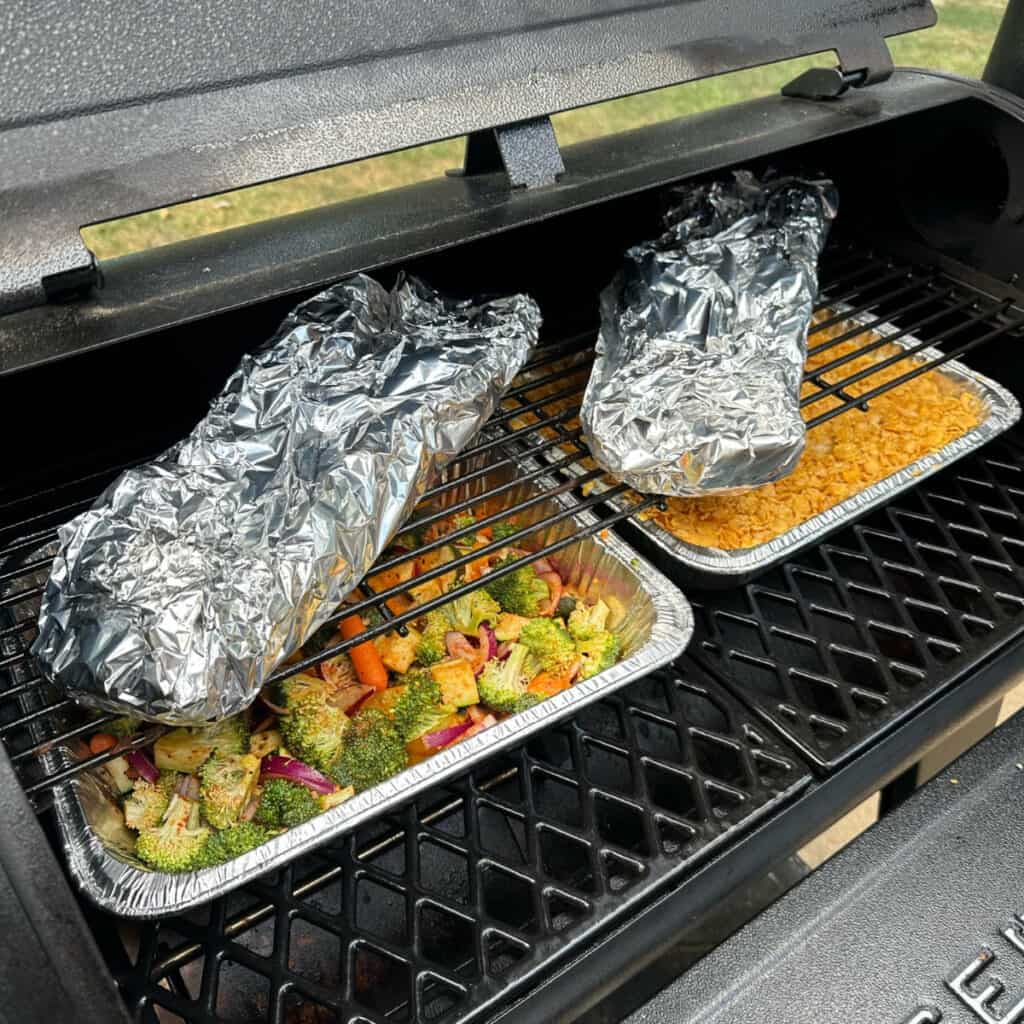 Finally those delicious smoked baby back ribs are ready to unwrap and get saucy. Just remove them from the foil, brush your favorite BBQ sauce over the top and place them back on the smoker. Let them cook for another 30 minutes to an hour for the sauce to tack up and become nice and sticky!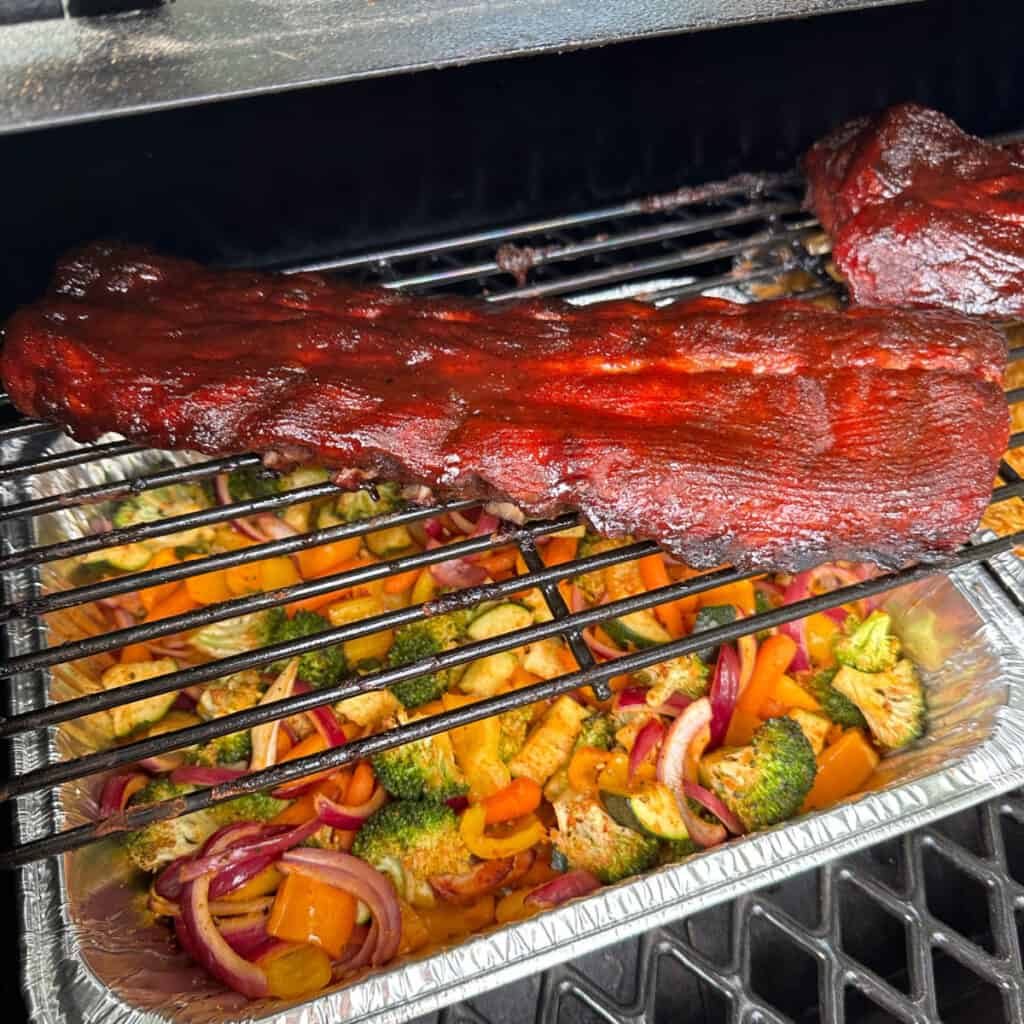 Serving the Smoked Baby Back Ribs
To serve take the ribs off the smoker and cut them up. I served these Baby Back Ribs with some Cheesy Funeral Potatoes and smoked veggies!
The smoked veggies I kept really simple. I added olive oil, salt, pepper, garlic powder, and some paprika to the vegetables and stirred well. They smoked until they were nice and tender. You can use any vegetables you have for this. I used broccoli, peppers, red onion, zucchini, and carrots.
If you like this recipe check out some of my favorite side dishes for Smoked Ribs!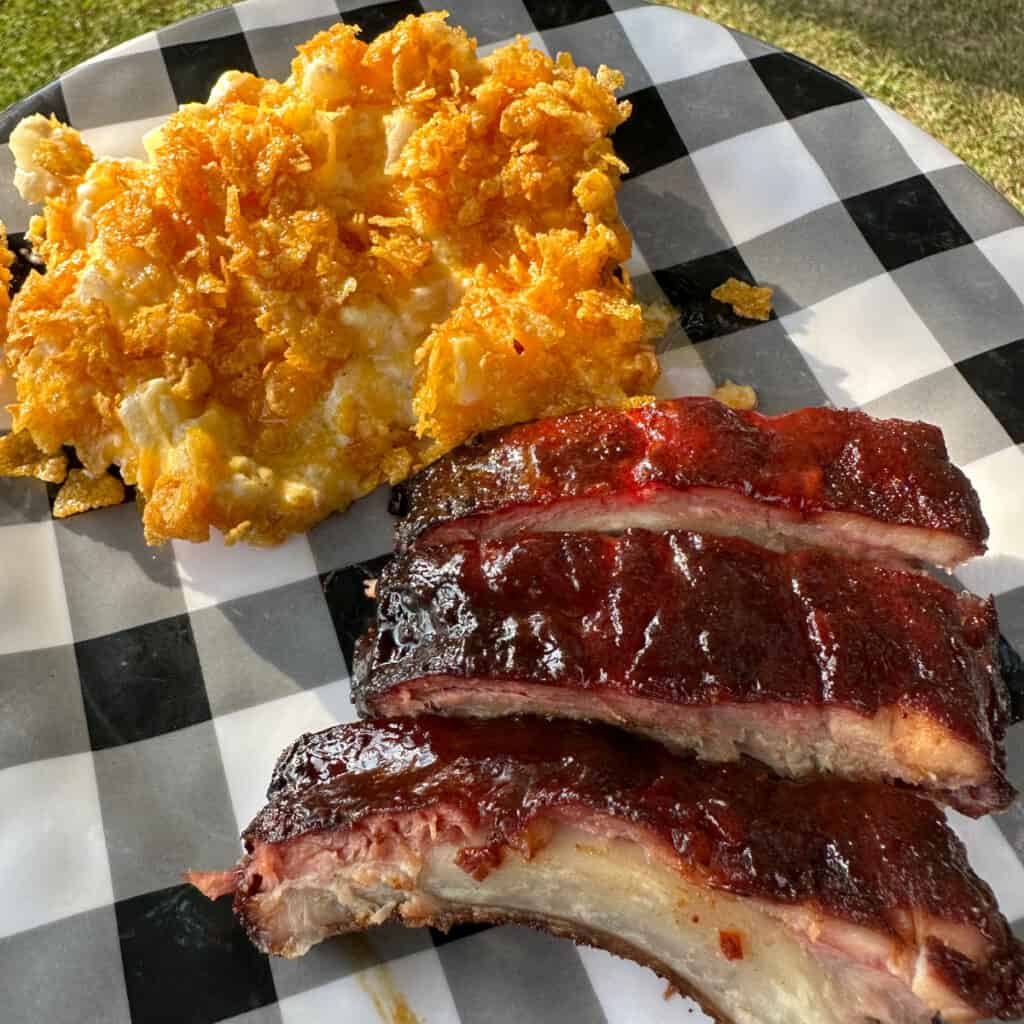 Tips and Frequently Asked Questions
You can use any BBQ Rub and BBQ Sauce you like! I usually use Strawberry's BBQ Rub and Sweet Baby Ray's BBQ Sauce.
My favorite cut of ribs is definitely baby back. I usually buy the two pack at Sam's Club.
I spray the ribs while cooking with Cherry Coke. You can also use root beer!
I like my ribs just shy of "fall off the bone", but if you want the bones to pull right out cook them covered in the foil for an additional 30 minutes to an hour.
The ribs are perfectly done for me when they can be picked up with a pair of tongs and bend into a loose arch without breaking the bark.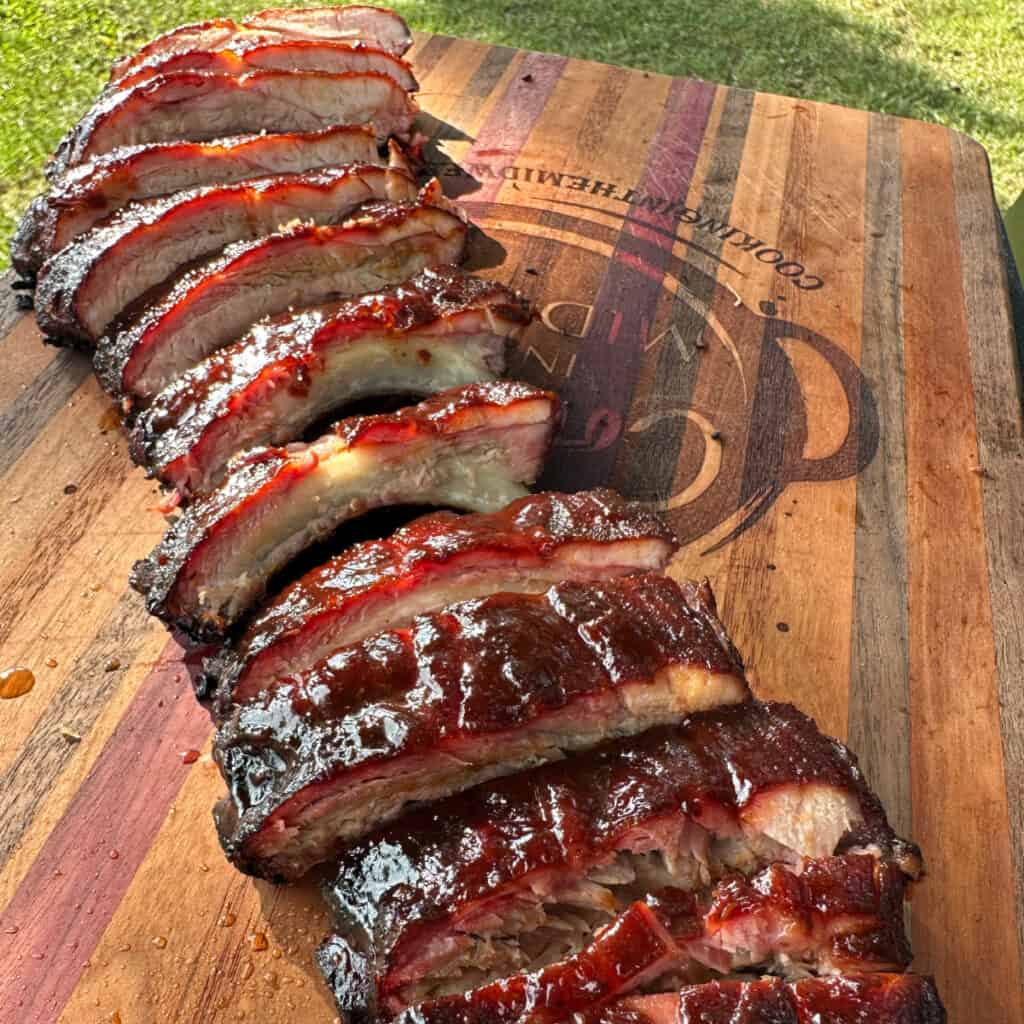 Ingredients
Baby Back Ribs

Yellow Mustard

BBQ Rub – I'm using Strawberry's

BBQ Sauce – I'm using Sweet Baby Ray's BBQ Sauce

1

12 oz can

Cherry Coke or Root beer

Pats of Butter

Brown sugar

Honey
Instructions
Remove the membrane from the ribs and cover the ribs in yellow mustard. Season with a BBQ Rub. Add the mustard and bbq rub to both sides of the ribs.

Cook on a smoker at 250 degrees uncovered for 3 hours. After they've been smoking for 1 hour start spraying them with cherry coke in a spray bottle about every 30 minutes for the remaining 2 hours.

Lay out a large sheet of aluminum foil. Add a few pats of butter, a sprinkle of brown sugar, a drizzle of honey, and more BBQ Rub to the foil. Add ribs to the foil meat side down, wrap them up tightly in the foil, and put back on the smoker for 1 more hour meat side down.

Take ribs out of the foil, brush on BBQ sauce, and put them back on the smoker (without the foil) for about 30 minutes to an hour.

Cut ribs and serve! Enjoy!

These baby back ribs cooked for a total of about 4 1/2 – 5 hours.
Did You Make This Recipe?
Please leave a comment below or pin it to your Pinterest account!