These make an awesome appetizer!
These jalapeño popper wontons are perfect for any party or get together! They pack the tasty flavor of jalapeño popper dip in a crunch little wonton wrapper!
If you're in need of a quick but delicious appetizer to bring to your Super Bowl party, game day, or your next get together, this recipe is for you! Appetizers are my favorite things to make for game day or to take to any party! These jalepeño popper wontons are always a hit with everyone! The crunch of the wonton wraps and the creamy cheese make these irresistible! I love how quick and easy this recipe is too! With only 7 ingredients, you have to try these out for your next get together!
To make these jalapeño popper wontons, I first preheated my oven to 375 degrees and then gathered all of the supplies that I needed. I cooked 8 pieces of bacon in a skillet on medium heat until the bacon was nice and crispy. I then laid the bacon out on a paper towel lined plate to drain any excess bacon grease. Next, in a medium sized bowl, I mixed 1 block of softened cream cheese, ½ cup of chopped jalepeños, 1 cup of shredded cheddar cheese and 1 tablespoon of ranch seasoning. Mix this together well. Then, crumble the bacon and add it into the bowl. Mix well until everything is blended evenly.
Now you're ready to make the wontons! In a muffin pan, place 1 wonton wrap into each cup and bake in the oven at 375 degrees for 5 minutes. After 5 minutes, remove the wontons from the oven and scoop the cream cheese mixture into each wonton. A cookie scoop works great for this! Then, top each wonton with a slice of jalapeño and bake for an additional 10 minutes. Take your jalapeño popper wontons out of the oven and let them cool for a few minutes before you bite into one! I was able to get about 24 wontons out of this recipe, but you can fill them a little less to make even more to go around!
My family makes appetizers for many different holidays and pretty much anytime we have anyone over to the house! Appetizers are fun and are usually very easy to make a lot of. I've never met anyone who doesn't like jalepeño poppers and adding the wonton to the mix makes them even more delicious! I hope you love this recipe!
Helpful Tips and Frequently Asked Questions
I was about to get about 24 wontons out of this recipe, but if you're needing more, double the recipe or just fill the wonton cups with a little less filling.

Fresh or pickled jalapeños may be used for this recipe.

Freshly shredded cheddar cheese works best and is creamier and melts easier but store bought shredded cheese can be used as well.

Baking time may vary, watch the wontons closely to make sure they aren't getting too browned in the oven.

Freshly cooked bacon can be substituted for bacon bits if desired.

The bacon can be omitted if desired to make these meat free!

If made ahead of time, these can be added back to the oven to reheat if needed.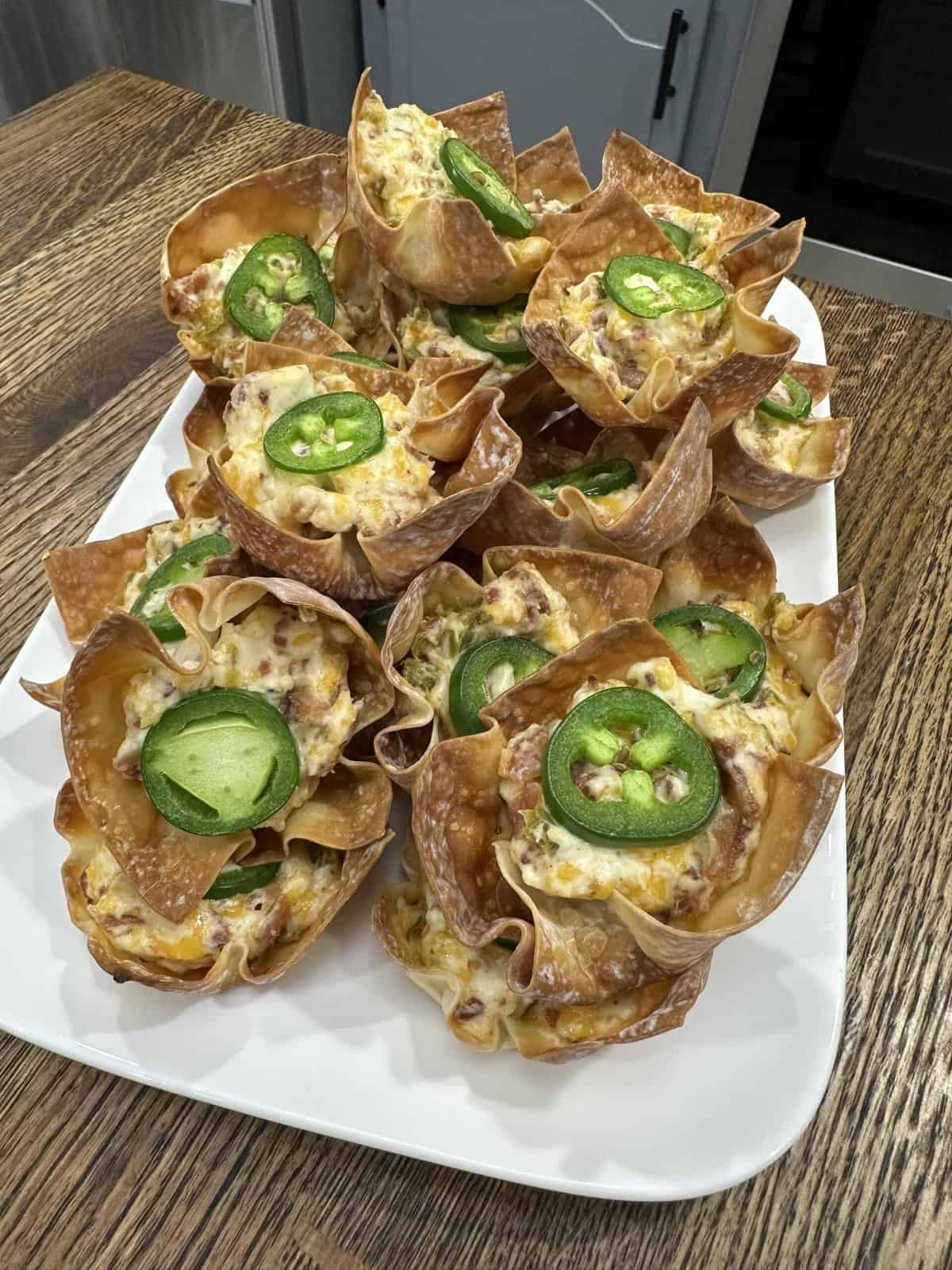 Ingredients
1

block of softened cream cheese

8 oz

1/2

cup

of chopped jalapeños

1

cup

of shredded cheddar cheese

8

crumbled strips of bacon

1

TBSP

of Ranch seasoning

24

wontons

Sliced jalapeños
Instructions
mix cream cheese, chopped jalapeños, cheddar cheese, chopped bacon, and ranch seasoning together well

bake wontons at 375 degrees for 5 minutes

scoop jalapeño popper dip into wontons

add a sliced jalapeño on top

bake at 375 for about 10 minutes

I was able to get about 24 wontons out of this, but you could fill them a little less full and make even more!

Enjoy!!
Did You Make This Recipe?
Please leave a comment below or pin it to your Pinterest account!