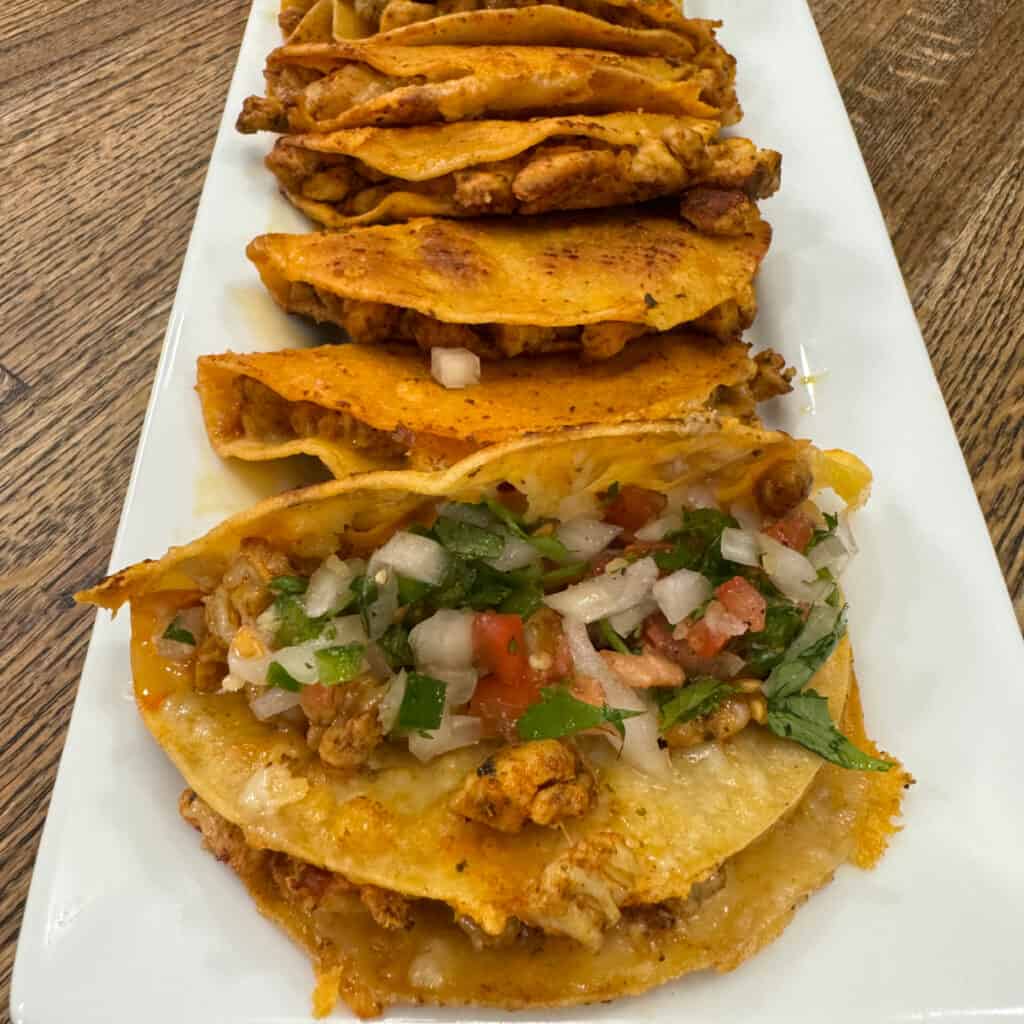 These One Pan Chicken Tacos are an easy and delicious dinner for Taco Tuesday or any day that ends in "Y"! These have been a family favorite at my house for years and they are really simple to throw together. This recipe takes less than 30 minutes from start to finish so it's perfect for all those busy weeknights!
Ingredients
1 lb chicken breast
Olive oil
2 TBSP of butter
1/2 tsp salt and pepper
1/4 tsp cayenne
2 tsp chili powder
1 tsp each of cumin, paprika, and dried cilantro
White corn tortillas
Shredded Monterey Jack cheese
Prepping the ingredients for the Chicken Tacos
There isn't a whole lot of prep work for this recipe so this step will only take a few minutes. Just cube up a pound of chicken breast into bite sized pieces and gather the seasonings.
Next, you're going to add your cubed up chicken to a big bowl with a drizzle of olive oil and sprinkle on the seasonings above!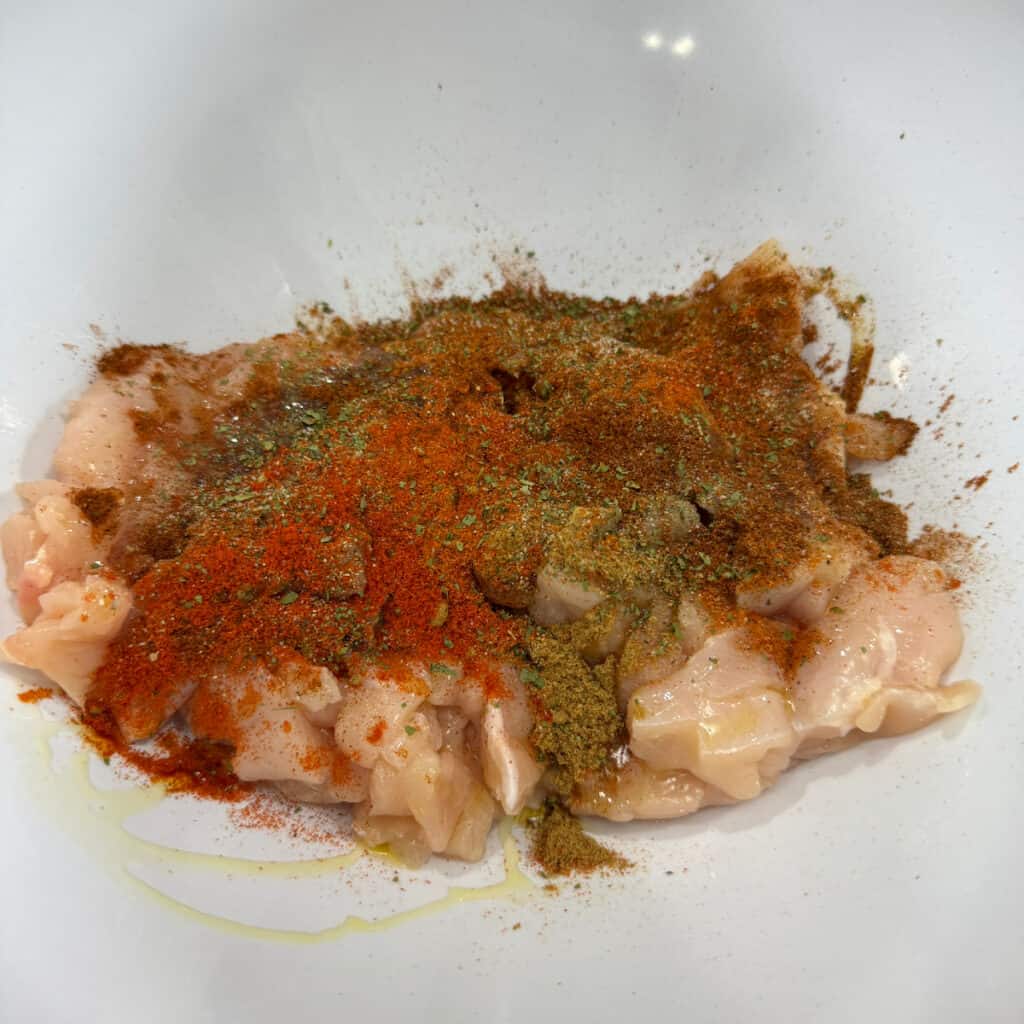 Use a spatula to stir that around so all the chicken is coated and you are ready to go!
Cooking the Chicken for the One Pan Chicken Tacos
Place a large skillet over medium heat and add in 2 Tablespoons of butter. Once the butter has melted add in your seasoned chicken and cook until golden brown.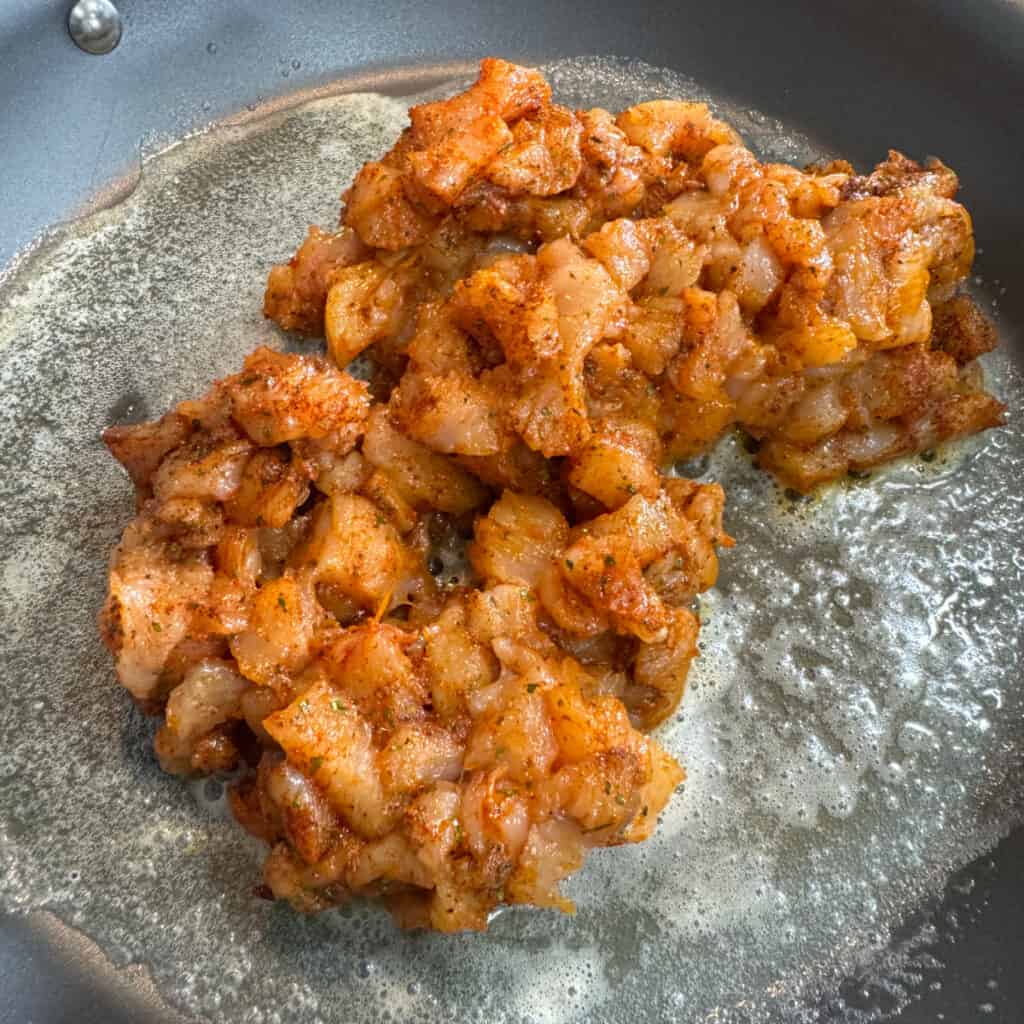 With the chicken being cut into such small pieces it will cook pretty quickly. You just want to make sure it reaches an internal temperature of at least 165 degrees. If you're feeling unsure you can always use a meat thermometer to double check!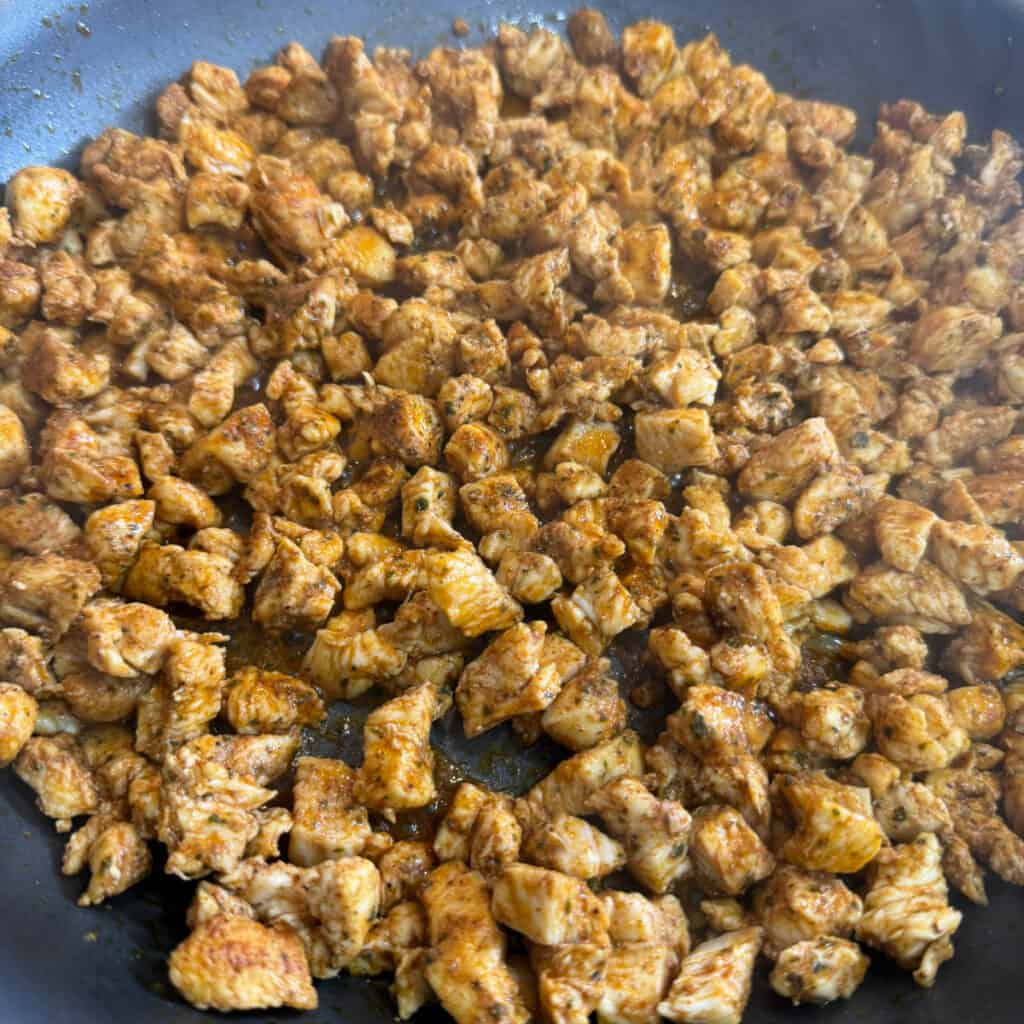 Once the chicken is cooked through remove it from the pan and set it to the side.
Making the Tacos
With the chicken removed from the pan lower the heat just a tad and add in a drizzle of oil. Next, carefully place down a few white corn tortillas.
As the tortillas start to toast up add on your favorite shredded cheese. My favorite for these tacos is freshly shredded Monterey Jack, but any cheese will work! Next, you'll just add a big scoop of your chicken to each taco.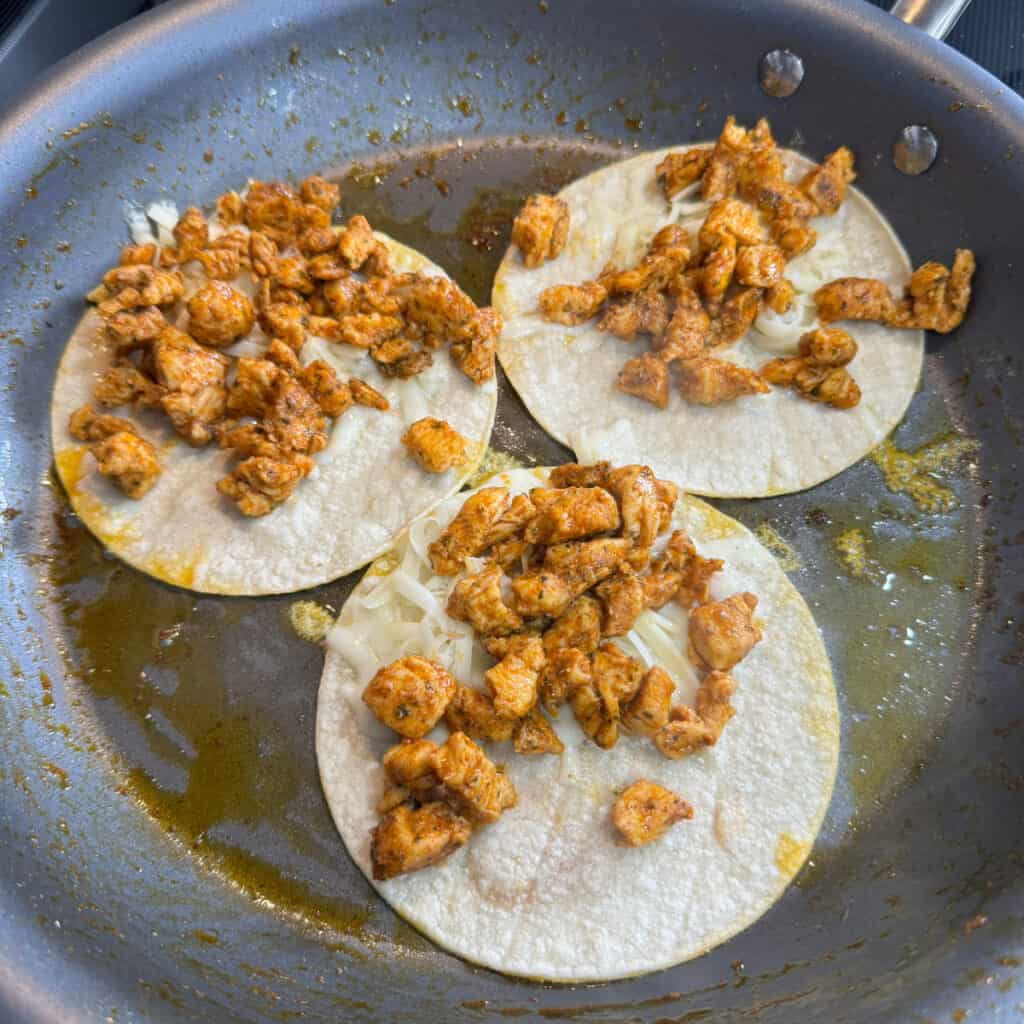 Next, carefully fold the tortilla over to make tacos. Allow them to cook for a few minutes on each side until they're nice and crispy and golden brown.
Sometimes it helps to keep flipping them over in the pan until they are golden brown and crunchy!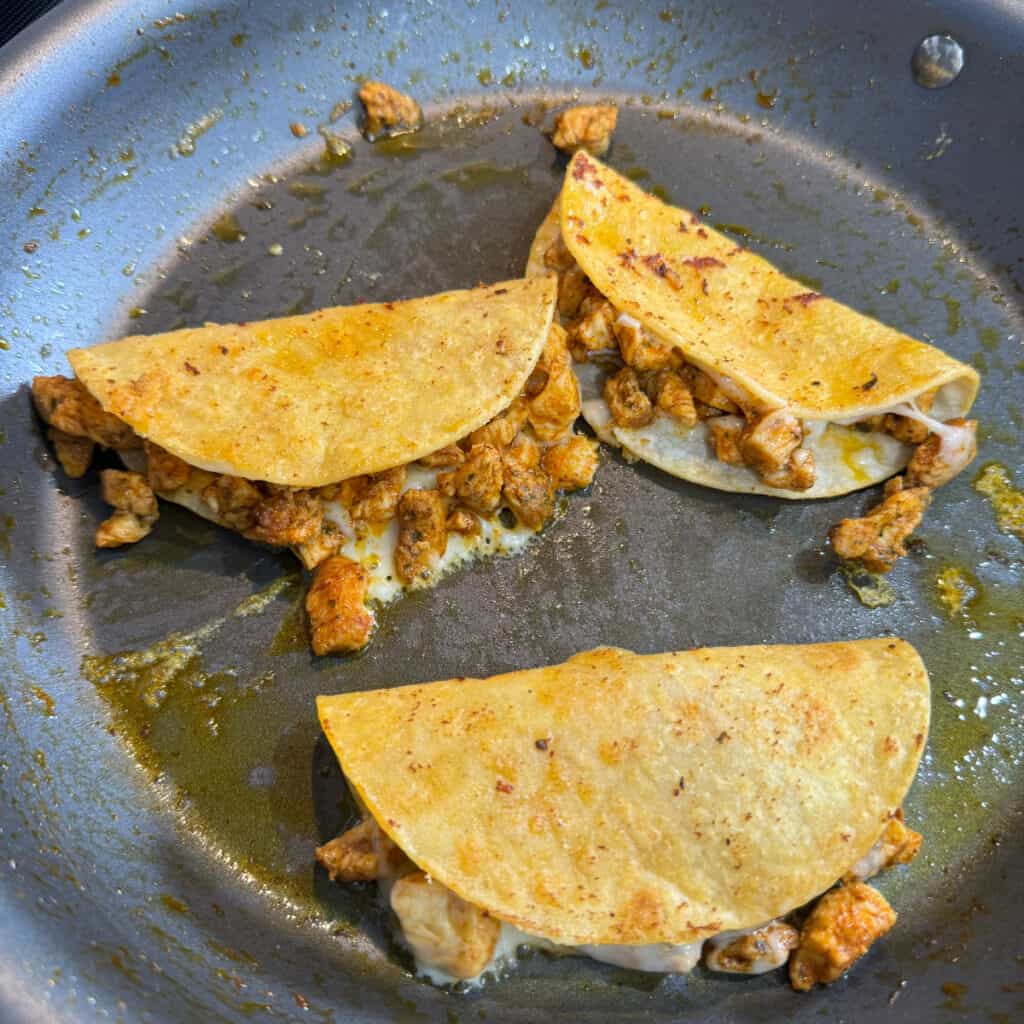 Serving the One Pan Chicken Tacos
I like to serve these with some homemade pico de gallo over the top with a side of sour cream and taco sauce. These are great with some packaged or homemade Spanish rice and re-fried beans!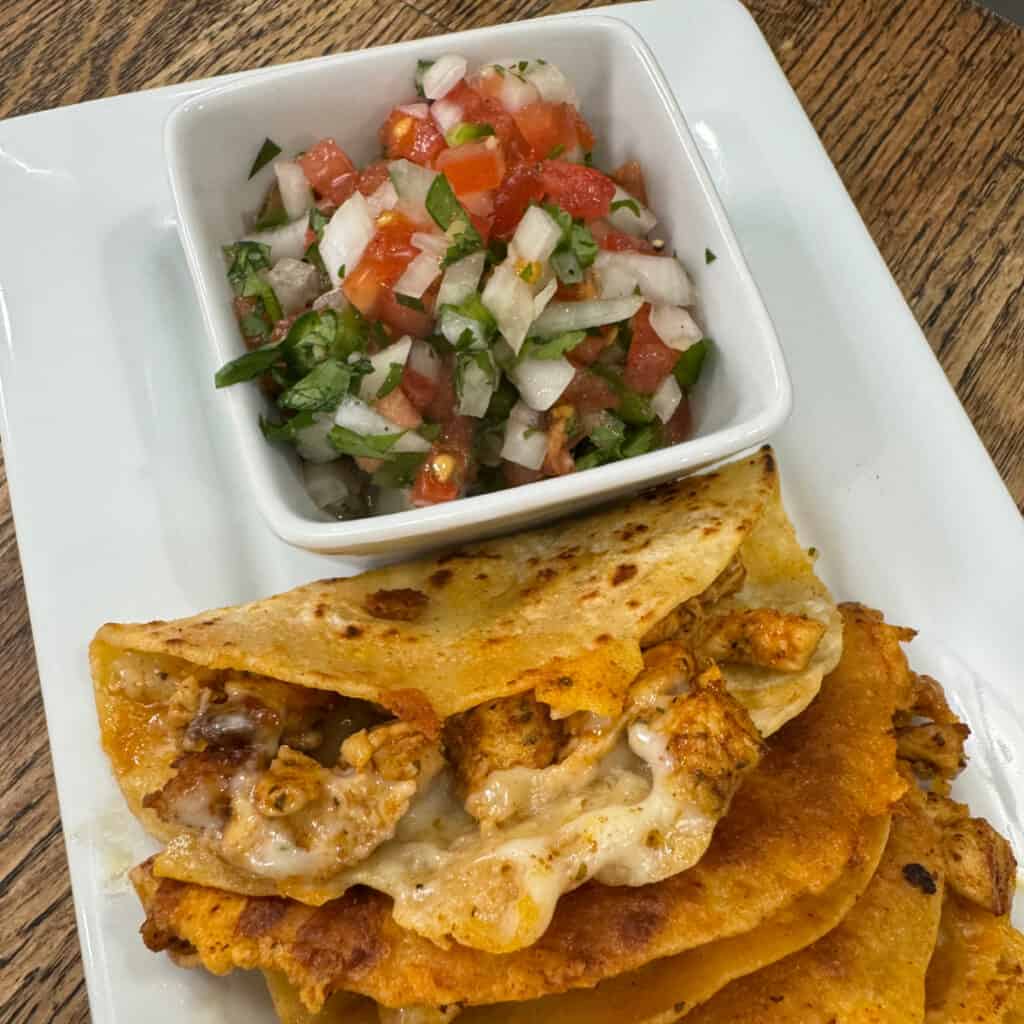 If you like this recipe check out some of my other favorite dinner recipes!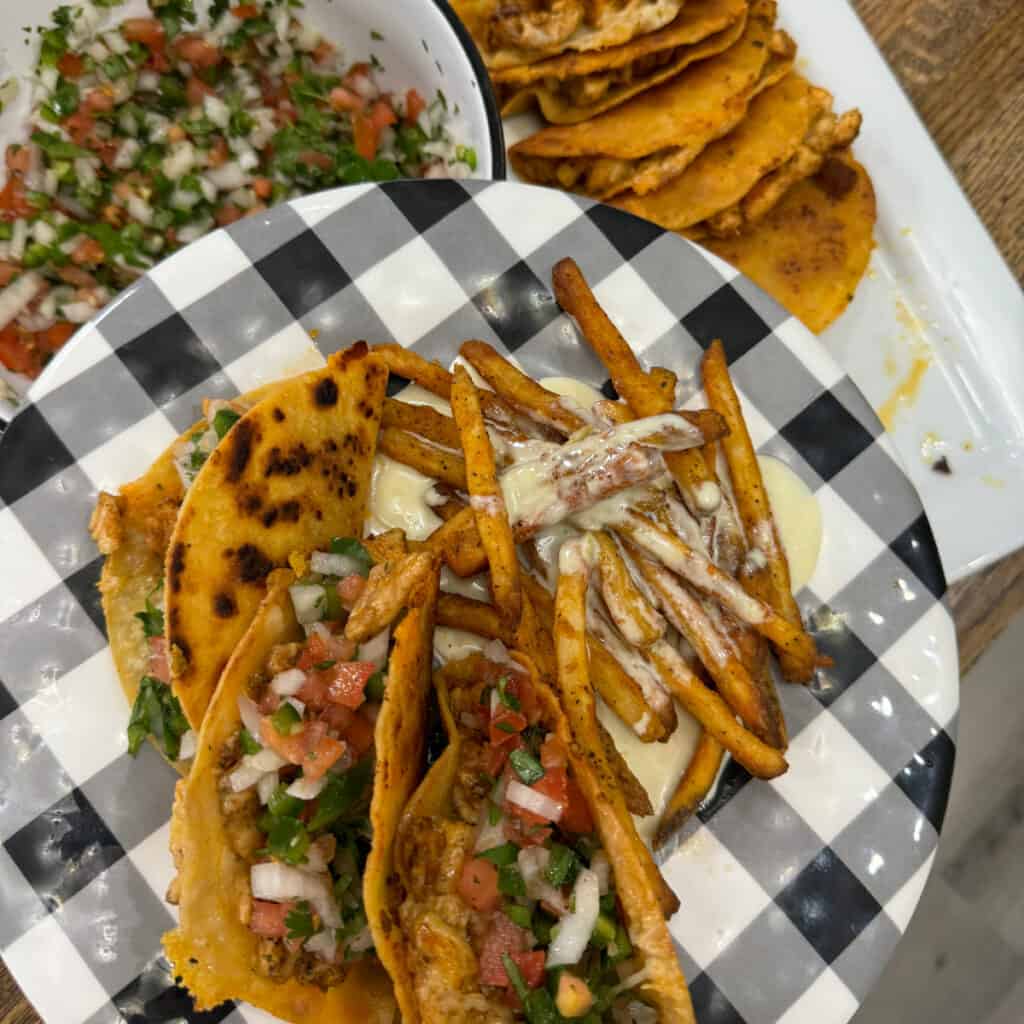 Tips and Frequently Asked Questions
I like to use chicken breast for this recipe and slice it into very small pieces, probably a little less than half inch cubes.
I used Shredded Monterey Jack cheese, but any cheese could be used with this recipe.
Top these with any of your favorite taco toppings! I kept it simple with some Fresh Pico De Gallo, but these would also be really good with a creamy Chipotle sauce!
This recipe makes 12-14 small tacos!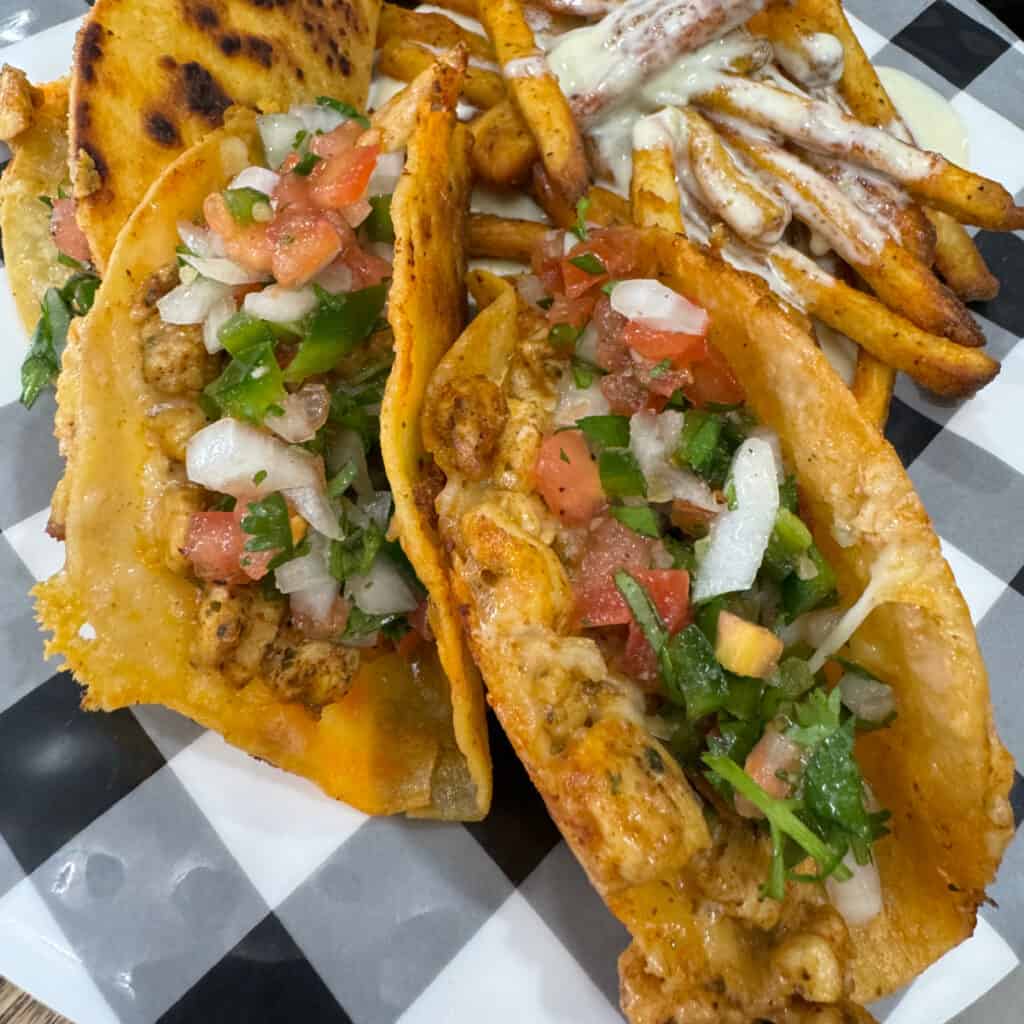 Disclosure: Cooking in the Midwest participates in affiliate advertising programs. I may earn a commission when you make qualifying purchases through my website.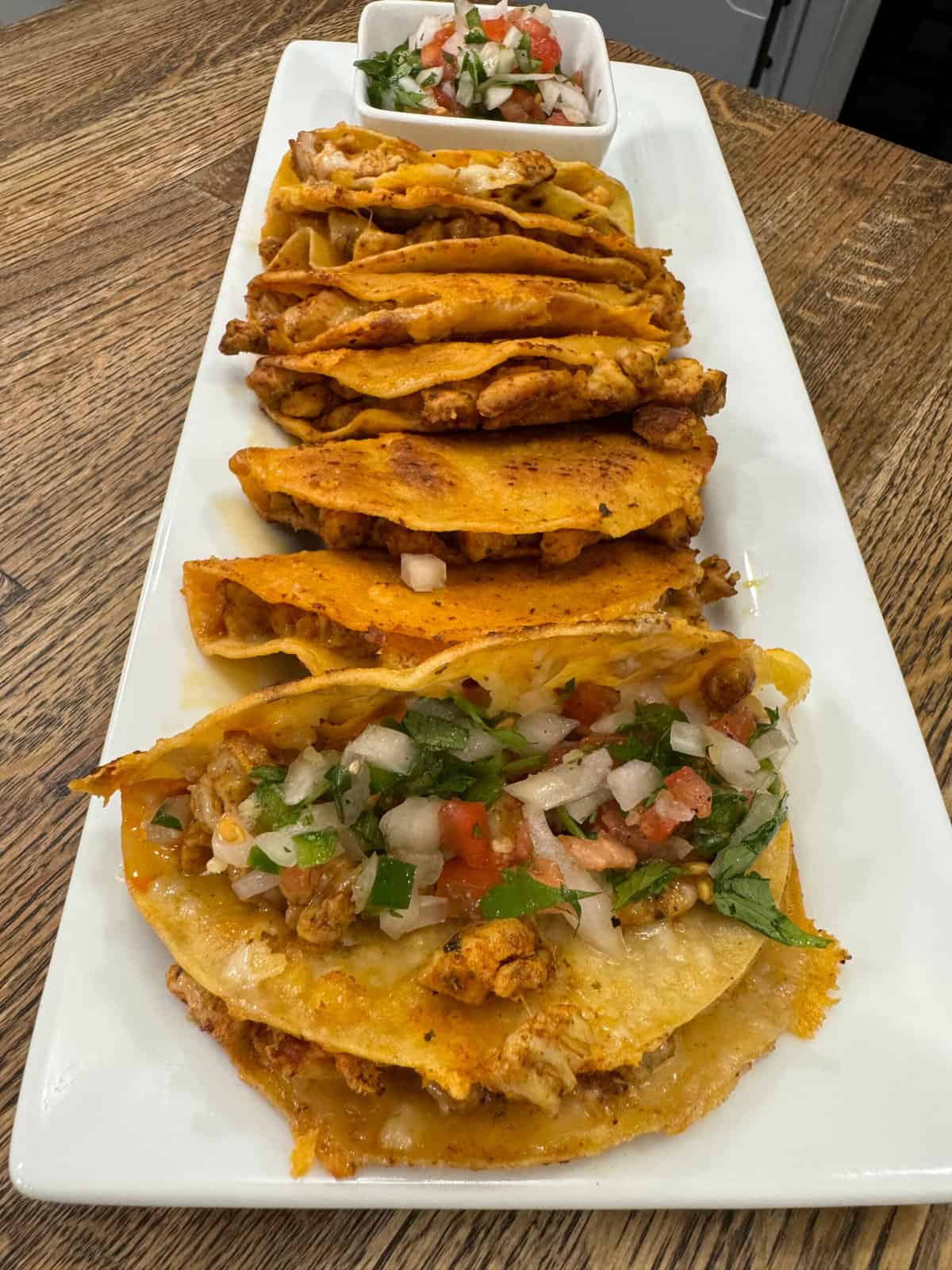 Ingredients
1

lb

chicken breast

Olive oil

2

TBSP

of butter

1/2

tsp

salt and pepper

1/4

tsp

cayenne

2

tsp

chili powder

1

tsp

each of cumin, paprika, and dried cilantro

White corn tortillas

Shredded Monterey Jack cheese
Instructions
Cut chicken up into small pieces. Put chicken in a bowl and add 1 TBSP of olive oil. Season with salt, cayenne, chili powder, cumin, paprika, dried cilantro, and black pepper. Mix until chicken is well coated in seasoning.

Add 2 TBSP of butter to a skillet over medium high heat. Cook chicken until it reaches an internal temp of 165 degrees.

Remove chicken from the skillet and turn heat down to medium low. Add a little bit more oil to the skillet. Add tortillas, shredded cheese, and chicken to the tortillas. Fold tortilla in half and cook until both sides are golden brown and crispy.

Enjoy!! These are so good with sour cream and Pico de Gallo!
Did You Make This Recipe?
Please leave a comment below or pin it to your Pinterest account!