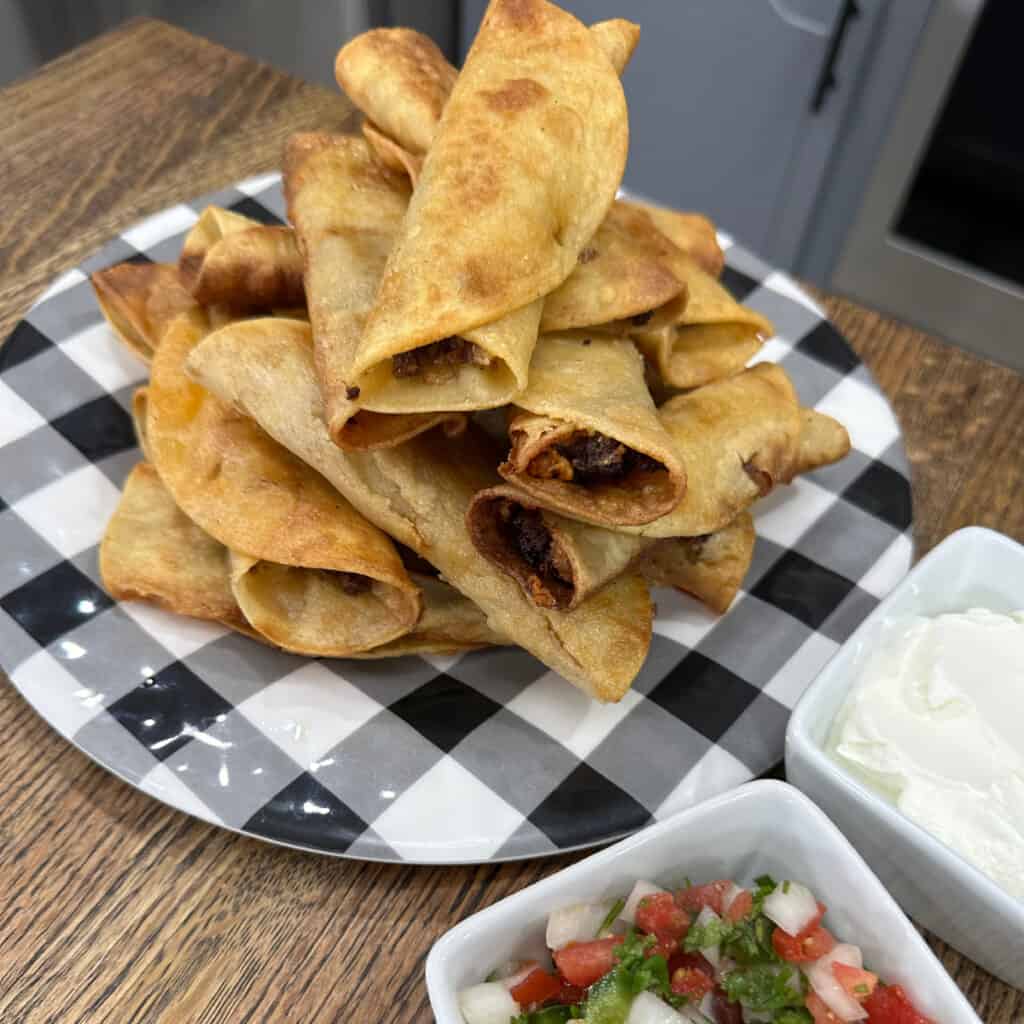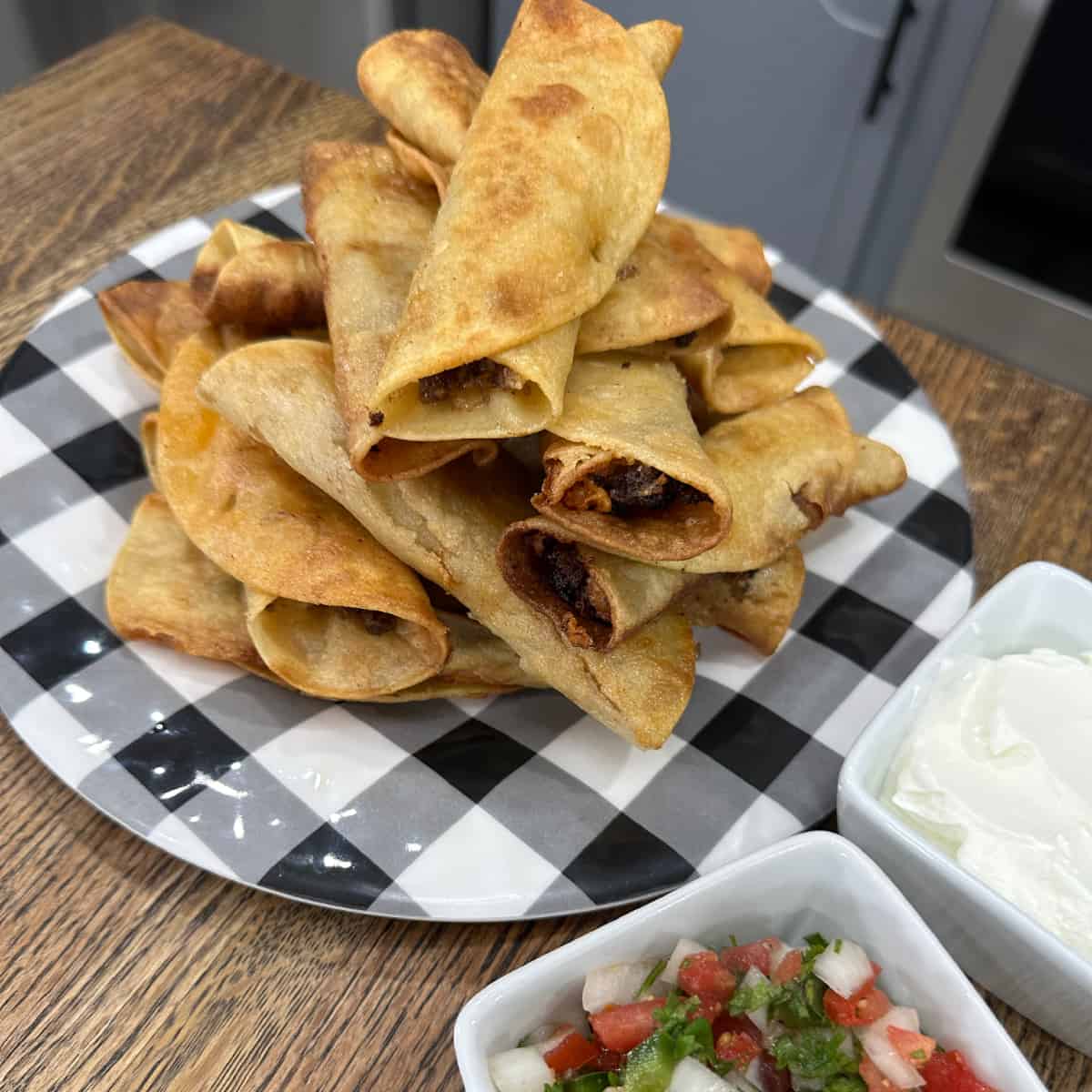 Beef Taquitos are one of our favorite things to order from our local Mexican restaurant. They come loaded with Pico de Gallo, sour cream, guacamole, and shredded lettuce. Those were definitely the inspiration for this recipe. These can be fried in oil in a pan or even cooked in the air fryer!
Ingredients
1 lb of ground beef
1 chopped onion
1/2 tsp salt and pepper
2 tsp chili powder
1 tsp each of cumin and dried cilantro
1 cup beef broth
1 TBSP minced garlic
White corn tortillas
Shredded Monterey Jack cheese
Oil for frying
Sour cream
Pico de gallo
How to Make Beef Mixture
The first step in making beef taquitos is to get a skillet heating up over medium high heat. Add one pound of ground beef and a chopped onion.
Let the beef and onion cook until the beef is mostly browned and the onion has cooked down. Remove the extra grease from the skillet and add the salt, pepper, cumin, dried cilantro, and chili powder.
Stir the beef and seasonings together well and add 1 tbsp of minced garlic. Pour 1 cup of beef broth into the skillet with the ground beef. Let this simmer on low until the broth has mostly reduced.
Once most of the beef broth has reduced, go ahead and take the beef mixture off the heat. Warm some corn tortillas in the microwave and start building taquitos.
Fry Beef Taquitos
Add some frying oil (I used Canola for this) to a large skillet over medium heat. You just need enough oil in the pan to fry one side of the taquitos at a time. Let the oil start heating up as you begin making the taquitos.
To make the taquitos, lay out a warm tortilla and add a little bit of Monterey Jack cheese and a scoop of the ground beef mixture.
Tightly roll up the tortilla and secure with a tooth pick. I like to make about 6 at a time and then immediately start frying that batch. I found that the longer these sat the more likely it was that the corn tortilla would rip/tear.
Start frying the first batch in the hot oil. Let cook until the tortillas are golden brown and cripsy and remove from the oil. Set the taquitos out on a plate covered with a paper towel to help absorb any extra grease.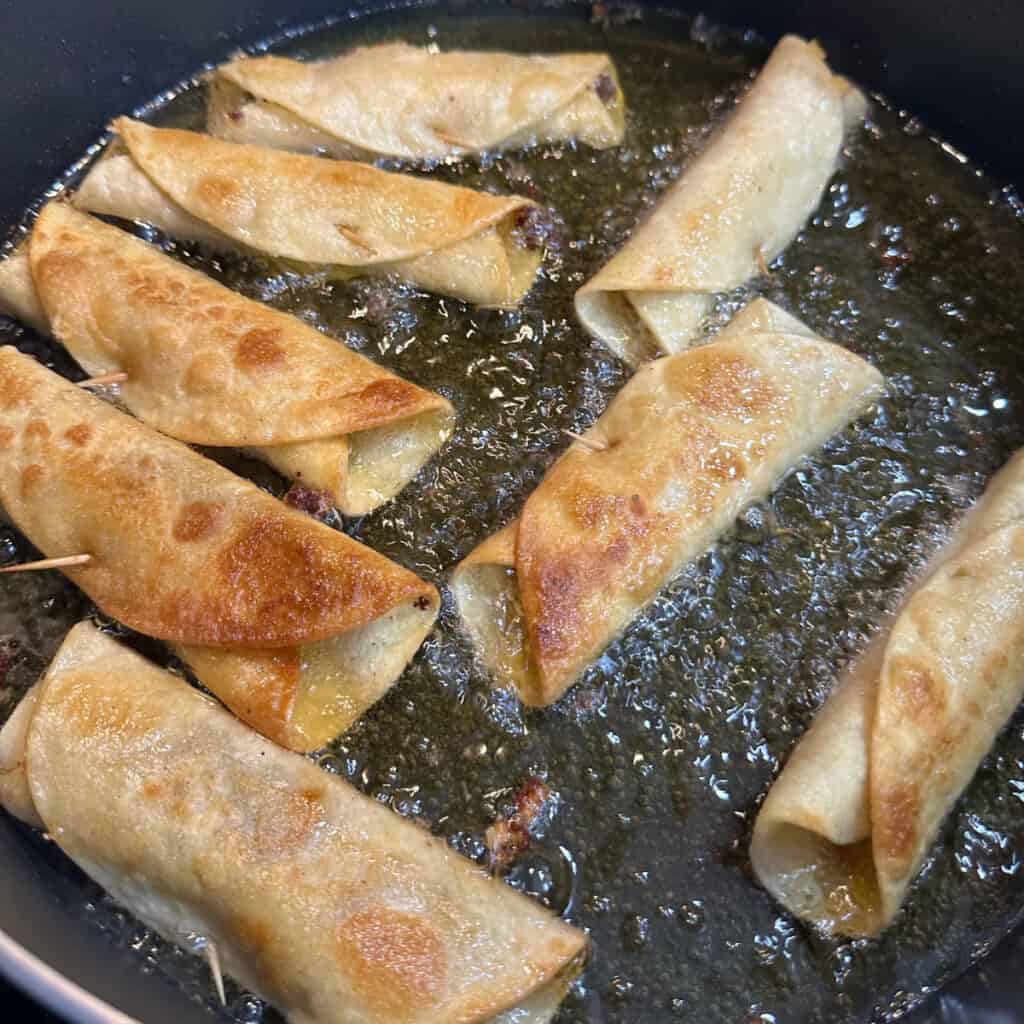 Repeat these steps of making taquitos and frying them until all of the ground beef mixture has been used.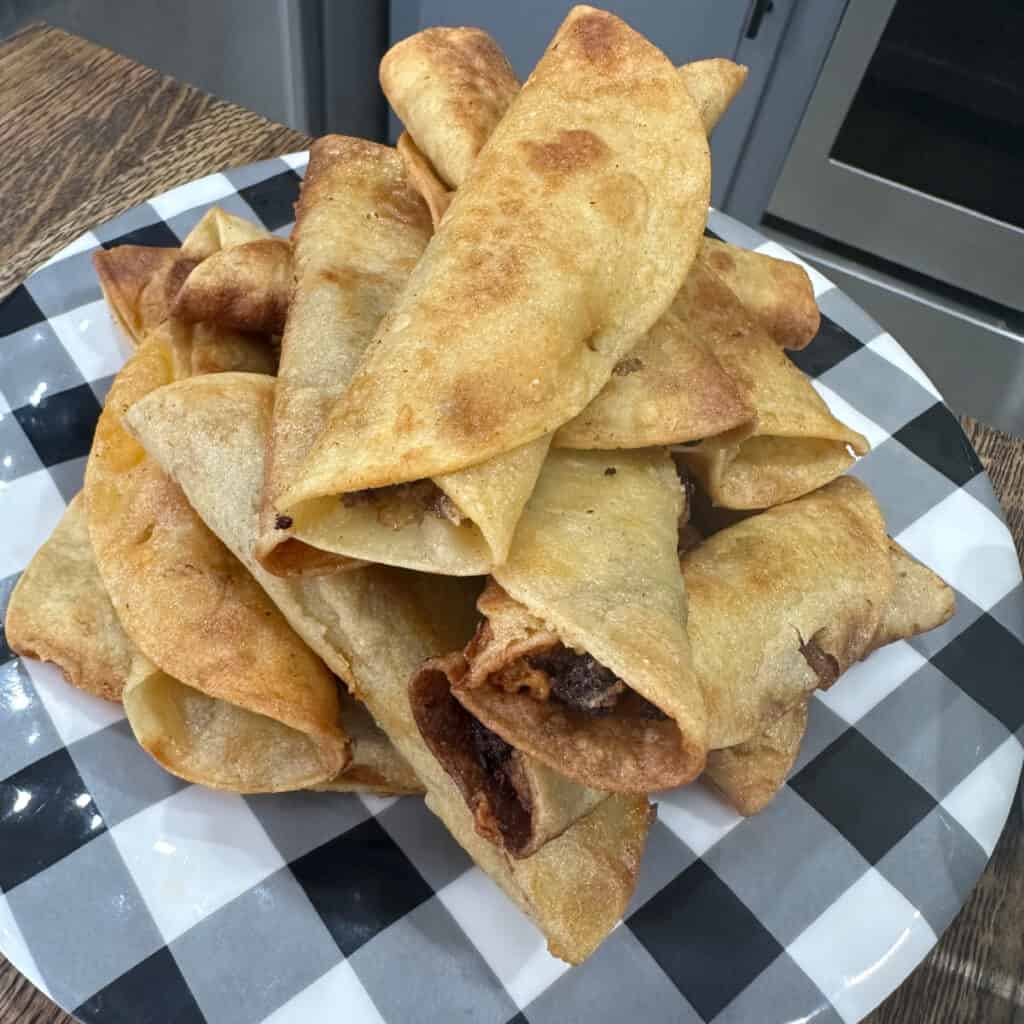 Air Fry Beef Taquitos
If you want to avoid frying in oil these can also be cooked in the air fryer. Follow all steps of making the ground beef mixture and building the taquitos.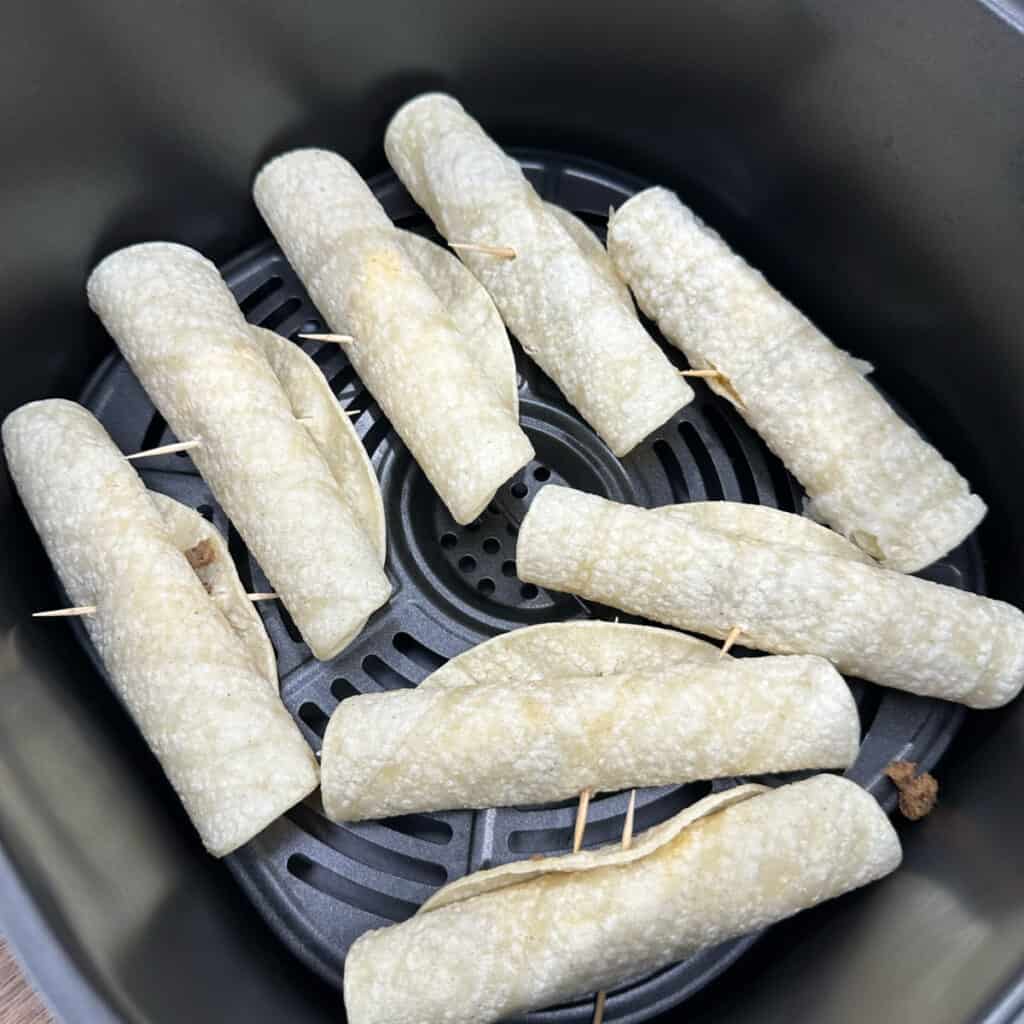 Next, arrange the beef taquitos in the air fryer being sure not to over-crowd them. Spray the tops of the taquitos with olive oil spray. Cook at 400 degrees for about 10 minutes. I would check them after about 8 minutes and see if they need longer. In my air fryer they cooked for 10 minutes, but all air fryers cook differently.
Fried VS Air Fried
Ultimately, my family liked both the fried and air fried beef taquitos for different reasons. The ones fried in oil had a crunchier texture compared to the air fried version which was a "chewier" crunch if that makes sense. However, it was nice not getting all of the extra grease with the air fried taquitos.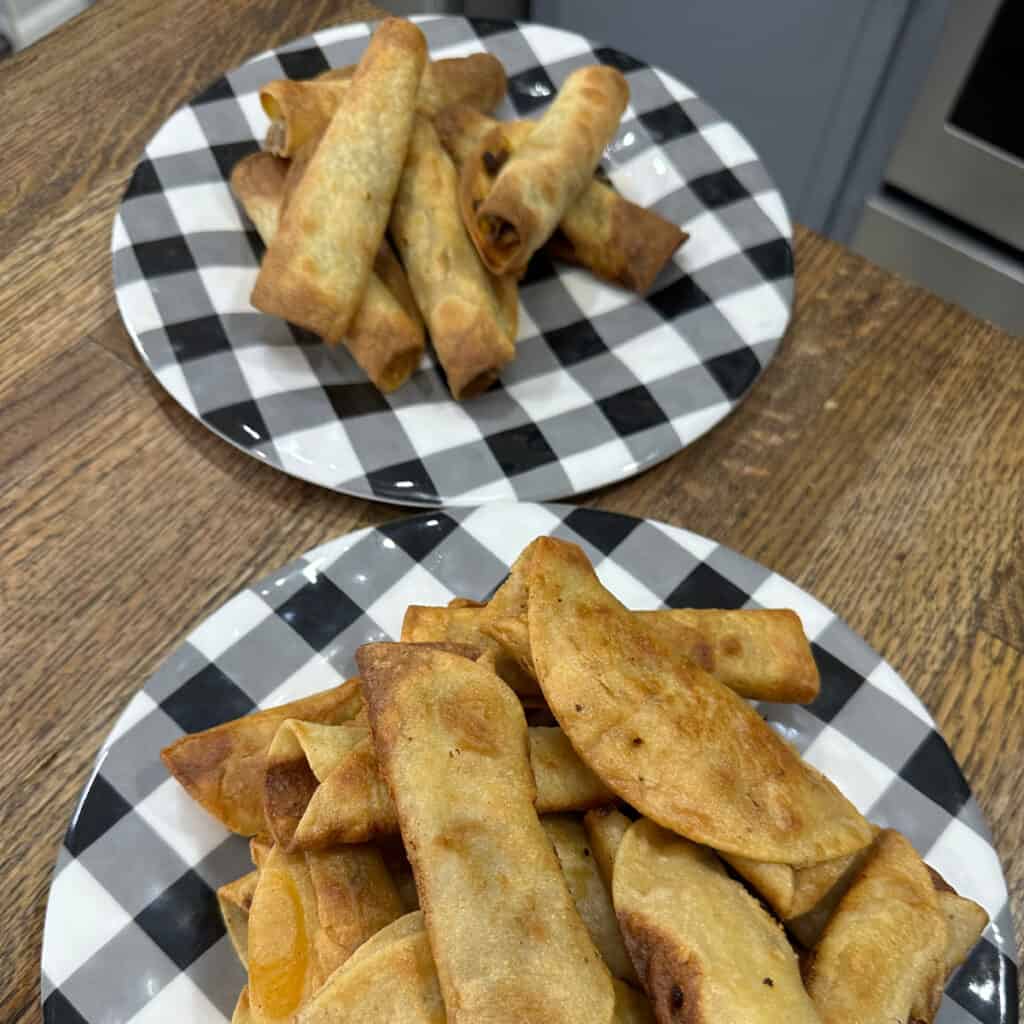 In the photo above the plate in front were the ones that were fried in oil. The taquitos cooked in the air fryer are all on the plate in the back. Again we liked both, so I think either cooking method is a good option!
Serve Easy Beef Taquitos
I served the beef taquitos with fresh Pico de Gallo and sour cream! These are also good dipped in salsa, hot sauce, or even queso!
If you like this recipe check out some of my other similar recipes!
Tips and Frequently Asked Questions
You can use the seasonings I have listed or use a taco seasoning packet.
Fresh minced garlic or jarred minced garlic can be used for this recipe.
I used Canola oil to fry the taquitos.
These can be fried in oil or cooked in an air fryer.
I used shredded Monterey Jack cheese, but any shredded cheese would be good.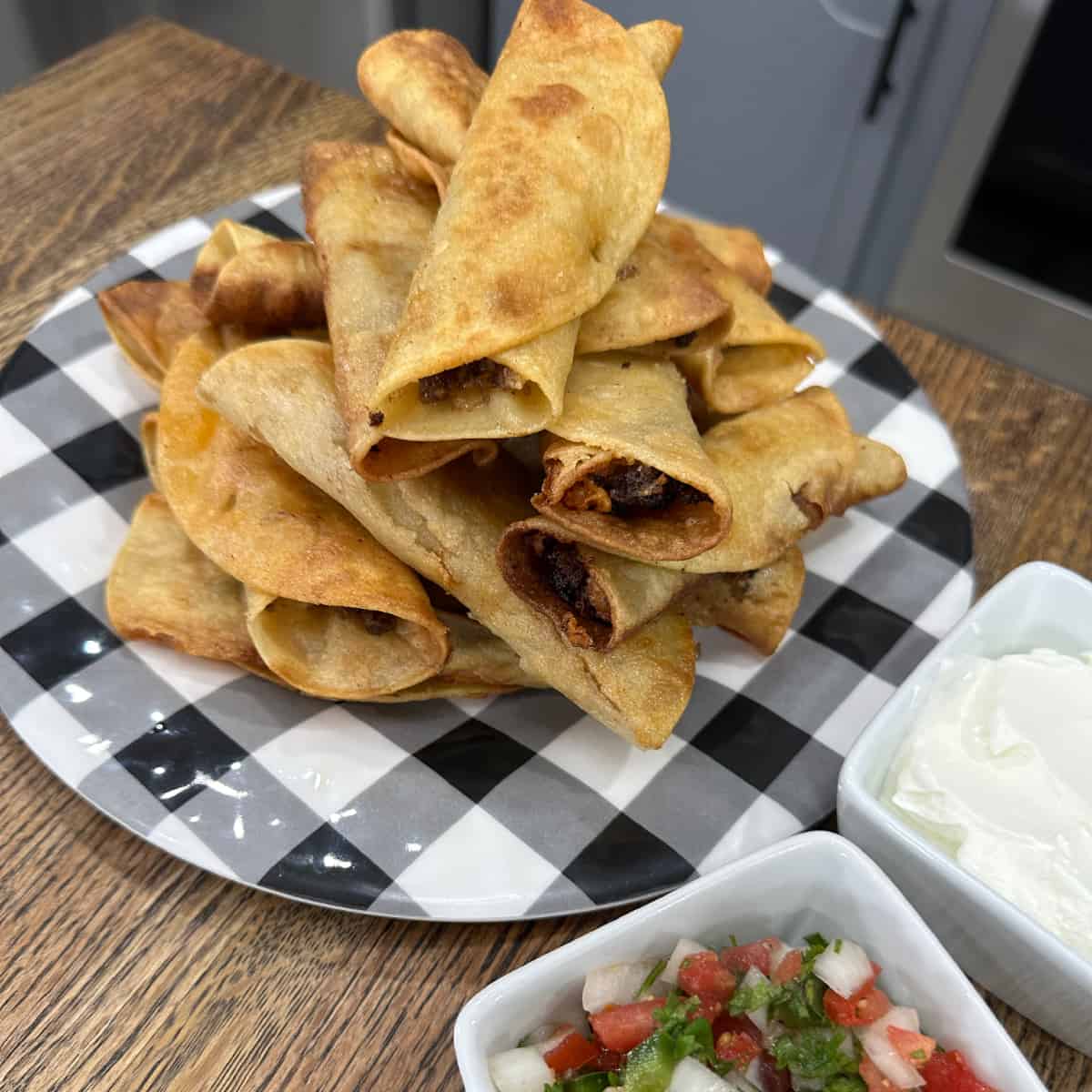 Equipment
1 Stove or Air Fryer

Toothpicks
Ingredients
1

lb

of ground beef

1

chopped onion

1/2

tsp

salt and pepper

2

tsp

chili powder

1

tsp

each of cumin and dried cilantro

1

cup

beef broth

1

TBSP

minced garlic

White corn tortillas

30 count

Shredded Monterey Jack cheese

Oil for frying

Canola Oil

Sour cream

Pico de gallo
Instructions
Brown ground beef in a skillet over medium high heat. Add a chopped onion.

Drain grease from the meat and add salt, chili powder, cumin, dried cilantro, and black pepper.

Add minced garlic and 1 cup of beef broth. Let simmer until most of the liquid has reduced.

Microwave corn tortillas to warm them up.

Heat oil in a pan over medium heat.

Lay out a warm tortilla, top with shredded cheese, and the ground beef mixture.

Roll tortilla up tightly and secure with a toothpick.

Fry taquitos on both sides until crispy and golden brown.

Serve with sour cream and fresh Pico de Gallo!
Air fryer instructions
Follow all instructions for making ground beef mixture, building taquitos, and securing them with a toothpick.

Place taquitos in the air fryer and spray the tops with olive oil spray.

Cook at 400 degrees for about 10 minutes or until crispy and golden brown. Keep an eye on them towards the end of the 10 minutes so they don't burn.
Notes
When making the beef taquitos it is important to work in batches so the corn tortillas don't crack open. The longer the tortillas set and cool down the more likely they are to crack or tear. I found that making some and immediately frying them worked best! 
Did You Make This Recipe?
Please leave a comment below or pin it to your Pinterest account!