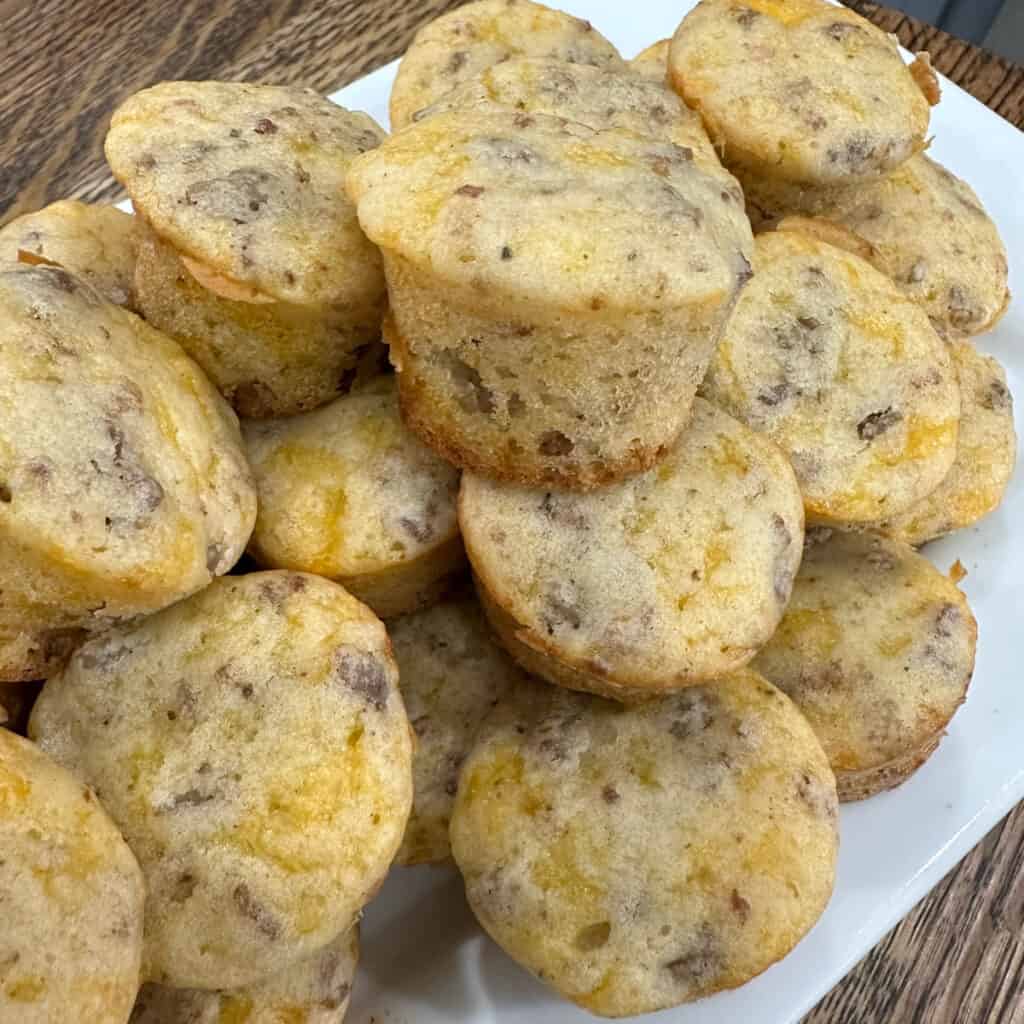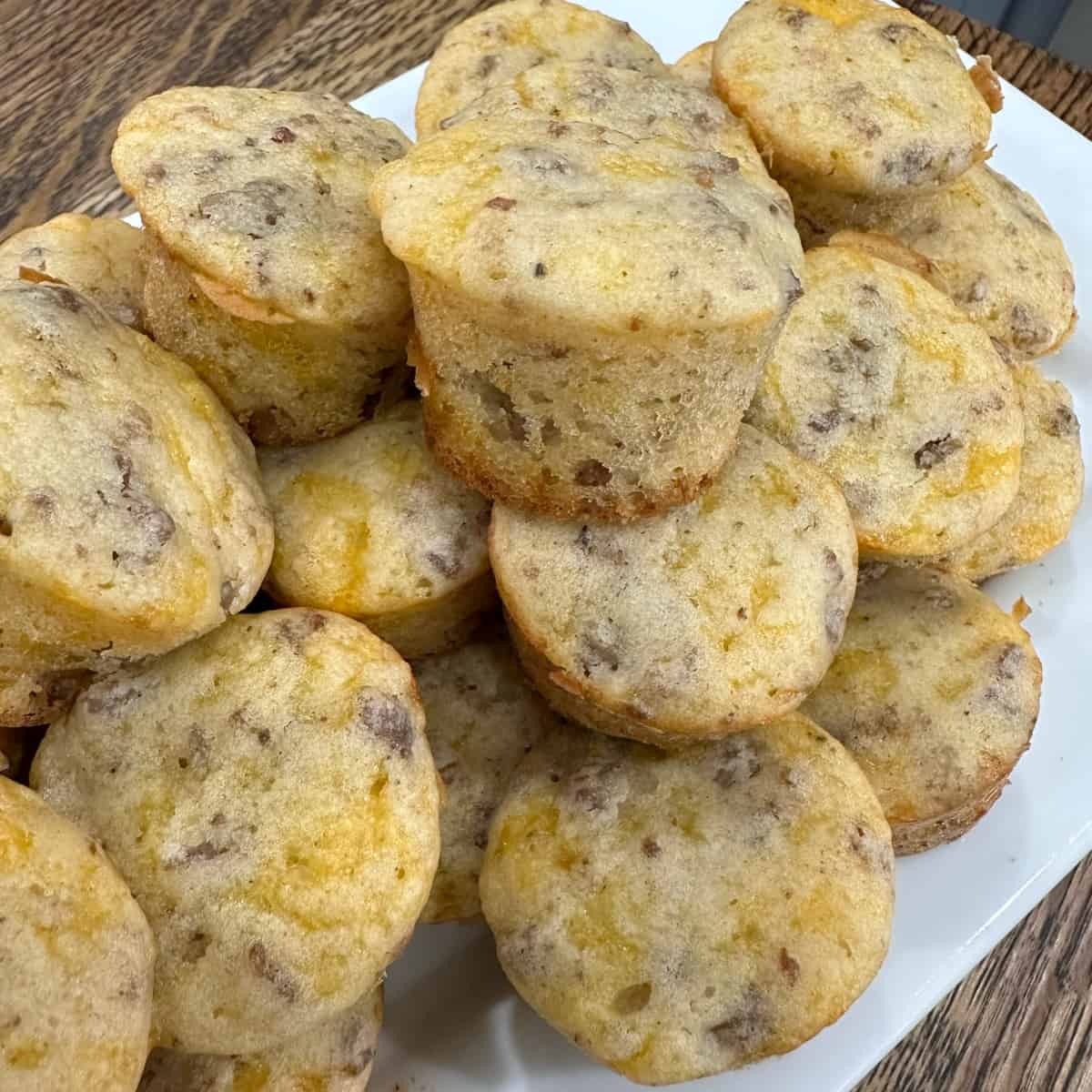 These McGriddle Bites are a cheap and easy breakfast option that my kids love. My family is all about sweet and savory when it comes to breakfast and these check all the boxes. We love to make these on a Sunday morning and have the leftovers for an easy breakfast during the busy week. The best part about this McGriddle Bites recipe is that they only take a few ingredients and freeze really well for an easy breakfast down the road!
Ingredients
2 cups of Hungry Jack Pancake Mix
1 1/2 cups of water
1 lb breakfast sausage
1 cup shredded cheddar cheese
1/4 cup maple syrup
Prepping the McGriddle Bites
The beautiful thing about an easy breakfast like these McGriddle Bites is that there is very little prep needed. For this recipe you will just need to brown up a pound of sausage and drain the grease.
My family likes to use mild pork breakfast sausage, but you could also use chicken or turkey sausage. Just cook your sausage over medium heat until it's cooked through and drain the grease well with a paper towel.
Next you will just gather the rest of the ingredients above and you're ready to kick off this easy breakfast.
Making the McGriddle Bites
Go ahead and preheat your oven to 400 degrees so it's nice and hot when you're ready for it. Then Just grab a large mixing bowl and add in the pancake mix and water following the instructions on the box.
Once your batter has formed add in the cooked and drained sausage, shredded cheddar and syrup. Stir that all together with a wooden spoon until everything is combined.
Use a small spoon to scoop out the batter into a mini muffin pan filling each one a little over halfway. This recipe makes enough batter to make 48 mini muffins so you can work in batches if you only have one mini muffin pan.
I like to use these silicon mini muffin pans so I don't use any cooking spray beforehand. If you aren't using a nonstick pan it would be best to add a little oil.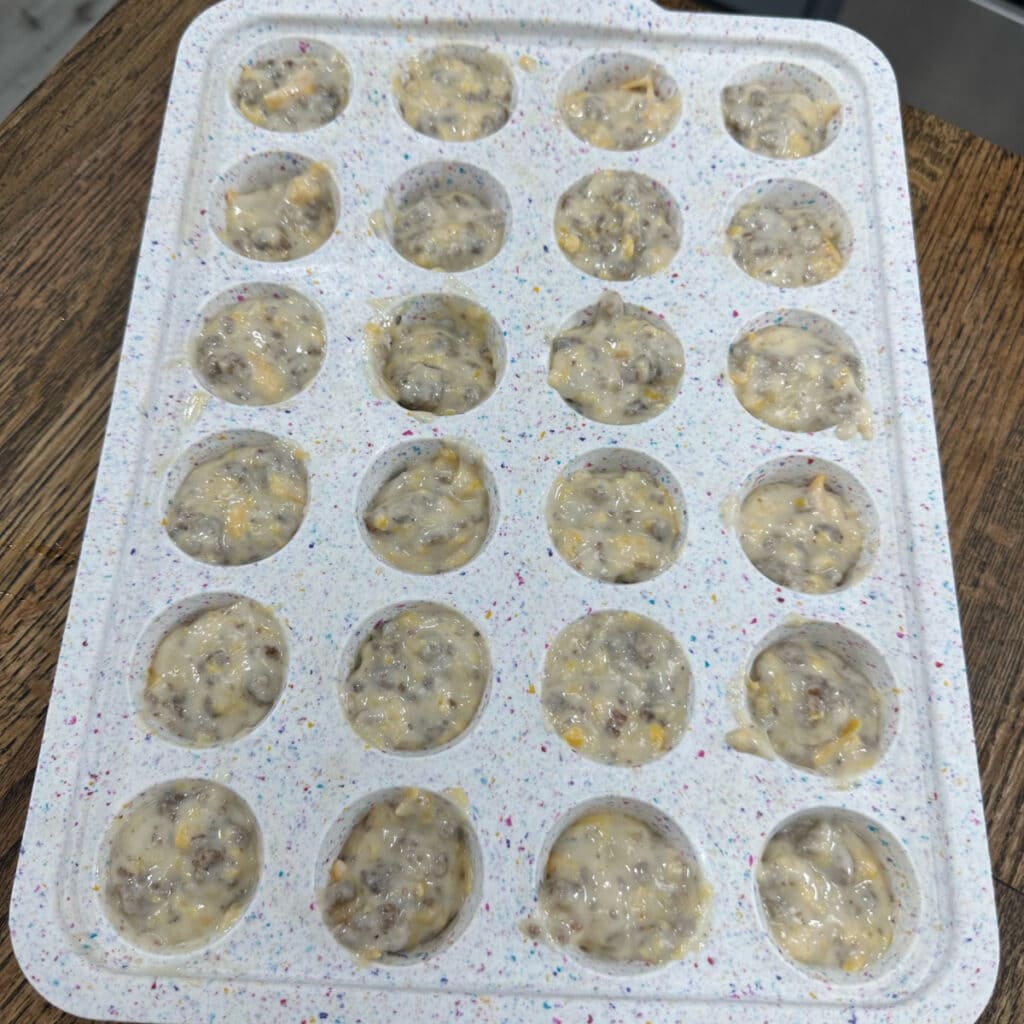 When you've gotten all your mini muffin cups filled up place them into the preheated 400 degree oven. Let them cook for 12-15 minutes or until they are nice and golden brown on top!
Serving the McGriddle Bites
We like to make these on a Sunday morning and serve them with some scrambled eggs and syrup for dipping. The leftovers can be placed into a storage container in the refrigerator for an easy breakfast the first couple days of the week.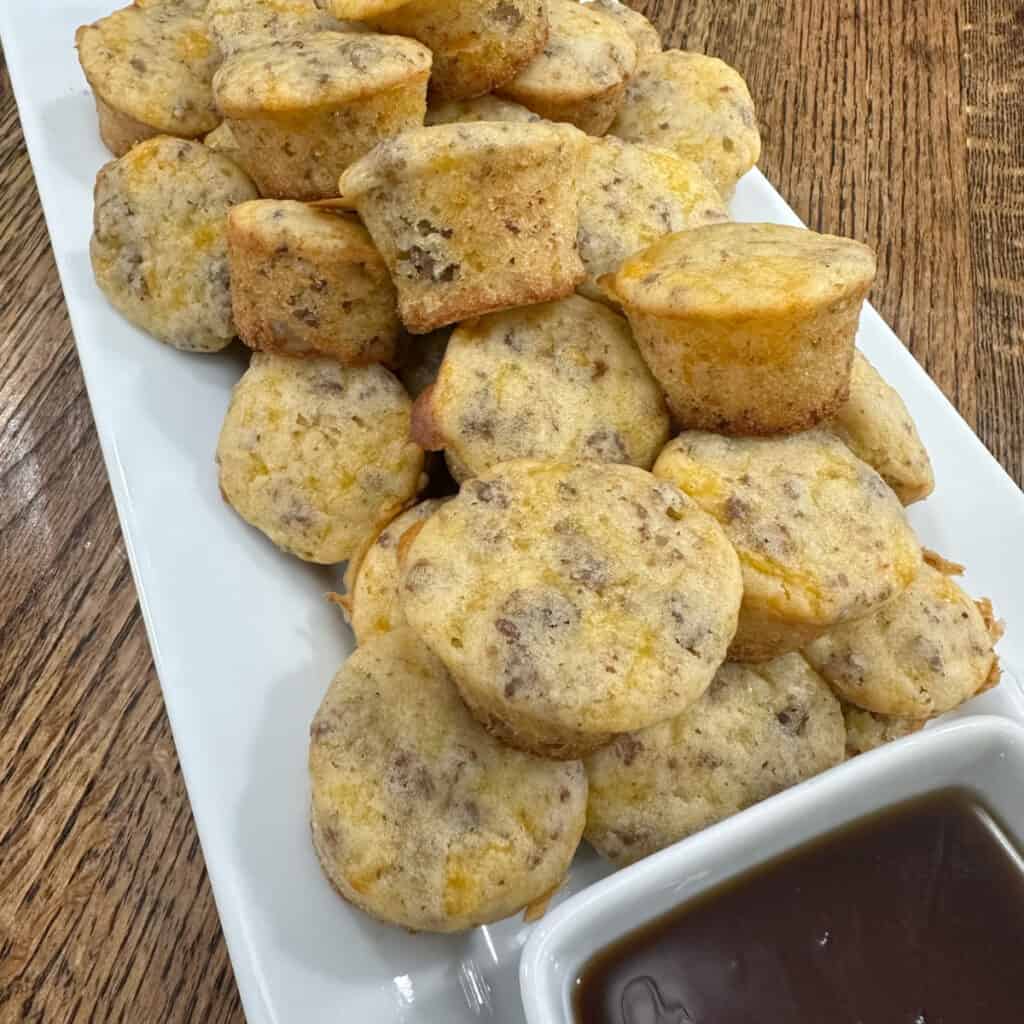 We also like to keep these in the freezer for an easy breakfast to have on hand when we need them. I just place 12-16 mini muffins in each freezer bag and we have an easy on the go breakfast. To reheat them I just place batches of 4-6 in the microwave for about 30-60 seconds.
If you like this easy breakfast recipe, check out some of my other favorites!
Tips and Frequently Asked Questions
My family likes to use mild pork sausage for this recipe, but you could also use chicken or turkey sausage!
Make sure to cook the breakfast sausage first and drain it well with a paper towel!
I like the texture and flavor of freshly shredded cheddar better so we buy blocks of cheese and shred it at home every week!
I like to use a silicone muffin pan to make these so I do not spray the pan with oil!
If you are using a pan that isn't nonstick it would be best to grease it ahead of time!
We always keep a bag of these in the freezer and to reheat them it just takes about a minute in the microwave!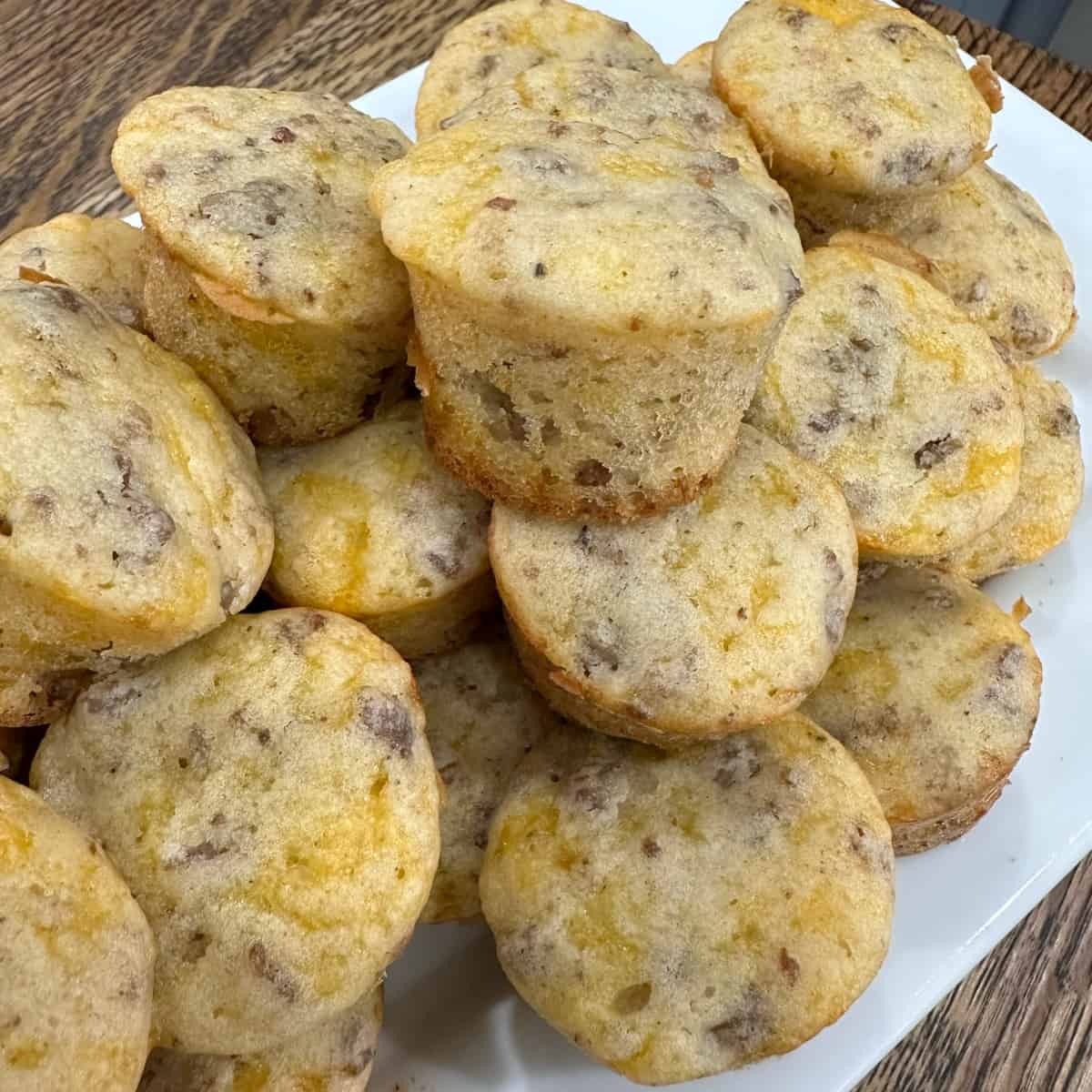 Ingredients
2

cups

of Hungry Jack Pancake Mix

1 1/2

cups

of water

1

lb

breakfast sausage

1

cup

shredded cheddar cheese

1/4

cup

maple syrup
Instructions
Brown breakfast sausage in a skillet over medium high heat. Drain grease really well and set aside.

Mix pancake mix with water according to the directions on the box. Stir in cooked sausage, cheese, and syrup.

Pour into a greased mini muffin pan. Bake at 400 degrees for 12-15 minutes.

This made 48 mini pancake muffins. Dip in more syrup and enjoy! Let me know if you try it out!
Did You Make This Recipe?
Please leave a comment below or pin it to your Pinterest account!