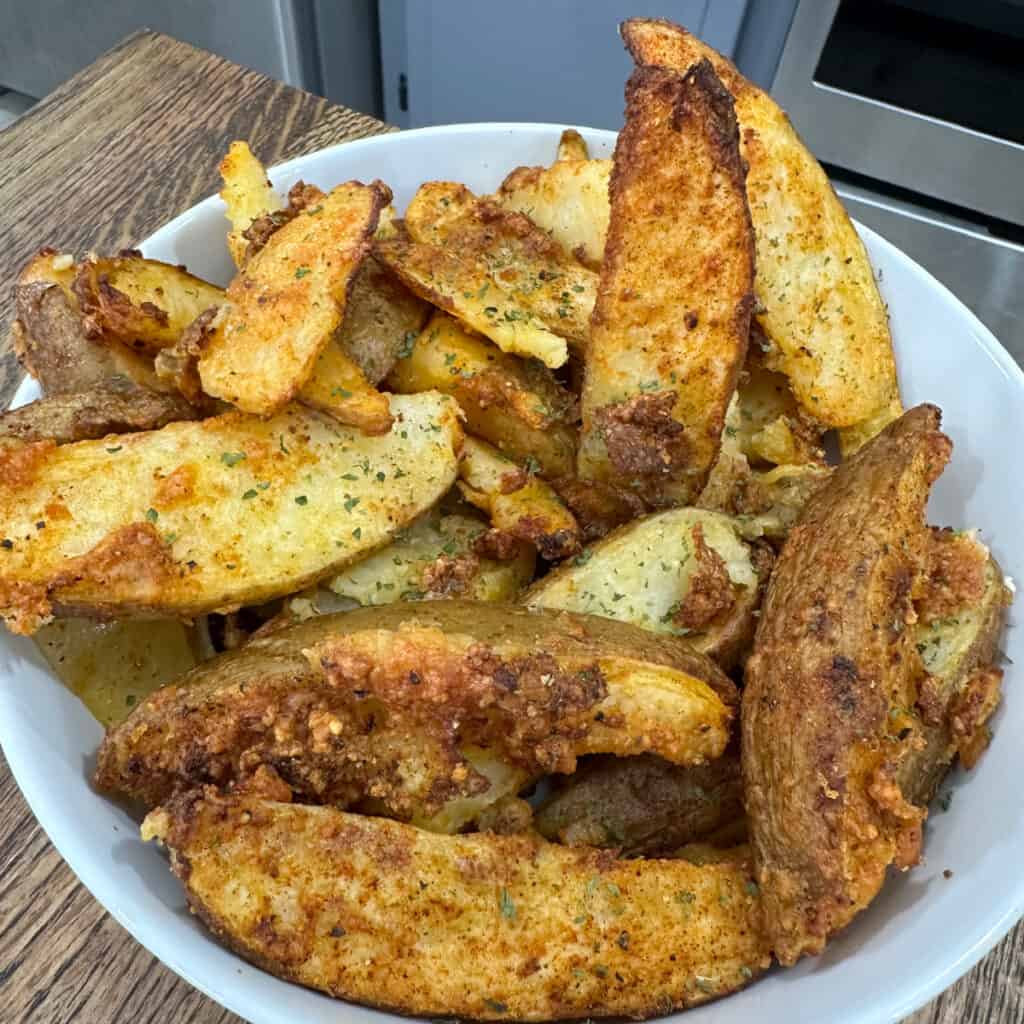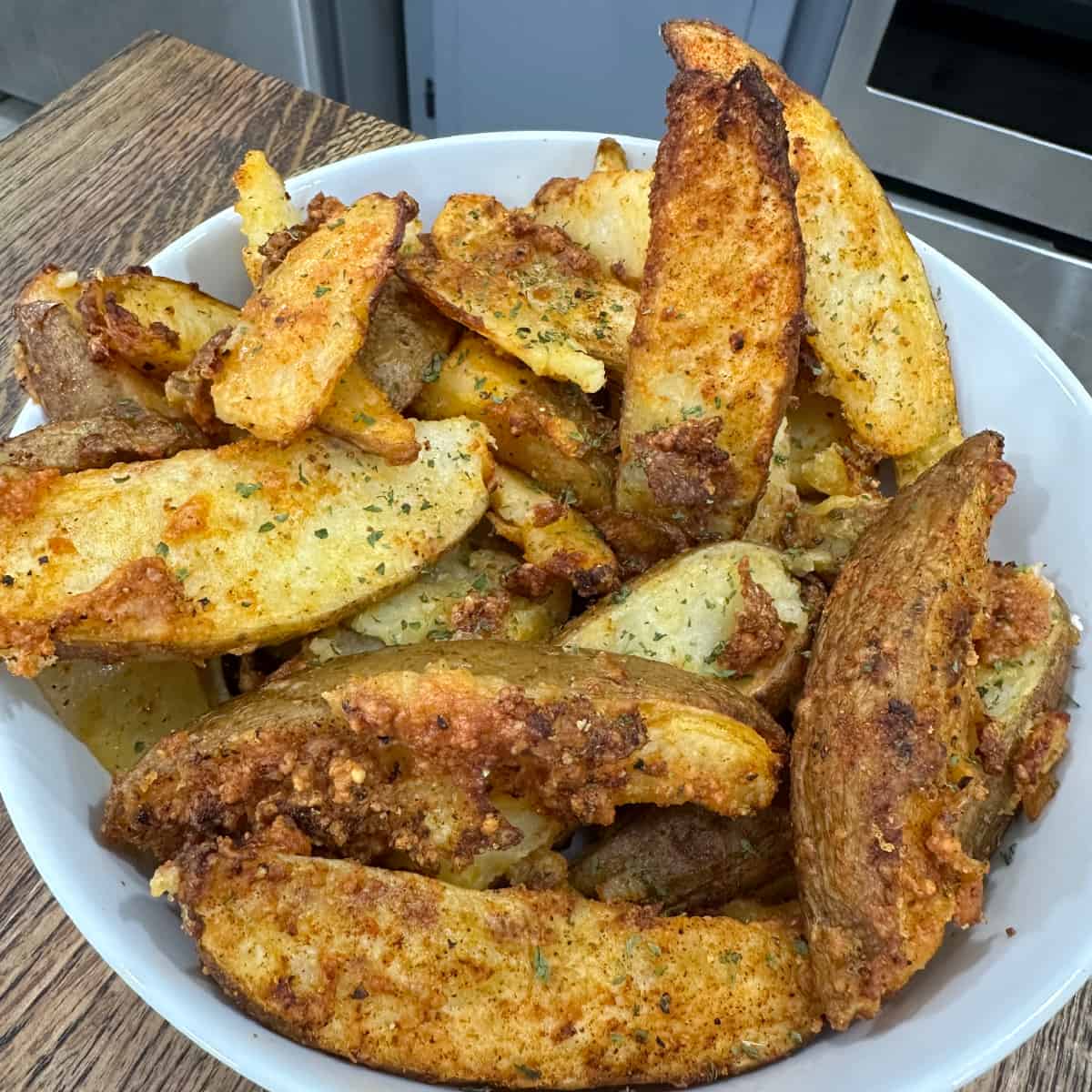 Easy Air Fryer Potato Wedges
These air fryer potato wedges are an easy and delicious side dish! We like to keep sides pretty simple! Air fryer potato wedges are boiled until tender and then cooked in the air fryer for about 20-25 minutes. We pretty much always keep potatoes stocked, so this is a side dish that can always be thrown together pretty quickly.
Ingredients
4 large potatoes
3-4 TBSP olive oil
Salt, pepper, garlic powder and paprika
1/2 cup Parmesan cheese
Dried parsley
How To Make Potato Wedges
To make the potato wedges, start by scrubbing and washing 4 large potatoes. Cut the potatoes into wedges and get a large pot of water boiling on the stove.
Once the water has started to boil, pour the potato wedges into the water. These will boil for about six minutes or until the potatoes start to be fork tender.
Drain the water from the potatoes and pour them into a large bowl. Season the potato wedges with the olive oil, salt, pepper, and paprika. Toss the bowl until the potatoes are well coated in oil and seasoning.
Next, add about 1/2 cup of grated Parmesan cheese. Toss the potatoes until they are well coated in the Parmesan cheese. If the wedges start to look a little mushy that is okay! That is what is going to give these an awesome crunchy texture!
The Potato Wedges will cook in the air fryer at 400 degrees for about 20-25 minutes or until they are cooked to your liking. I like to shake the potato wedges around at least a few times during the cooking process.
Serve Air Fryer Potato Wedges
Once the potato wedges are nice and crispy it's time to eat! Top the potato wedges with some dried parsley. We served these with Chopped Chicken Caesar Salad Sandwiches, but they seriously go great with just about anything!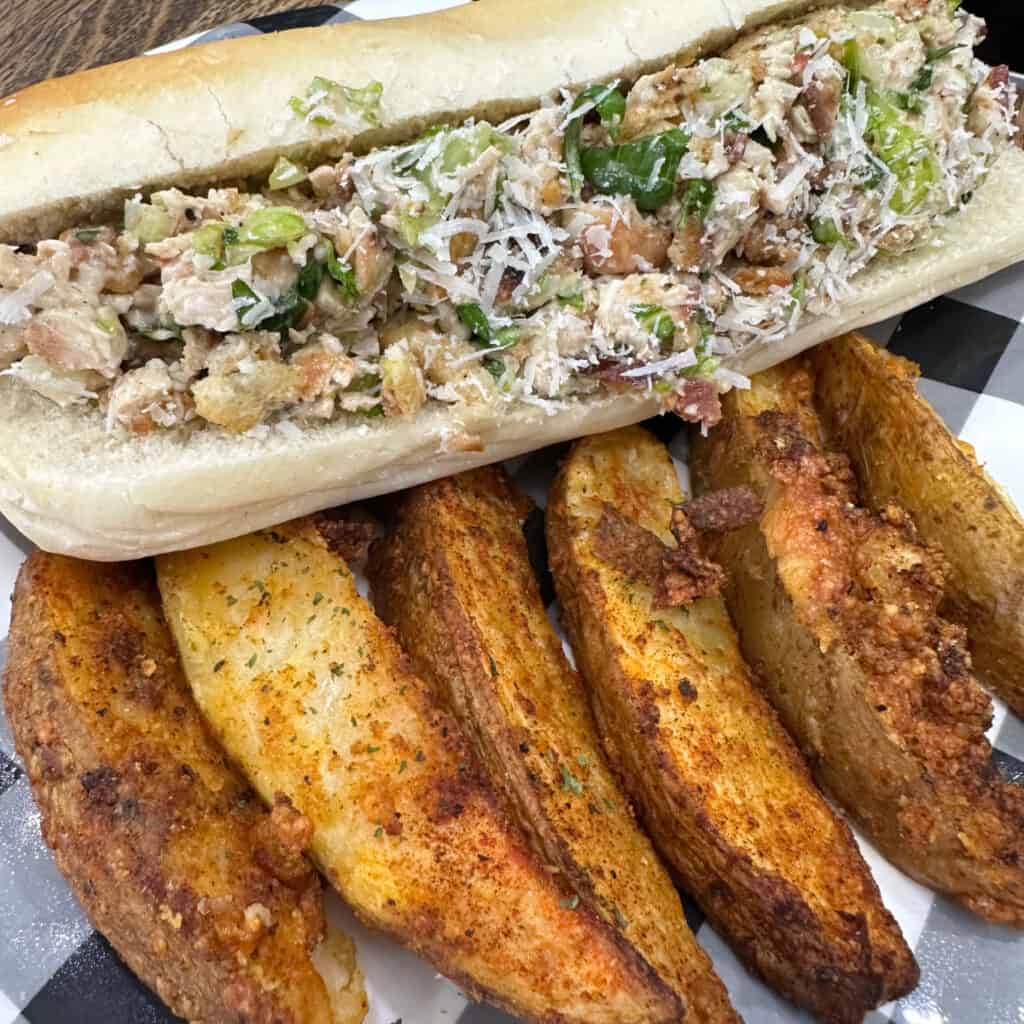 They are the perfect side for burgers, smoked meat, or chicken sandwiches.
If you like this easy side dish, check out some of my other favorite sides!
If you are looking for a main dish that would be delicious with these potato wedges, check out these recipes!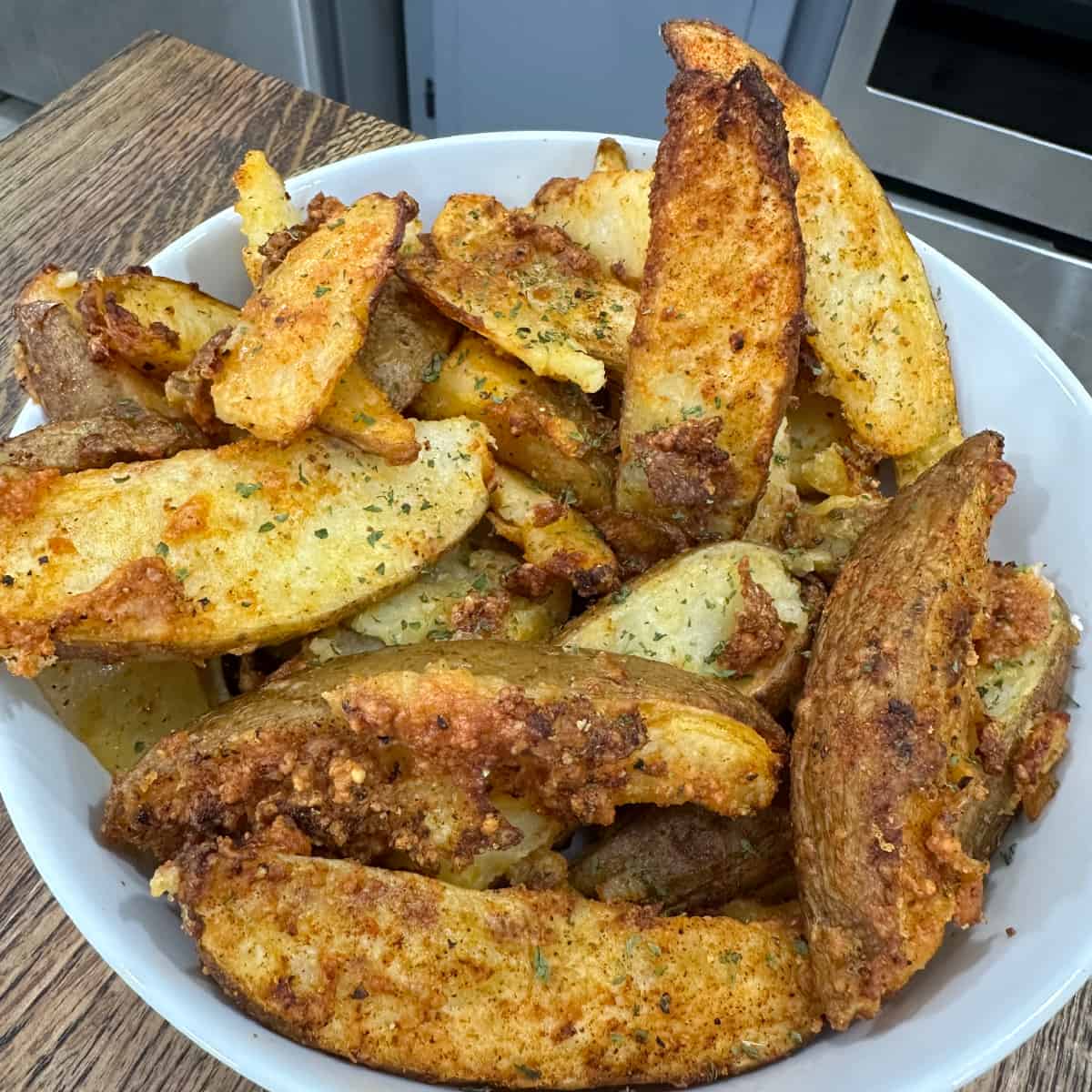 Ingredients
4

large potatoes

3-4

TBSP

olive oil

Salt, pepper, garlic powder and paprika

1/2

cup

Parmesan cheese

Dried parsley
Instructions
Wash/scrub potatoes and cut them into wedges.

Bring a pot of water to a boil.

Add potato wedges to the boiling water.

Boil for about 6 minutes or until potatoes are starting to be fork tender.

Drain potatoes and add to a large bowl.

Season with olive oil, salt, pepper, garlic powder, and paprika.

Toss potatoes until well covered with seasoning. Add the Parmesan cheese and toss again until well coated.

Spread out wedges evenly in an air fryer and cook at 400 degrees for 20-25 minutes or until they are cooked to your liking.

Top potato wedges with dried parsley and serve!
Did You Make This Recipe?
Please leave a comment below or pin it to your Pinterest account!